Cherry Walnut Pinwheel Cookies
We may earn money or products from the companies mentioned in this post.
Cherry Walnut Pinwheel Cookies
Buttery and delicious, cherry walnut pinwheel cookies are a cinch to make. With the holidays fast approaching, add a festive and whimsical touch to your holiday table. Make a batch of green cherry walnut pinwheel cookies and a batch of red pinwheel cookies. Arrange the cookies on a platter in opposite colors. (green, red, green, red)  What a great idea for your holiday buffet table. Cherry Walnut Pinwheel Cookies are perfect for gift giving, cookie exchange parties or just for fun.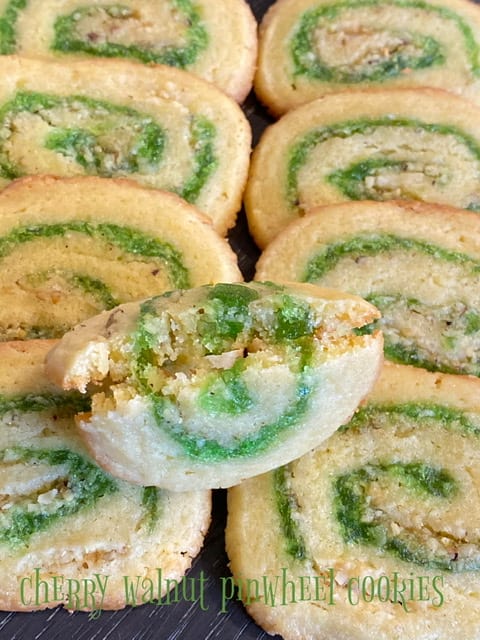 To Much Butter?
This recipe calls for one stick of butter at room temperature. The first time I made this recipe, I read the recipe wrong. I added two sticks of butter instead of one. My mistake meant that an extra stick of butter would be in the cookies. Now that wasn't such a bad thing really but the cookies with the extra stick of butter were very fragile but darn good. In fact, I consumed way too many cookies and had to make two more batches. Ahh shucks! I hate when that happens!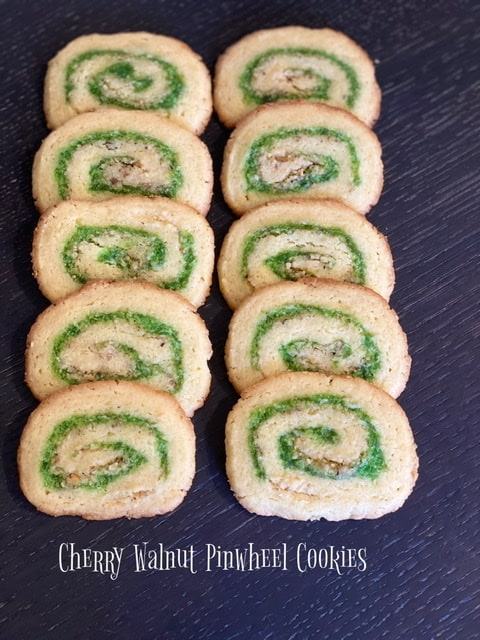 One Recipe, Three Ways
Cherry Walnut Pinwheel Cookies are made with candied green cherries from Paradise Fruit Co. I've been on a roll of late. A roll as in using Paradise Fruit in a variety of recipes. For instance, I've made this recipe for pinwheel cookies four times last week. That's a whole lotta cookies:)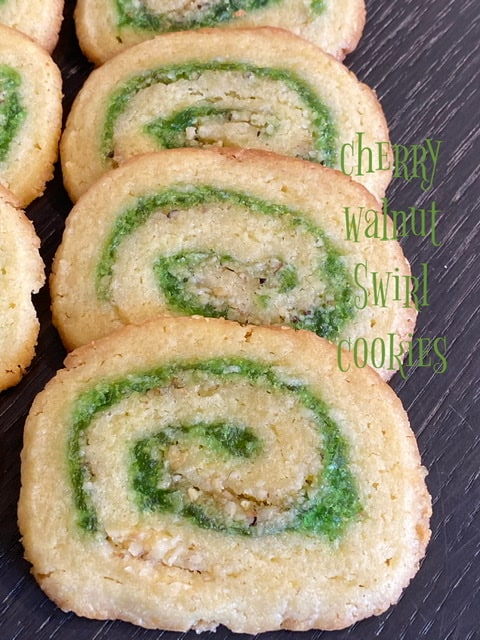 I've made this recipe for cherry walnut pinwheel cookies, twice. (Double butter incident) Plus one batch of pineapple macadamia nut pinwheel cookies and a batch of chocolate orange pinwheel cookies. All are made with the same recipe, except some of the ingredients have been changed to protect the innocent.
We Energies
Each year, even before I was born, the Wisconsin Electric Power Company has given out free Holiday Cookie Cookbooks.
And they still do. The cookbooks are simply named Wisconsin Electric Power Company Christmas Cookie Book or Cooky Book. Over the years, Wisconsin Electric Power Company changed its name to WE Energies but the cookie cookbooks still came out, even under its new name.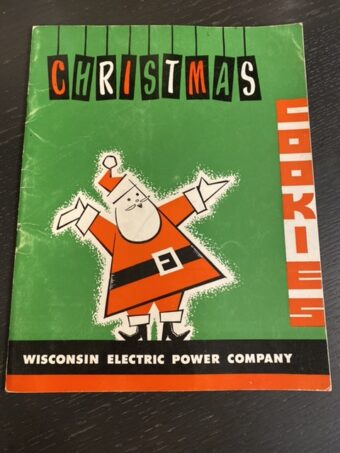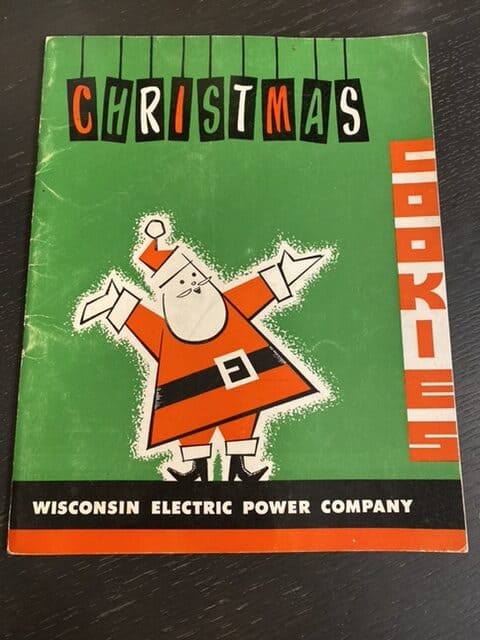 Since its first printing in 1928, the We Energies Cookie Book has been a holiday favorite for their customers. The recipes featured over the years have become cherished family traditions. Whether you're looking for an old favorite from the past or a fun, new recipe that the whole family can make, you're sure to find it in a 'Cookie Book'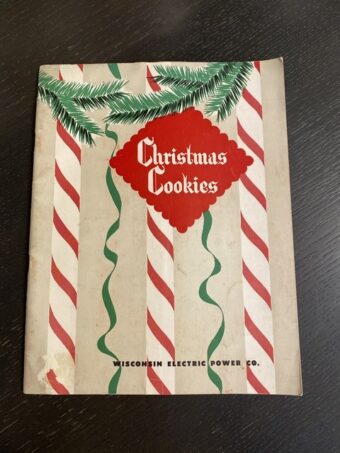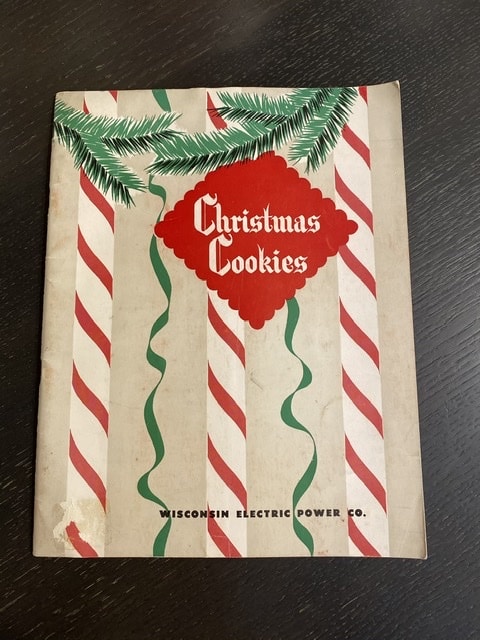 On The Hunt
In recent years my daughter-in-law Kim has renewed my interest in these timeless classics. I remember when the free cookbooks were mailed out each year to it's customers. The cookie books usually come out in early November I do believe. My mom and grandma saved these cookbooks each year. Then when I was a new wife and mom, I too saved the cookbooks. What happened to all of them only the cookbook gods know.
Now years later, I'm on the hunt for Wisconsin Electric Cookie Books. I'm slowly finding the ones, which is most of them. I have been finding them at places like St Vinny's and thrift stores. Along with looking for past issues Kim and I pick up the new cookie book up each year. I think the likelihood of finding all of them or even finding some of them is pretty slim but that's the fun of hunting isn't it?
Brief History
First introduced in 1928, when We Energies was known as The  Milwaukee Electric Railway & Light Co., the annual Cookie Book gained great popularity among its customers. By the early 1930's, scores of holiday bakers took trolleys to the Public Service Building in downtown Milwaukee to receive the complimentary recipe book, complete with helpful cooking and energy tips.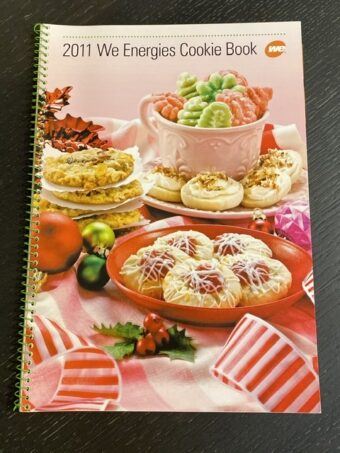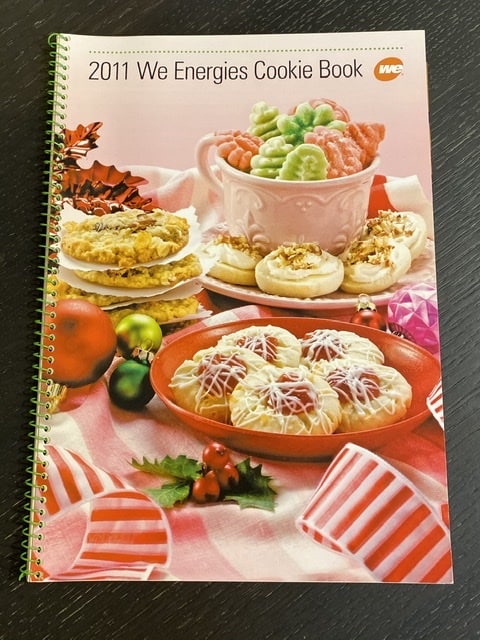 In 1942, indicative of a world at war, only a four page foldout was published. The cover depicted a 'Gold Star', the symbol of a fallen hero. The foldout, the first issue to be printed in color, contained only 14 'war-time' cookie recipes. The recipes featured were simply decorated cookies, low in shortening and sugar, a reflection of rationing and the scarcity of ingredients.
But by 1945, the book returned to its former look and with each succeeding issue, refined and revised. In the mid-1960's fabulous winter displays adorned the windows of the Public Service Building to promote the Cookie Book distribution.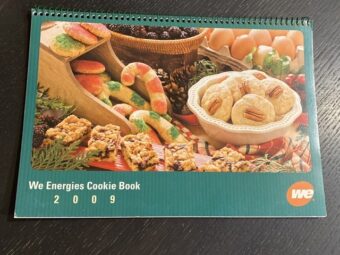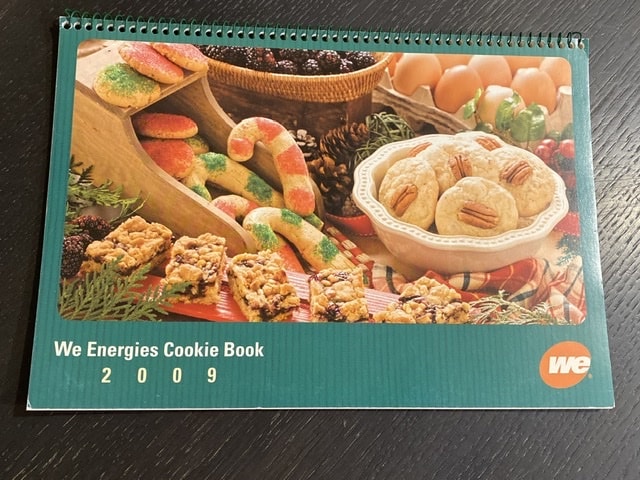 After the 1973 addition of the Cookie Book, another book would not be produced until 1984. New versions also were available in 1991 and 1998. Desserts for All Seasons,  a cookbook featuring specialty desserts, was distributed in 2003. The Cookie Book returned to its roots in 2006 and has been produced annually since then. The year 2018 marked the 90th Anniversary of the We Energies Cookie Book.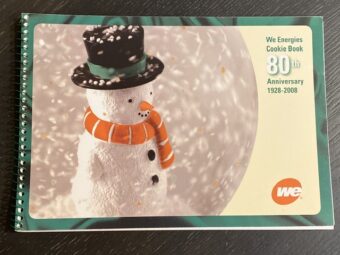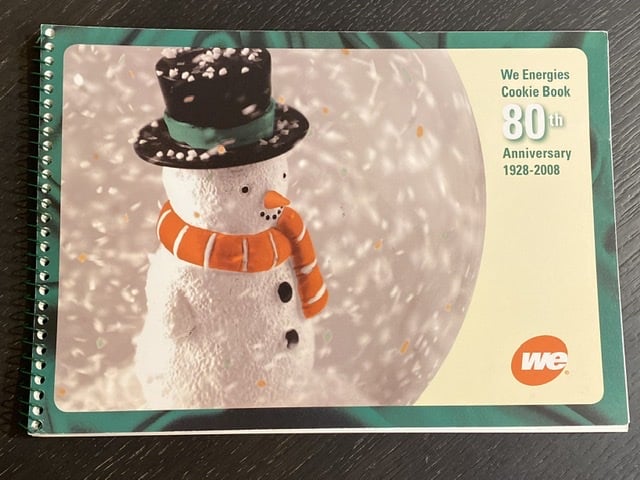 More Information
If you'd like to download any year of the Cookie Cookbook from We Energies go to: We Energies Cookie Book Archives. If you like pinwheel cookies as much as we do, then you'll want to try this different kind of pinwheel. Make this delicious recipe for Hot Beef Pinwheels .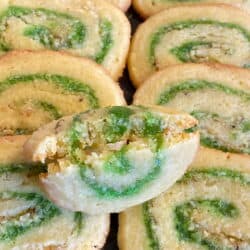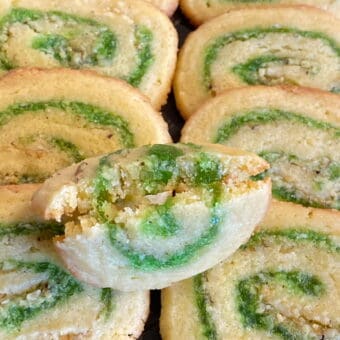 Cherry Walnut Pinwheel Cookies
For a festive holiday cookie, make these delicious cookies using red and green candied cherries.
Ingredients
1/2

cup

butter

3/4

cup

sugar

2

egg yolks

1

teaspoon

vanilla extract

1 1/4

cups

sifted all-purpose flour

1/2

teaspoon

baking powder

1/4

teaspoon

salt

3/4 to 1

cup

ground candied cherries

1/2

cup

ground walnuts
Instructions
Preheat oven to 375 degrees. Line baking sheets with parchment paper. Set aside.

Cream butter; add sugar gradually; beat in egg yolks and vanilla extract.

Blend in sifted dry ingredients. Roll dough on Flores surface into a 12 inch square. Mix cherries and walnuts; spread on dough. Roll as for jelly roll; wrap in plastic wrap. Chill dough overnight.

Cut into 1/8 inch slices. Place slices, cut side down on prepared baking sheets. Bake at 375 degrees for 12 minutes or until golden brown. Remove from oven and allow to cool 5 minutes. Remove cookies to wire rack to cool completely.