"Frozen" Vanilla Chip Blondies
We may earn money or products from the companies mentioned in this post.
"Frozen" Vanilla Chip Blondies
Well guys, I think I've finally decided to end it with this recipe for "Frozen" Vanilla Chip Blondies. With many months of searching, many months of baking and even more months of sampling, I have made the decision that it's time to say good-bye. Good-bye to those overly buttery, super sweet, slightly greasy blondie recipes. I've come to the conclusion that this is the one and only blondie recipe you and I will ever need!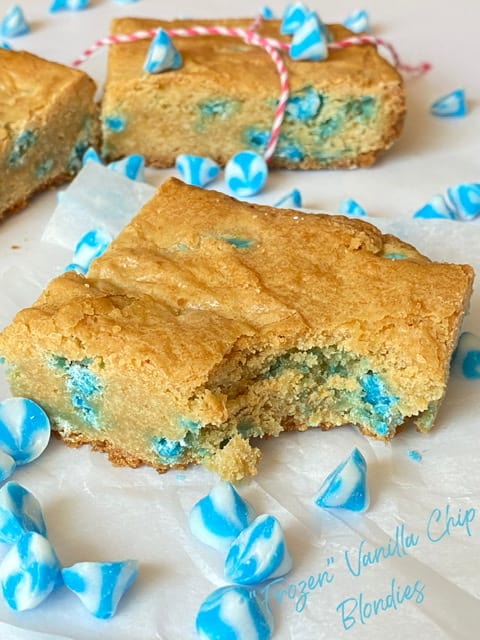 Improve On?
There really is no other way that you can possibly improve on this recipe. Except of course if you change the flavor of chips used. Chocolate, cinnamon, butterscotch, cherry or even peanut butter chips can be substituted for the vanilla chips. Another change you can make would be to change the flavor of extract. This particular recipe calls for using vanilla extract but lemon, almond, rum, or maple would work great in this recipe as well.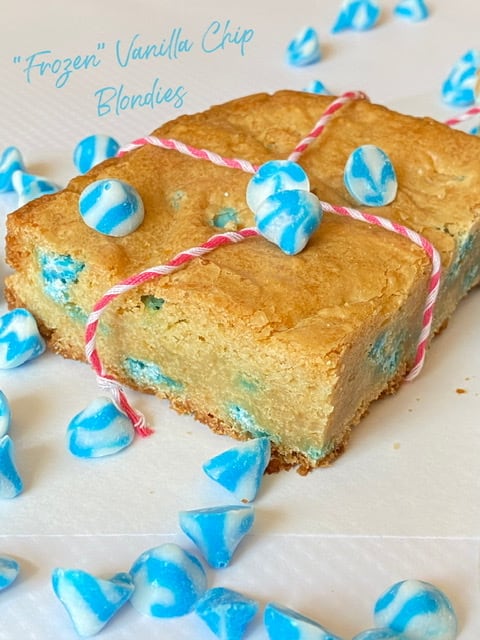 "Frozen" Vanilla Chips
Frozen 2 merchandise is literally everywhere. From lunch boxes, to backpacks to vanilla flavored chips, there certainly isn't a lack of Disney Frozen merchandise. When I saw the bags of Frozen vanilla chips, sitting next to the bags of Unicorn chips, I couldn't pass either up. I put two bags of each into my shopping cart and continued on down the aisle. The white vanilla chips is the perfect contrast to the turquoise blue stripes on the chips. Personally, I think the chips and therefore these yummy blondies, would be perfect to serve at a baby (boy) shower or gender reveal party.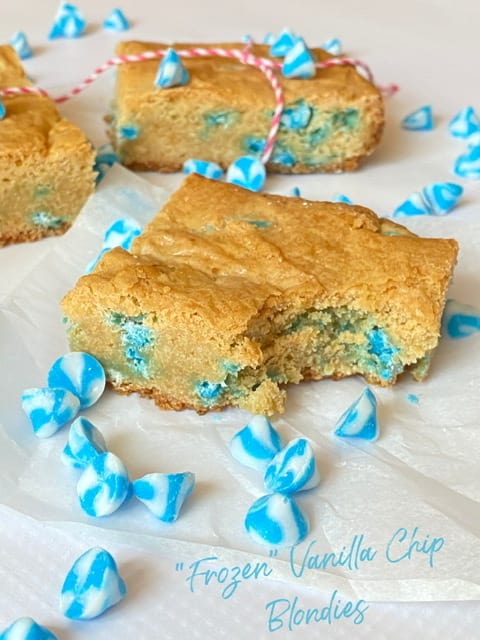 Disney Magic Kingdom
My grandkids love anything Disney and Frozen II is no different. It amazes me how many times they can watch both Frozen movies, and still enjoy each movie until the very end. In fact both of my granddaughters want to either A) live at Disney's Magic Kingdom in Florida or B) work there when they get "bigger." My daughter and son-in-law love anything Disney as well, which makes their vacation destination an easy choice.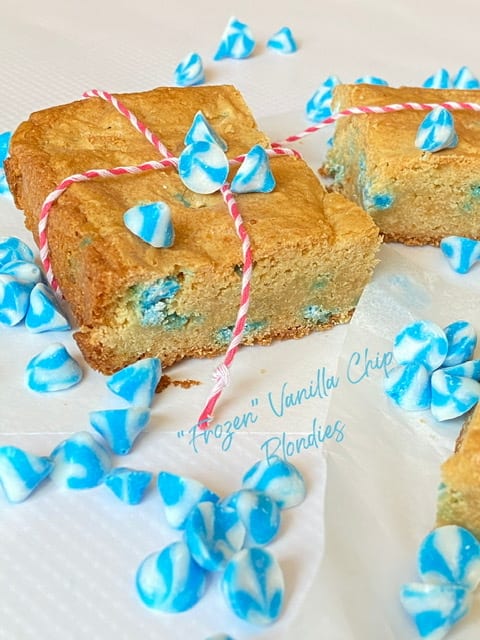 Frozen II
Set three years after the events of the first Frozen film, the story again follows Elsa, Anna, Kristoff, Olaf and Sven. They embark on a journey beyond their kingdom of Arendelle in order to discover the origin of Elsa's magical powers and save their kingdom after a mysterious voice calls out to Elsa. Frozen II had its world premiere in Hollywood CA on November 7, 2019. It was released in the United States by Walt Disney Studios Motion Pictutes on November 22, 2019. It had the highest all-time worldwide opening for an animated film.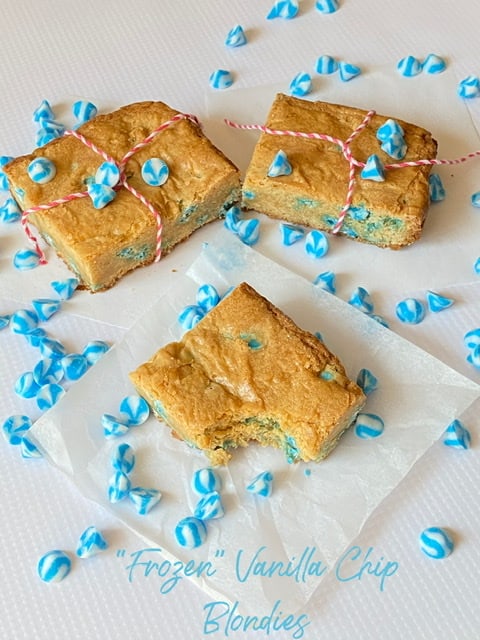 Frozen II went on to gross $1.45 billon worldwide, making it the third highest-grossing film of 2019, the second highest-grossing animated film of all time and the 10th highest-grossing film of all time. The film received positive reviews from critics, winning two Annie Awards for Outstanding Achievement for Animated Effects in an Animated Production. At the 92nd Academy Awards, the film received a nomination for Best Original Song for "Into the Unknown."
UP NEXT: Minted Spring Baby Peas
Making Blondies
Blondies are of course the little cousin of the much more popular and loved, chocolate brownies. Blondies are just as easy to make as brownies, maybe even easier. There is no messing around with melting chocolate! When making blondies there are a few things to remember.
First off, use real stick butter. Not margarine, butter substitute or whipped butter substitute. Margarine and the look-a-likes contain water and salt. Melt your butter and allow it to cool to lukewarm or until you can put your finger into it and it's slightly warm. Blondies need to be made with real butter.
Secondly, the brown sugar. Make sure your brown sugar is fresh. If you've had your bag of brown sugar for over a year and it's hard as a rock, please go buy a new bag. Blondies get their unique and delicious butterscotch-caramel flavor from real butter and brown sugar. These two specific ingredients are essential when making blondies.
Lastly, our recommendation. When the blondies are done baking, remove them immediately from the pan using the parchment paper overhang. Place the blondies on a wire cooling rack to cool for about an hour. Carefully remove the parchment paper. Using a large spatula loosen the blondies from the parchment paper by sliding the spatula under the blondies. Slowly pull the parchment paper out from under the blondies while lifting the blondies up with the spatula.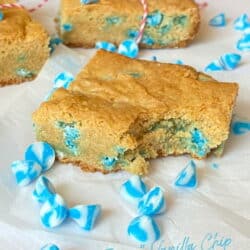 "Frozen" Vanilla Chip Blondie Recipe
"Frozen" Vanilla Chip Blondie Recipe
Ingredients
8

tablespoons

unsalted butter, melted and cooled

1

cup

packed light brown sugar

1

large

egg

1

teaspoon

vanilla extract

1 1/4

cups

all-purpose flour

1/2

teaspoon

baking powder

1/8

teaspoon

salt

3/4

cup

vanilla chips, "Frozen"
Instructions
Preheat the oven to 350°F Line an 8x8-inch baking dish with parchment paper, leaving a 2-inch overhang on two opposite sides for easy removal.

Place the butter, brown sugar, egg, and vanilla in a large bowl and with an electric hand mixer mix on med-high until well-combined, about 1 minute. Add the flour, baking powder, and salt. Use a large spatula to mix until just combined. Fold in the vanilla chips.

Spoon the batter into the prepared pan and smooth into an even layer. Bake until the edges are browned and pulling away from the pan, and a tester inserted in the center comes out clean. Bake for 25 to 30 minutes.

Grasp the excess parchment and lift the blondie slab out of the pan and onto a wire cooling rack. Cut into 16 squares.
Recipes On Tap:
Maple Chip Blondies and Mini M & M Blondies.
This recipe was made with: Nestle Frozen Vanilla Chips