Cheesy Cornbread Sticks
We may earn money or products from the companies mentioned in this post.
Cheesy Cornbread Sticks
Corn bread shaped like "corn" sticks or cactus? You bet! Easily made with cast iron pans/molds made by Lodge.
Cheddar cheese mixed into the batter 
makes theseTh  corn sticks even more special.  
Perfect for a southwestern themed party or a 
cowboy themed birthday party. Cheesy Cornbread Sticks are perfect served with chili, stews, soups or baked beans. Cheesy cornbread sticks are also great served plain or with small pats of butter. 
Spur of the Moment Ranch
Not far from where I live there is a super fun and unique 'ranch' called "Spur of the Moment Ranch. Spur of the Moment Ranch offers its guests several different themed cabins. Each cabin is different and can accommodate any number of guests. What is so special about Spur of the Moment Ranch is the fact that it's one of the few "green" facilities around and it's one of the few places that you are encouraged to bring your horse. Take your horse out on the many trails that wind through the Nicolet National Forest. Cheesy Cornbread Sticks would be perfect to make while enjoying the rustic pioneer life at Spur of the Moment Ranch.
Small Town Friendliness
Many of the towns in Wisconsin were settled over  150 years ago by pioneers of European ancestry. They have gone through logging days when towns were crowded on Saturday nights with lumberjacks. Railroads have come and gone, as have dozens of small family farms. The complexion of the state has changed through time, but one thing that remains constant is its atmosphere of small town friendliness.
The House on the Rock
The House on the Rock is Wisconsin's #1 privately-owned tourist attraction. Looming atop the 60-foot high Deershelter Rock, it was originally hand-built as a summer home by Alex Jordan. Now a fantastic collection, it includes the original house, a gate house, a mill house with guns, dolls, antique music machines, a nostalgic Street of Yesteryear, a 35-foot doll house, the world's largest carousel, a 45-foot perpetual motion clock, a 56-foot giant cannon, a roomful of automated one-of-a-kind music machines with life-like characters including "The Mikado," and more and more. This amazing spectacle is located between Spring Green and Dodgeville WI.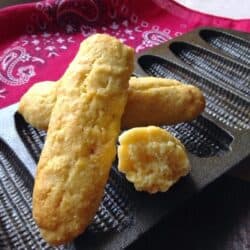 Cheesy Cornbread Sticks
Delicious served with A bowl of chili.
Ingredients
2

cups

all-purpose flour

1

cup

yellow cornmeal

1/3

cup

sugar

1 1/2

tablespoons

baking powder

1

teaspoon

salt

1/4

teaspoon

chili powder

1/2

cup

shortening

1 1/2

cups

milk

2

eggs, beaten

1/2

cup

shredded cheddar cheese
Instructions
Preheat oven to 400º Generously grease corn stick or cactus shaped cast iron mold. Place greased mold in oven for 8 to 10 minutes.

In a medium bowl, combine the first 6 ingredients. Cut in shortening until the mixture resembles coarse crumbs.

In a medium bowl, combine milk, eggs and cheddar cheese. Stir into shortening mixture just until blended.

Carefully remove hot mold from oven. Carefully fill hot molds almost full. Bake at 400 degrees for 13 to 15 minutes or until golden brown. Remove from oven. Cool corn sticks in pan for 5 minutes. Remove cornbread sticks from pan. Cool on wire racks.
Notes
To add more spice to your corn sticks, use pepper jack cheese in place 
Nutrition
Serving:
1
g
,
Calories:
1093
kcal
,
Carbohydrates:
134
g
,
Protein:
26
g
,
Fat:
51
g
,
Saturated Fat:
16
g
,
Cholesterol:
141
mg
,
Sodium:
1000
mg
,
Potassium:
1086
mg
,
Fiber:
7
g
,
Sugar:
30
g
,
Vitamin A:
594
IU
,
Calcium:
562
mg
,
Iron:
7
mg
Recipe On Tap
Sourdough Corn Fritters are super delicious. Serve with butter and maple syrup.
For this recipe we used King Arthur Flour Brand Cornmeal