Barbecue Baked Beans
We may earn money or products from the companies mentioned in this post.
Barbecue Baked Beans
Ready? Set? Go! Get your baked bean and pasta recipes ready. Dig out your bean pots and large glass bowls, its almost Grillin' Season. Great northern beans, water, bacon, onion, barbecue sauce, molasses, brown sugar and dry mustard make up the recipe for these scrumptious Barbecue Baked Beans. Use your favorite brand of barbecue sauce to make these beans to your liking.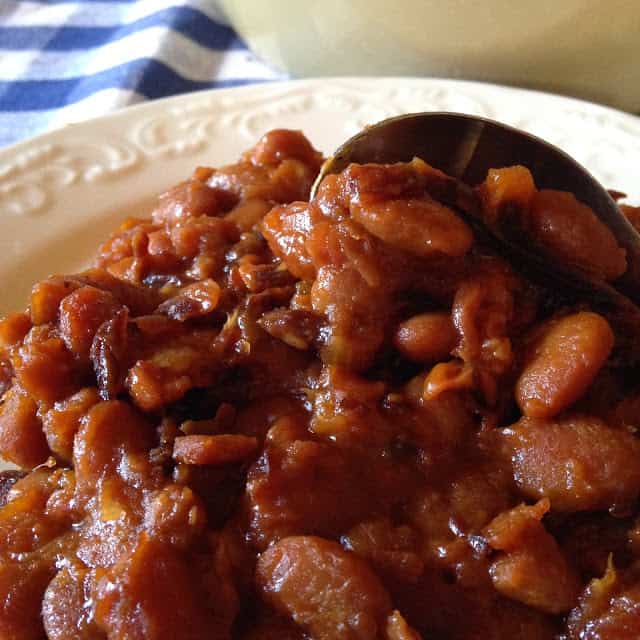 Jazz Them Up
If you want to jazz these beans up just a bit, you can add sliced chorizo  sausage, canned diced green chilies, taco flavored ground beef and/or sliced jalapeno.  Baked Bean recipes are so versatile and forgiving. There really isn't much you can do to screw up baked beans and/or add to any baked bean recipe to make them non-edible in my opinion. To me all baked bean recipes are good!
Beans
Most any bean can be used to make 'baked beans.'  We prefer to use Great Northern Beans or Navy Beans to make baked beans. For this recipe we used Great Northern Beans, which are a large white bean that resembles the lima bean (another favorite of ours) in shape. Great Northern beans have a delicate,distinctive flavor. Grown in the Midwest and are generally available dried. Like most beans, great northern beans must be soaked before cooking.
Barbecue Sauce
A sauce used to baste barbecue meat, and also used as an accompaniment to meat after it's cooked. It's traditionally made with tomatoes, onion, mustard, garlic, brown sugar and vinegar or beer. I am all for making your own barbecue sauce and I have made my own many times. With all of the hundreds of brands & flavors of barbecue sauce out there on the market today, why would I want too? I mean really! Seriously, you could try a different barbecue sauce everyday for one year and still wouldn't have tried them all!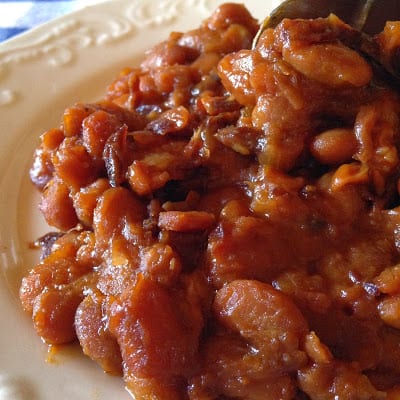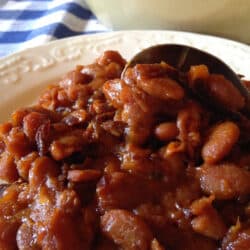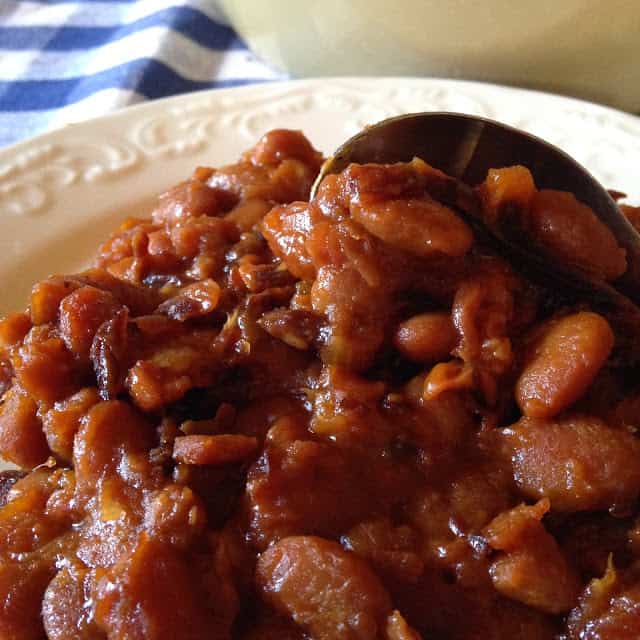 Barbecue Baked Beans
A delicious baked d bean recipe made with bbq sauce.
Ingredients
1

pound

great northern beans plus cold water to cover beans

6

cups

water

1/2

teaspoon

baking soda

9

slices

thick bacon

1

small onion, sliced

1/2

cup

barbecue sauce

1/3

cup

molasses

1/4

cup

brown sugar

1/2

teaspoon

dry mustard
Instructions
Place beans in a large bowl, cover with cold water. Soak beans overnight. When ready to make beans, drain. Place beans in dutch oven, cover with 6 cups water, add 1/2 teaspoon baking soda. Bring beans and water to a boil, turn burner off, let beans par-boil for 2 minutes. Drain water and reserve. Set beans aside.

In a large bean pot layer bacon, beans and onions, ending with bacon.

In a medium bowl mix together barbecue sauce, molasses, brown sugar and dry mustard.

Pour over beans. Add enough reserved water to cover beans.

Cover bean pot and bake at 300º for 4 to 6 hours or until beans are tender.