Chai Spice Cupcakes
We may earn money or products from the companies mentioned in this post.
Chai Spice Cupcakes
withVanilla Bean Cream Cheese Frosting
Chai Spice Cupcakes with Vanilla Bean Cream Cheese Frosting has the classic Chai spice flavor with an added new twist, cinnamon chips. The vanilla bean cream cheese frosting works perfectly with the spice seasoning blend and would be great to frost just about anything from brownies to spice cake.
Three Recipes
This post actually contains three separate recipes. One recipe for Chai Spice, one for Chai Spice Cupcakes and last but not least, the recipe for Vanilla Bean Cream Cheese Frosting. But what exactly is Chai. We did some digging and this is what we came up with.
Chai
Chai [CHAI] 1. An aromatic spiced tea flavored for centuries in India, where chai stalls tended by vendors (chaiwallahs) have long been a popular gathering place. Chai (also called masala chai), is a blend of loose-leaf tea, milk and ground spices (chai masala), typically cardamon, cinnamon, cloves, ginger, freshly grated nutmeg and pepper.
Chai can be found in natural food stores and specialty tea and coffee shops in a variety of forms including liquid concentrates, powder and loosw-leaf tea/whole spice packages. 2. chai [SHEH; SHAY] A French term usually referring to an above-ground building used for storing wine.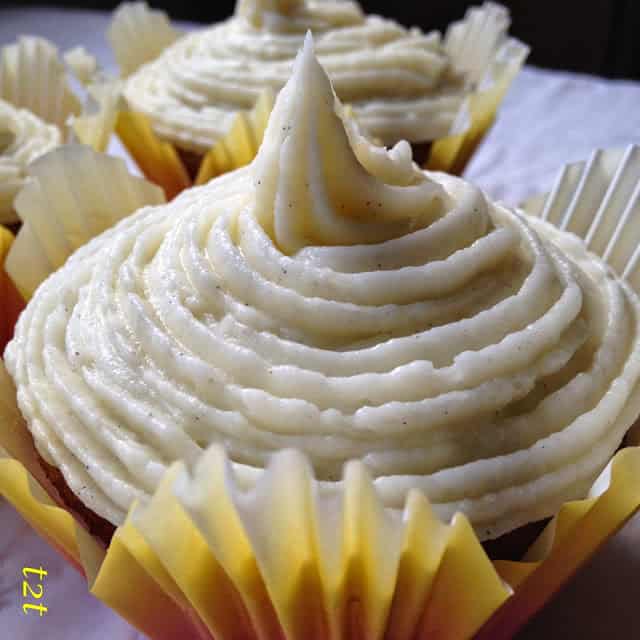 Chai Spice
Ingredients
1/2 teaspoon

ground ginger

1/2 teaspoon

ground cinnamon

1/2 teaspoon

ground cardamom

1/2 teaspoon

ground cloves

1/8 teaspoon

black pepper
Cooking Directions
In a small bowl combine spices.
Store in an air-tight container.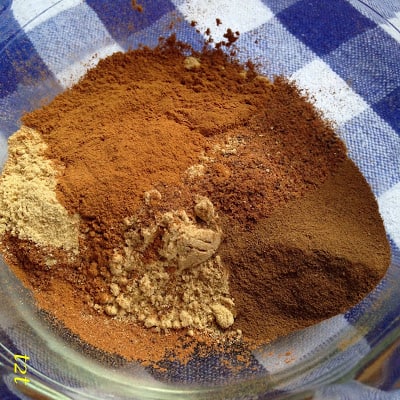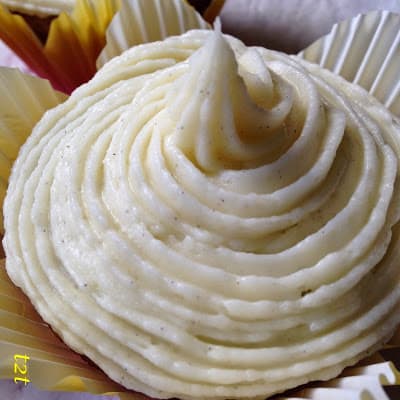 Chai Spice Cupcakes
Ingredients
1/2 cup

butter, softened

1 cup

sugar

1

egg

1/2 teaspoon

vanilla extract

1 1/2 cups

cake flour

1 1/2 teaspoons

baking powder

1/4 teaspoon

salt

1 1/2 teaspoons

chai spice mixture

2/3 cup

buttermilk

1 cup

cinnamon chips
Cooking Directions
In a large bowl, cream butter and sugar until light and fluffy. Beat in egg and vanilla extract.
Combine the flour, baking powder, salt and 1 1/2 teaspoon spice mixture.
Gradually add to creamed mixture, alternately with buttermilk, beating well after each addition.
Fill paper lined muffin cups 2/3 full.
Bake at 350 for 24 to 28 minutes or until toothpick inserted in the center comes out clean.
Cool on wire rack until completely cool.
Frost with Vanilla Cream Cheese Frosting.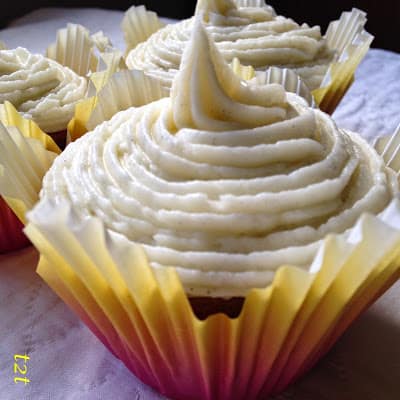 Vanilla Bean Cream Cheese Frosting
Ingredients
4 ounces

cream cheese, room temperature

4 tablespoons

unsalted butter, room temperature

1/2 teaspoon

vanilla extract

1/2 of a whole

vanilla bean pod

2 1/2 cups

powdered sugar
Cooking Directions
Split vanilla bean pod in half.
Use the tip of a knife to scrape the vanilla bean paste from each side of the pod.
Whip cream cheese in a mixing bowl until smooth.
Add butter and beat to combine.
Add vanilla extract and vanilla bean paste.
Beat in powdered sugar, a little at a time, until frosting is of desired consistency.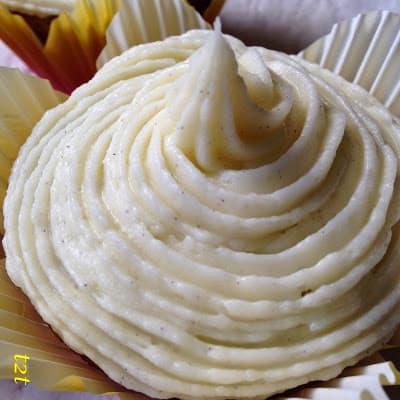 Recipes On Tap
Red White and Blue Cupcakes , Cream Filled Funfetti Cupcakes  just to name a few. Recent Recipe: Cherry Clafoutis
Chai Spice Cupcakes are made with Watkins 1868