Cheese Curd Grilled Cheese Sandwich
We may earn money or products from the companies mentioned in this post.
Cheese Curd Grilled Cheese Sandwich
*Update: October 15th is Cheese Curd Day and in honor of this cheesy day we are going to share this super duper Cheese Curd Grilled Cheese Sandwich!!
Having lived in America's Dairyland my whole life, why not make a grilled cheese sandwich made with a Wisconsin favorite, cheese curds. Made with large slices of Pano Turano Italian bread, creamy Wisconsin butter, thick slices of hickory smoked Wisconsin bacon, velvety Wisconsin butterkase cheese, sun-dried tomatoes, deep-fried, beer-battered Wisconsin cheese curds made with Wisconsin beer and Wisconsin honey goat cheese.
That's A Sandwich!
Wow, now that's a sandwich! This recipe makes one very large grilled cheese sandwich. Perfect to cut in half and serve alongside a steamy bowl of tomato soup. This combo will easily serve two. I originally came up with this sandwich and entered it in a contest under the name "The Dairyland" but unfortunately it didn't win. In my house though, my hubby said it was 'A Grand Slam' so that is all the reassurance I needed to post it here on T2T.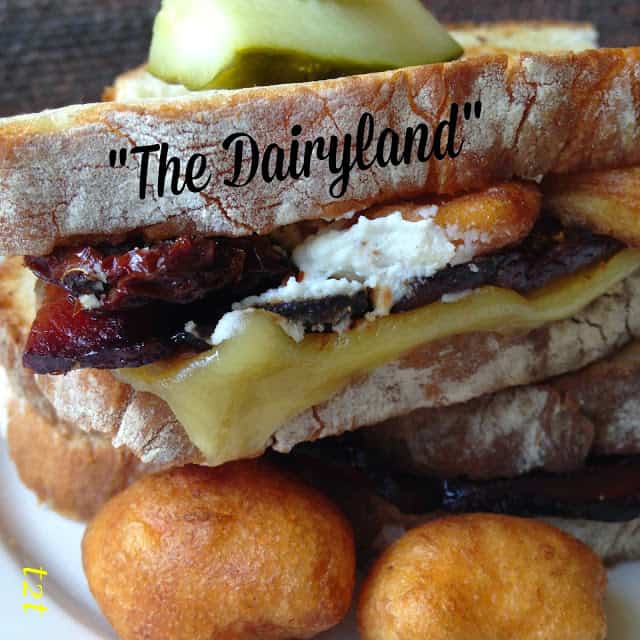 Butterkäse Cheese
Butterkäse cheese hails from Germany, and literally means "butter cheese." Most Americans would pronounce it "butter case," but it's actually pronounced "booter-keh-zuh." Butterkäse is traditionally made near the Swiss border in Germany as well as in Austria. It's loved for its creamy texture and buttery taste. It's also called damenkäse or "ladies cheese" because it is odorless and delicately flavored.
Thanks to German immigrants in the area, butterkäse is made in the true Alpine tradition here in Wisconsin. It ripens in only just one month. Making it a young, buttery snack cheese. It's a mild cheese, approachable flavor reminiscent of American Muenster. It literally melts in your mouth. With a fat content of 50%, its truly decadent. The perfect melting cheese to use in mac n' cheese, grilled cheese sandwich or fondue.
Up Next: Grape Salad Creamy and Delicious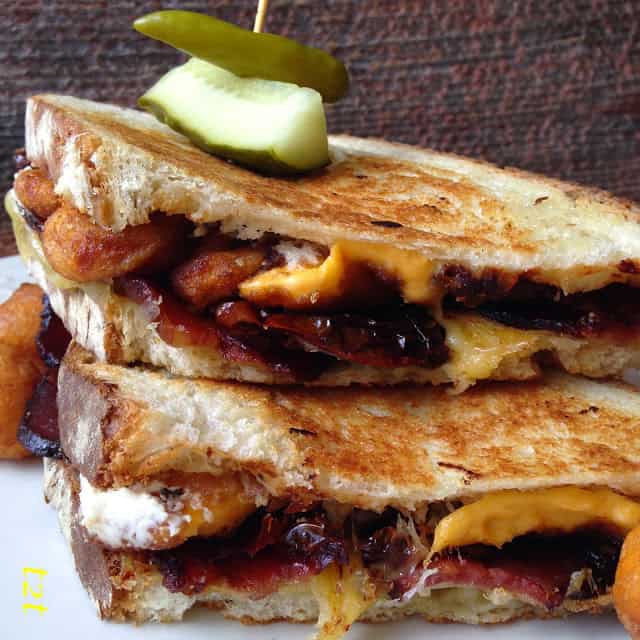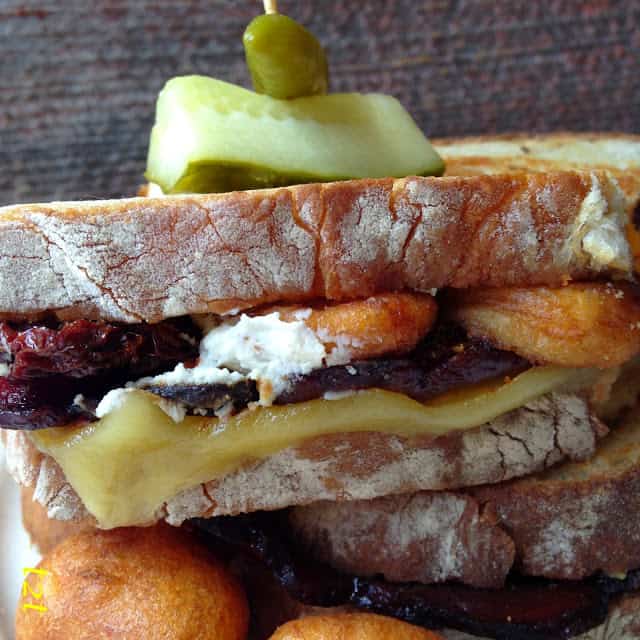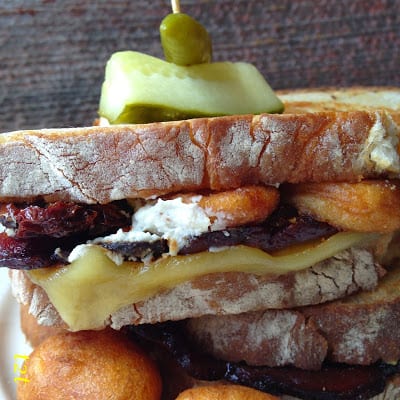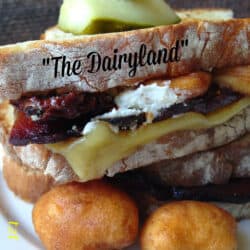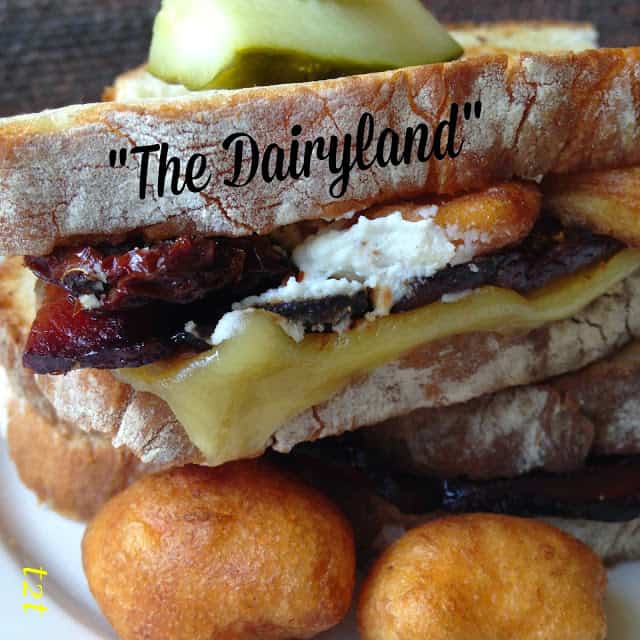 Cheese Curd Grilled Cheese Sandwich "The Dairyland"
Ingredients
2

slices

pano turano Italian bread

2

teaspoons

butter, room temperature

2

slices

butterkase cheese About 4 x 6 inch squares

4

thic cut, hickory-smoked bacon, fried until crisp

10 to 12

sun-ripened, sun-dried tomatoes in oil, drained

12 to 14

cheese curds

1

egg, beaten

1

tablespoon

oil

1

cup

beer

1

cup

flour

1

teaspoon

sugar

1/2

teaspoon

salt

1

teaspoon

baking powder

2

ounces

honey goat cheese

oil for deep frying
Instructions
Make deep fried cheese curds:

Heat 3 to 4 inches of oil in a deep cast iron skillet to 375º In a medium bowl, whisk together beaten egg, 1 tablespoon oil and beer.

In a separte medium bowl, stir together flour, sugar, salt and baking powder. Add dry ingredients to egg/beer mixture. Mix until smooth.

Drop a few cheese curds into batter. Using a fork, toss to coat curds. Drop a few curds at a time into hot oil. Fry for a few minutes or until golden brown. Remove curds with a long handled wire mesh strainer. Drain curds on paper towels, season with salt if desired.

Start to assemble sandwich: Butter one side of sliced bread with 1 teaspoon of butter. Place buttered side down in a cold skillet. Lay slices of butterkäse cheese on bread cutting cheese to fit bread, if necessary. Lay slices of bacon on top of cheese. Top bacon with drained, sun-ripened, sun-dried tomatoes. Lay cheese curds on top of sun-dried tomatoes. Carefully spread honey goat cheese on remaining slice of bread. Place bread, goat cheese side down on top of cheese curds in pan.Lightly butter slice of bread with remaining 1 teaspoon of butter.

Place frying pan on burner, heat pan over medium heat. Grill sandwich over medium heat until golden brown. Carefully flip sandwich over.

Grill until sandwich is golden brown on both sides and cheese is melted.
Recipe On Tap:
Cheese information from Butterkase, Wisconsin's Little-Know "Butter Cheese"