Brats 'n Beer with Kraut
We may earn money or products from the companies mentioned in this post.
Brats 'n Beer with Kraut
Welcome Back to Football Friday and the Game Day Recipe. Brats 'n Beer with Kraut is a classic Wisconsin football stand-by. Game day isn't the same without brats, at least not in Wisconsin! Chicken, fish, burgers, hot dogs and steak are all ok but brats are King of the grill on football Sunday, at least in my house. Today's recipe is one that I have made many, many times!
Anytime is a Good Time
If you live in Wisconsin or have attended a Packer/Badger/Brewer game, you've eaten a brat. Have you ever visited Wisconsin? Then you have no doubt had brats n' beer with kraut somewhere along the way. Some say it's a true Wisconsin experience, along with eating cheese curds! Our favorite brats are the brats from Trig's Smokehouse. Trig's is a super supermarket located in Rhinelander Wisconsin. There brats a world famous.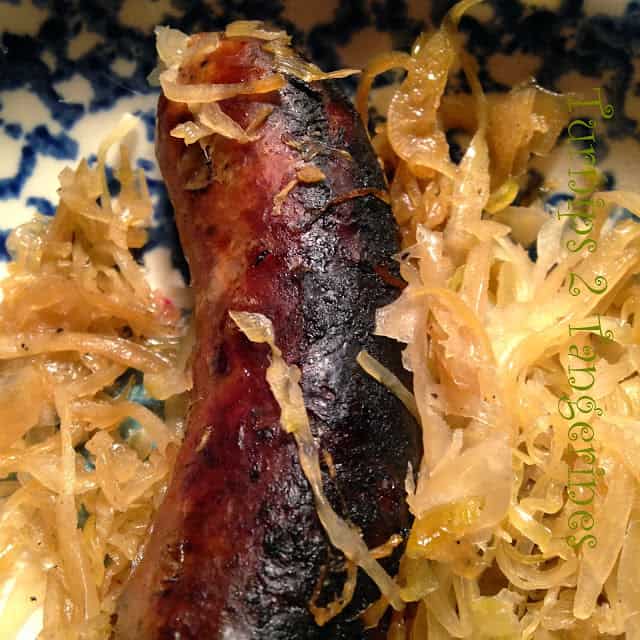 Gimme Three Steps..
There are three 3 steps to this recipe but none of the steps are difficult nor are they time consuming. Serve brats on buns with kraut, ketchup, relish, onions and Dusseldorf mustard. You can top your brat with anything you want too. There is no rhyme nor reason to a brat eating. Boil, Grill, Top with your favorite condiments, and Eat! That's all there is to it.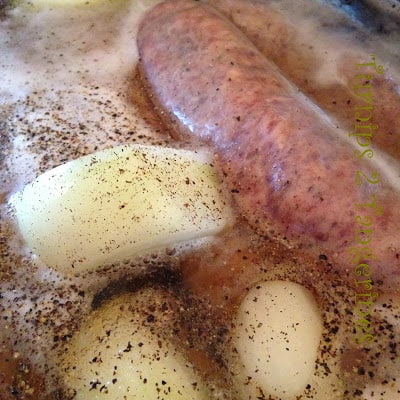 Trig's Smokehouse World's Best Brats
Trig's Smokehouse won World's Best Brats in 2011, the last year of the contest. This means that Trig's Smokehouse reins as the "King" of brats. This traditional bratwurst is to Wisconsin what fried chicken is to the South. The aroma of trig's bratwurst sizzling on the grill will transport you to the fun of summer cookouts by the lake and fall tailgating at football games. Top-secret, award-winning brat seasoning compliments and spices up the lean salty pork, making this a peppery and savory bite of bratwurst heaven.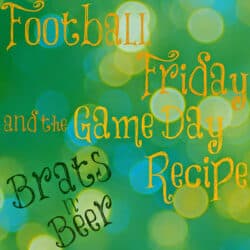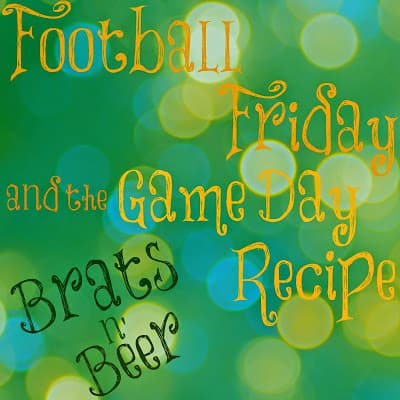 Brats 'n Beer with Kraut
Ingredients
For the Brats:

1

large

onion, cut into quarters

2

cans

beer

1

can

water

salt and pepper, to taste

6 to 8

bratwurst

Bratwurst Sauce:

2

tablespoons

olive oil

1

large

yellow onion, sliced

2

cloves

garlic. minced

1 or 2

cans

beer

1 1/2

cups

apple juice. apple cider or beef broth

4

tablespoons

firmly packed brown sugar

4

tablespoons

vinegar

2

bay leaves

1

teaspoon

caraway seeds

1

tablespoon

Worcestershire sauce

1/4

teaspoon

pepper

1

32 oz jar

sauerkraut, undrained
Instructions
Step 1: Par-boil Brats

In a dutch oven or large saucepan, combine onion, beer and water. Add brats and bring mixture just to a boil. Turn heat off. Remove pan from heat. At this point you can let the brats sit in the beer/water mixture, for up to one hour. Drain beer/water mixture, proceed with grilling directions.

Step 2: Grill Brats

Prepare gas or charcoal grill, discard beer/water mixture, grill par-boiled brats on gas or charcoal grill, grill until brats are golden brown on all sides.

*Do Not Pierce Brats when grilling*

Step 3: Prepare Beer Kraut Sauce

In a 10-inch skillet, heat oil over moderate heat. Add onion and garlic, cook for 5 minutes. Add beer, juice or broth, brown sugar, vinegar, bay leaves, and caraway seeds. Stir in Worcestershire sauce and pepper. Bring to a boil, lower heat, add sauerkraut and grilled brats. Simmer on low to med-low for 45 minutes to an hour. Discard bay leaves before serving.