Congealed Cherry Salad
We may earn money or products from the companies mentioned in this post.
Congealed Cherry Salad
Congealed Cherry Salad is a fantastic salad made with all sorts of good things. Dark sweet cherries, mandarin oranges, crushed pineapple, chopped pecans and mini marshmallows. Cherry jello holds everything together. This post also contains a Kitchen Tip on: How to Unmold Jello. After all, if you don't unmold a jello salad correctly, all you'll have is a big 'ol mess to serve. And we don't want that, do we?!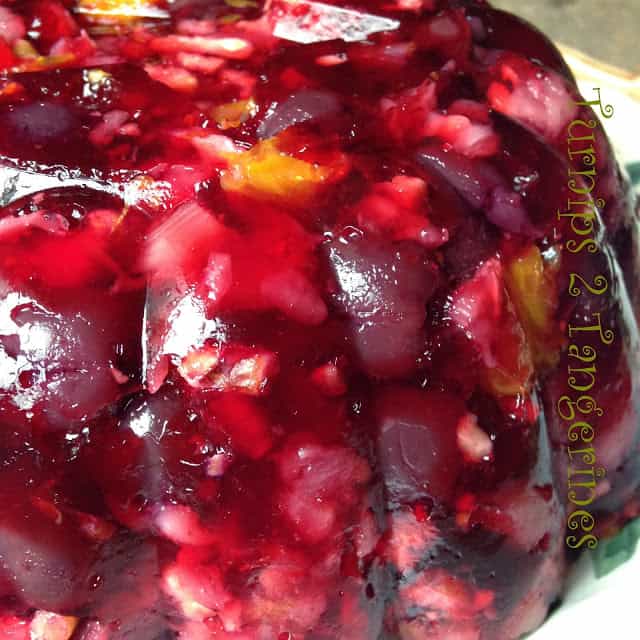 Family Traditions
In my house Thanksgiving just isn't Thanksgiving, without some type of Jell-o Salad. Over the years, many different Jell-o Salads have adorned our table. This Thanksgiving will be no different, this year we'll be enjoying, Congealed Cherry Salad. Sounds delicious, doesn't it. But, what in the heck does Congealed mean???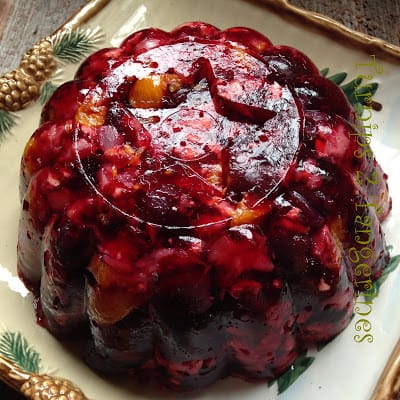 Congealed
What in the world does "Congealed" mean? It's a not so nice sounding word for a delicious tasting jell-o salad. Congealed means: "A jell-o salad made with flavored or unflavored gelatin, fruit, nuts, and vegetables such as grated carrots, chopped celery and/or cottage cheese, cream cheese, whipped topping and/or mini marshmallows." So tell me something I don't know!!
Basically "congealed" means: any jell-o salad with a bunch of stuff in it. The next time you see the phrase/recipe that calls itself a  "congealed" jello salad, don't run screaming in the other direction. It's just a jello salad, so grab a big spoon and dig in. Its full of all kinds of good things to eat.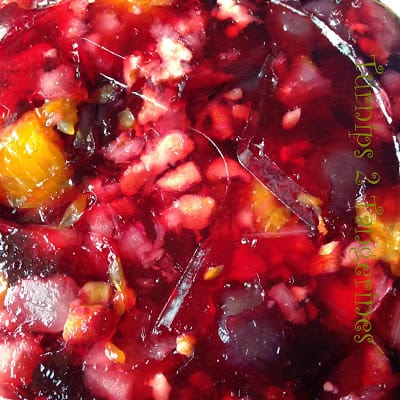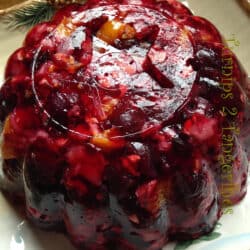 Congealed Cherry Salad
Perfect for any occasion.
Ingredients
1

15 oz can

dark sweet pitted cherries, undrained

1

11 oz can

mandarin oranges, undrained

1

8 oz can

crushed pineapple, undrained

1

6 oz package

cherry gelatin

1

cup

cold water

1/2

cup

chopped pecans

1/2

cup

mini marshmallows

whipped topping for garnish, optional
Instructions
Drain fruit, reserving 1 1/2 cups juice; set aside. Bring juice to a boil in a medium saucepan. Add gelatin; cook stirring constantly, 2 minutes or until gelatin dissolves. Remove gelatin mixture from heat; stir in cold water. Cover and chill until mixture is the consistency of unbeaten egg whites. Fold in fruit, pecans and mini marshmallows. Spoon into a lightly sprayed 6-cup mold, cover and chill until firm.
Un-mold jello salad and serve.
Nutrition
Serving:
1
g
,
Calories:
58
kcal
,
Carbohydrates:
4
g
,
Protein:
1
g
,
Fat:
5
g
,
Saturated Fat:
1
g
,
Sodium:
3
mg
,
Potassium:
28
mg
,
Fiber:
1
g
,
Sugar:
2
g
,
Calcium:
5
mg
,
Iron:
0.2
mg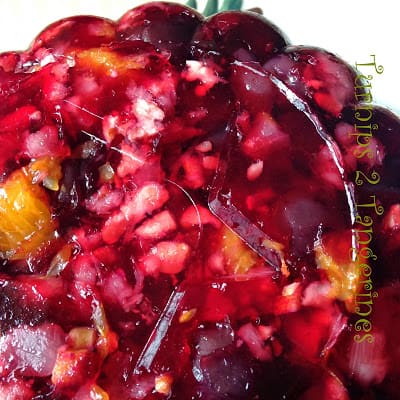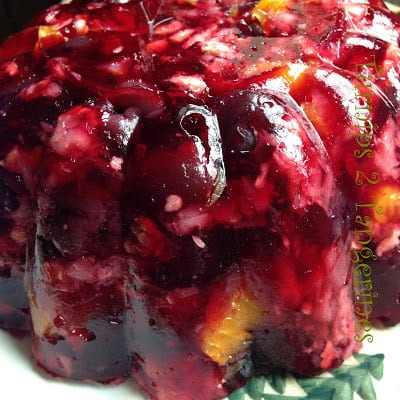 Kitchen Tip: How to Unmold Jello
To unmold with ease:mRun a knife around edge of mold to break the suction. Gently pull salad away from sides using fingers. Wrap mold in a damp, warm dish towel for 1 minute. Unwrap, place a serving platter on top of mold, and invert. Gently shake, and remove mold. Non-stick cooking spray works wonders also. I have several, ok it's a "collection" of  "vintage" Tupperware jello molds that are fantastic. When the seal or cover is opened or broken, the molded jello slips right out.