Air Fryer Cauliflower with Cheese
We may earn money or products from the companies mentioned in this post.
Air Fryer Cauliflower with Cheese
If you're looking for an easy, tasty and cheesy recipe for cauliflower or if you just want a new way to prepare cauliflower, this recipe is for you. I've recently decided to spend more time on YouTube, not watching videos as I do enough of that already but making food videos. I'll be making step-by-step videos of moi preparing a recipe. Air Fryer Cauliflower with Cheese just so happens to be my first video, and you can definitely tell that when watching the video but you gotta start somewhere right?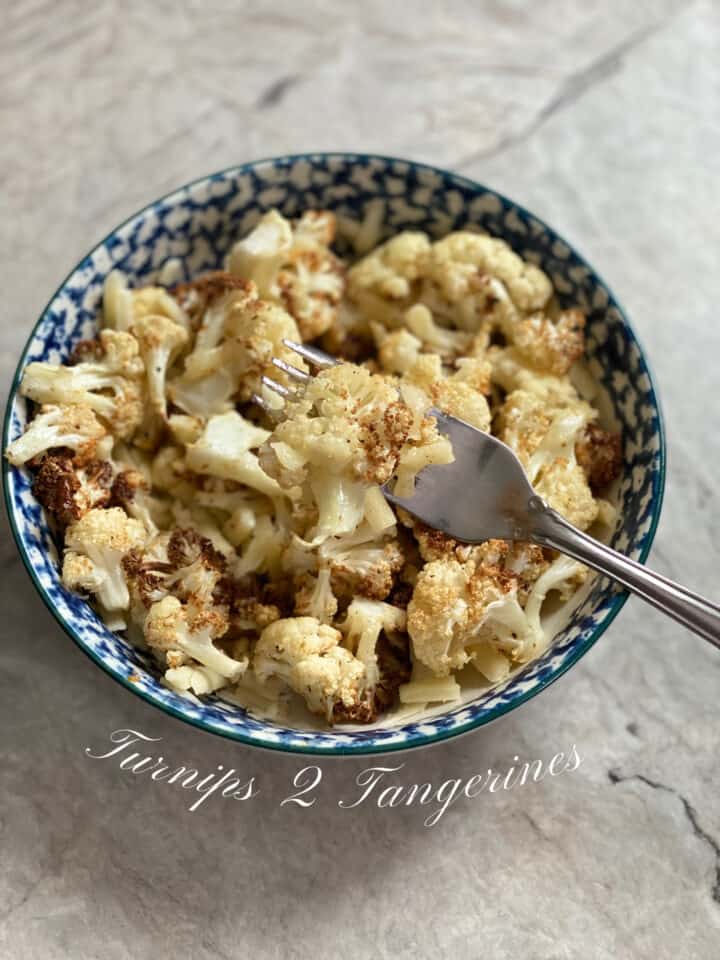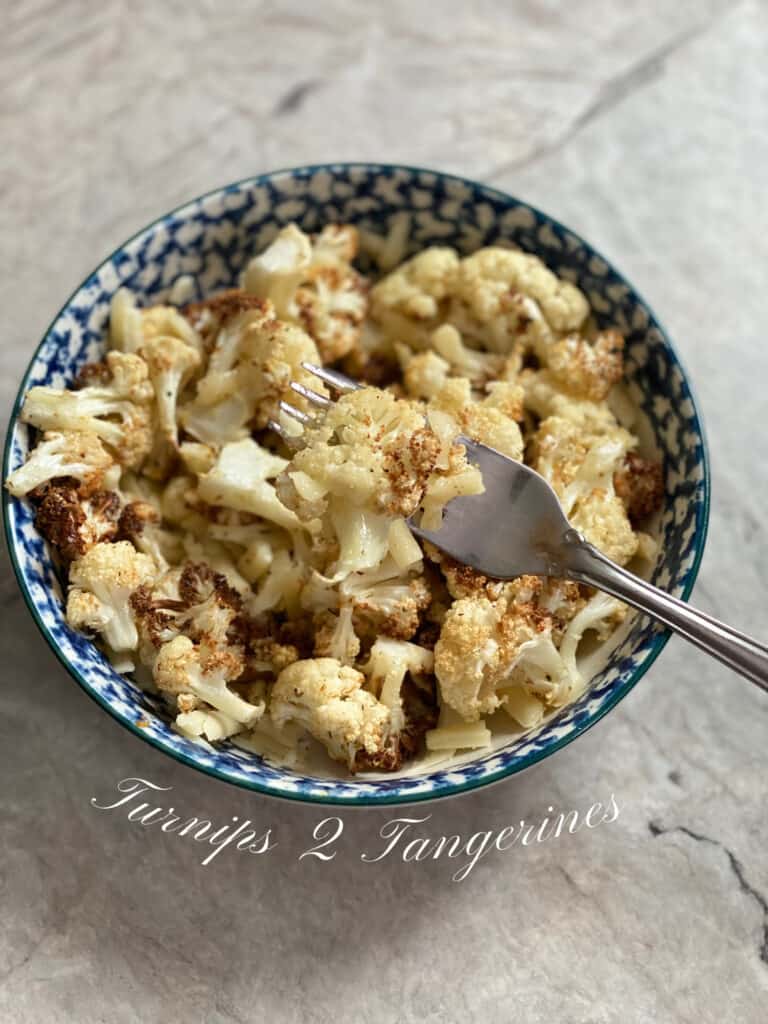 Canned Vegetables No More
There aren't many ingredients in this easy recipe. Four to be exact. Nor does it take a rocket scientist mentality to follow the directions to prepare this recipe. Therefore, I can definitely say that air fryer cauliflower is a cinch to make. One thing I really like about my air fryer is how easy it is to make fresh produce vegetables.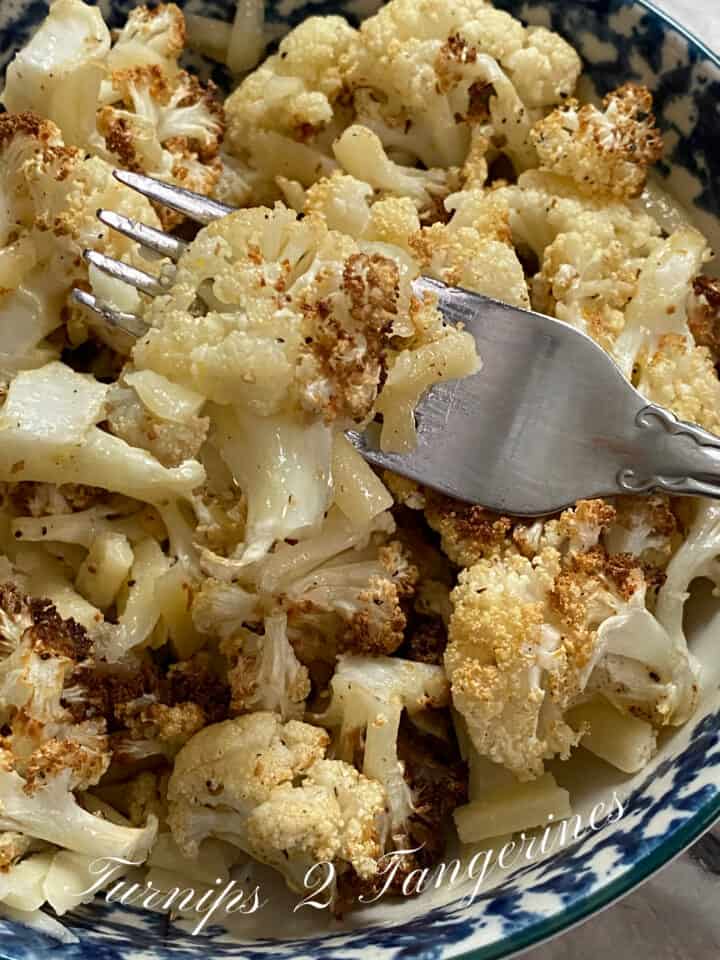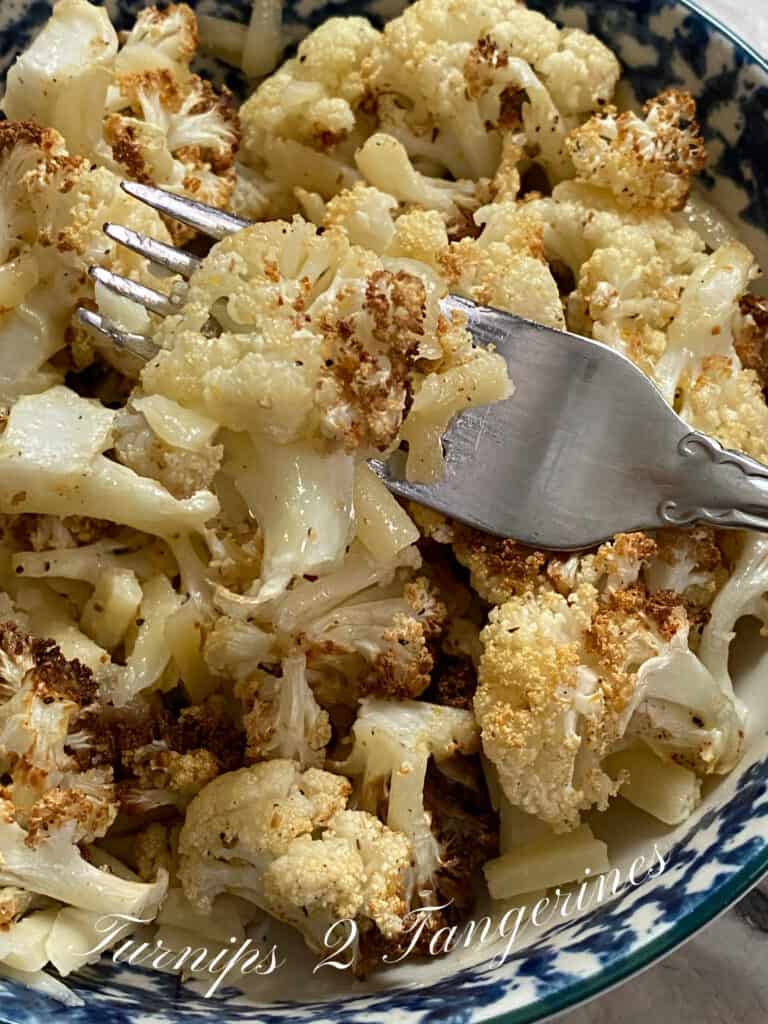 Having grown up in the 60's, and having a mom who couldn't cook to save her behind, canned vegetables were a housewife's best friend. Canned vegetables sold for something like 10-16 oz can for a $1.00. If you grew up in the 50's, 60's and 70's, you are familiar with canned wax beans, mixed vegetables, peas and the dreaded canned spinach. I still use canned vegetables from time to time in recipes but thankfully we now use fresh, canned and frozen vegetables that we can use equally in recipes.
Big Families No More
Back in the day, the average household had six kids, many families even more. Most average, God fearing, good Catholic families had at least 6 kids. Seldom did you see a family with only four kids. For some reason, families always came in an even number of kids too. Hardly ever did you see a family with five, seven or even nine kids. The norm was six or eight but every once in awhile, you'd see the family that had 10 and even 12 kids. Every Sunday they'd march single file into church, sit down, while taking up one whole pew. As a child, I would sit in awe as I stared at the family with so many kids. I'd think to myself, "Wow, that family must really be holy!"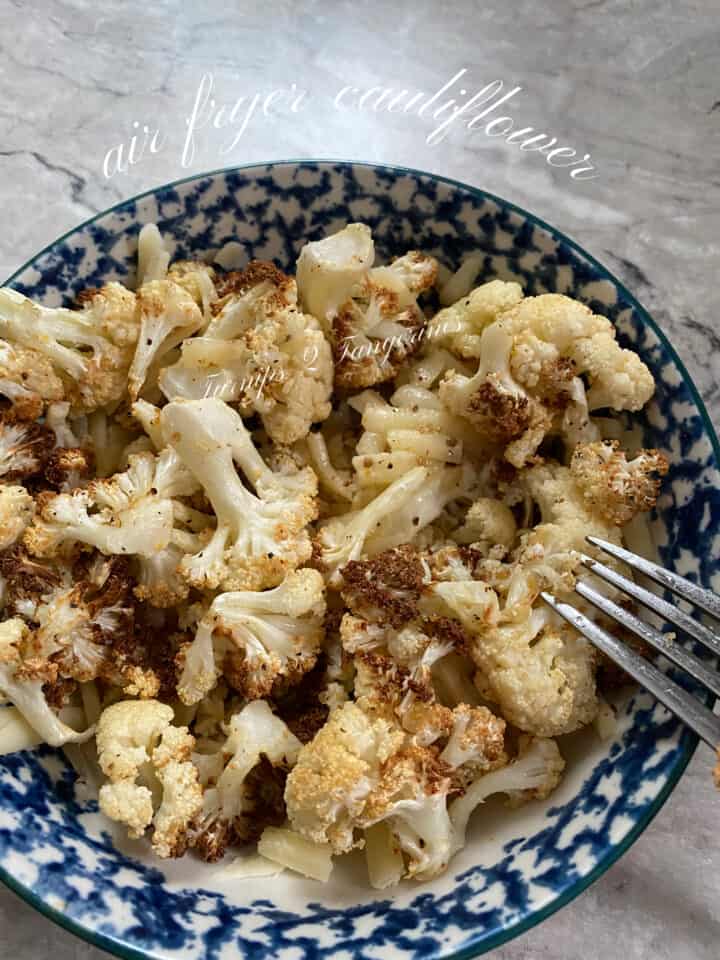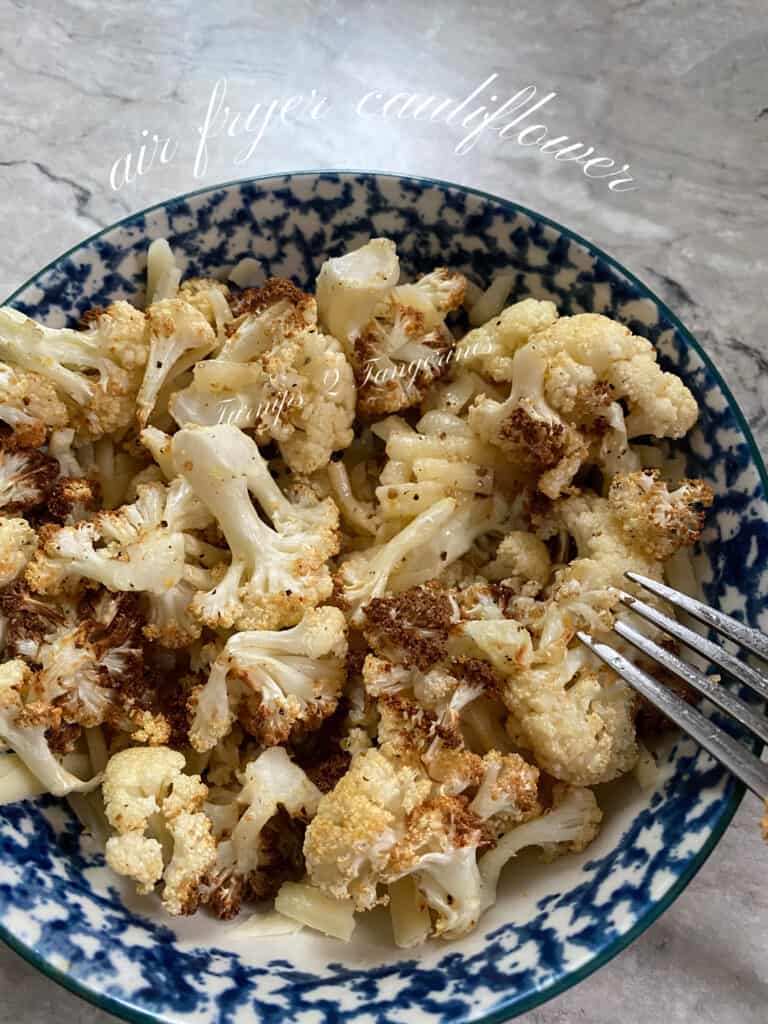 What's Needed
Enough rambling and back to the recipe at hand. There are only a few ingredients in this easy cauliflower recipe but I can definitely say, this is one simple recipe you will make over and over. What you'll need to make Air Fryer Cauliflower with Cheese:
large head of cauliflower
olive oil
everyday seasoning or salt and pepper
shredded sharp white cheddar cheese
Toss the cauliflower with the oil and seasoning. Then in the air fryer basket it goes. Turn your air fryer to 400 and 12-15 minutes later,  it's done. Dump the cauliflower into a large bowl, sprinkle with shredded seriously sharp white cheddar cheese. Cover the bowl with plastic wrap and let sit for a few minutes. When the cheese has melted, serve and enjoy! Stop by my YouTube channel and follow along with my step-by-step directions. My YouTube Channel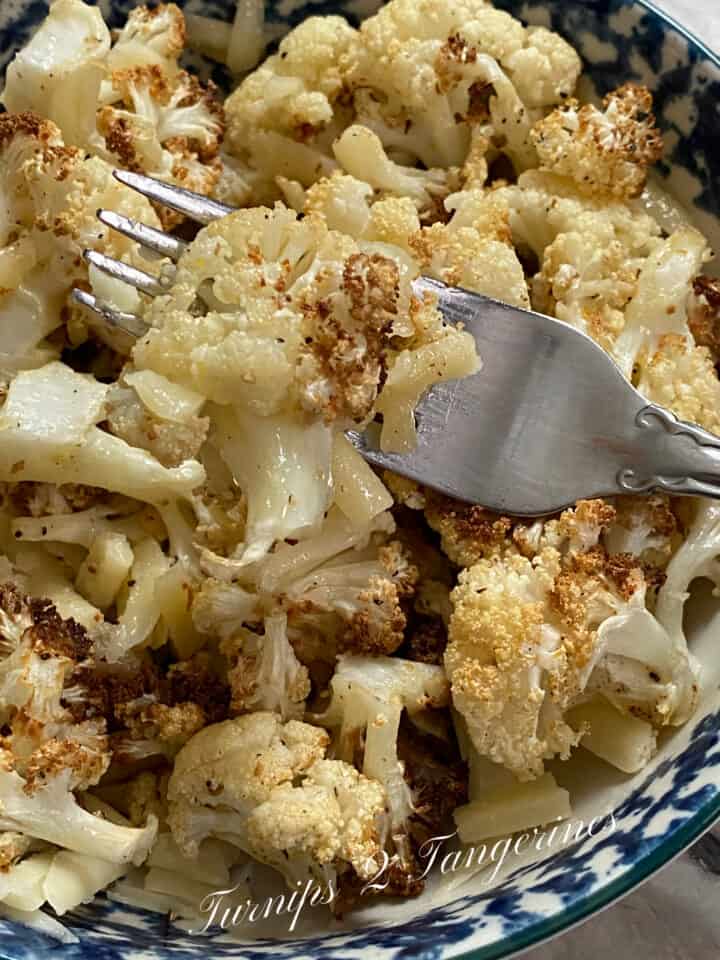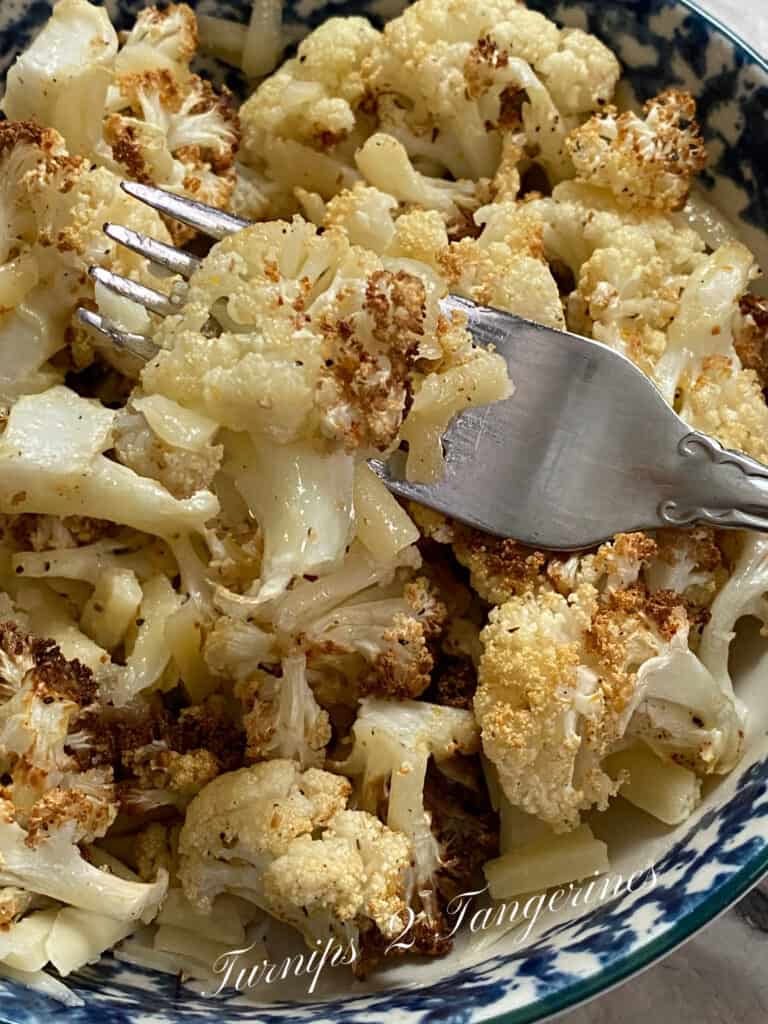 Seriously Sharp Cheddar Cheese
For this recipe we used a wonderful sharp white cheddar cheese from, nope not Wisconsin but from Vermont. Seriously Sharp White Cheddar Cheese made by Cabot is seriously delicious! Coming from someone who has lived over 60+ years in America's Dairyland, I know my cheese and this stuff is seriously good:) Now my hubby, the chili-head in the family, loves the habenaro cheddar cheese and the horseradish cheddar cheese is pretty darn good too. Cabot Cheese. Check it out.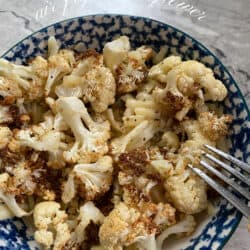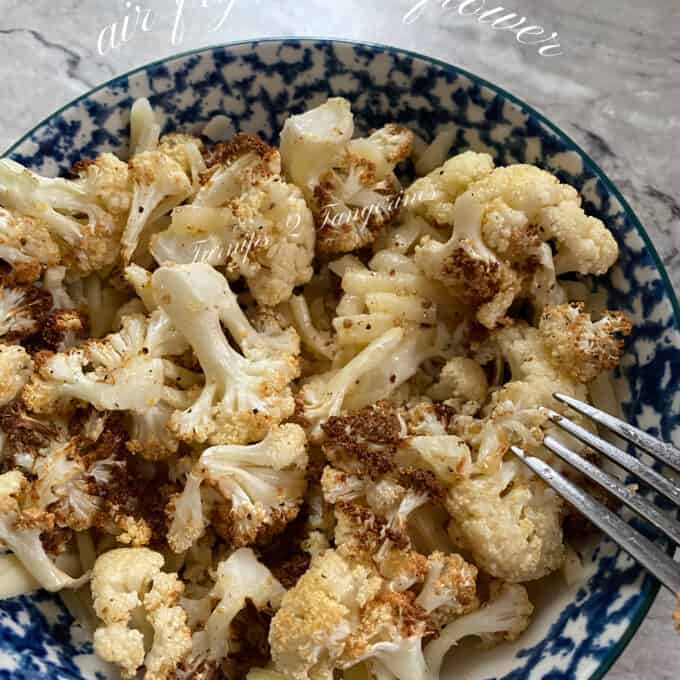 Air Fryer Cauliflower
Ingredients
1

head cauliflower

,

cut into florets

2

tablespoons

olive oil

1

teaspoon

everyday seasoning or seasoning of choice

1

cup

shredded white sharp cheddar cheese
Instructions
Cut cauliflower into florets

Combine olive oil and everyday seasoning in a large bowl. Toss with cauliflower.

Preheat air fryer to 400 F.

Place cauliflower in the air fryer basket and cook 12-15 minutes.

Check cauliflower and cook an additional 2-3 minutes or until florets reach desired doneness. Spoon cauliflower back into large bowl. Sprinkle with shredded cheese. Cover with plastic wrap. Let stand until cheese has melted slightly. Serve
More Air Fryer Recipes: