Air Fryer Brussels Sprouts with Bacon
We may earn money or products from the companies mentioned in this post.
Air Fryer Brussels Sprouts with Bacon
Hello, Welcome back to Turnips 2 Tangerines. I'm back today with another fast and easy recipe that's made in the air fryer. I think Brussels sprouts have always gotten a bad rap. I'm really not sure why either. After all, they're just mini cabbages.  If you've looked closely around the produce department lately, mini, petite and baby fruits and vegetables are all the rage. Maybe if Brussels Sprouts were marketed as "baby or mini"cabbages, they'd make a huge comeback! After all, Brussels sprouts are the first and only "original" baby or mini vegetable. Haven't tried Brussels sprouts for some time? Make this recipe for Air Fryer Brussels Sprouts with Bacon. I guarantee you'll love this recipe and if you still don't like Brussels sprouts after trying this recipe, you can easily eat just the bacon!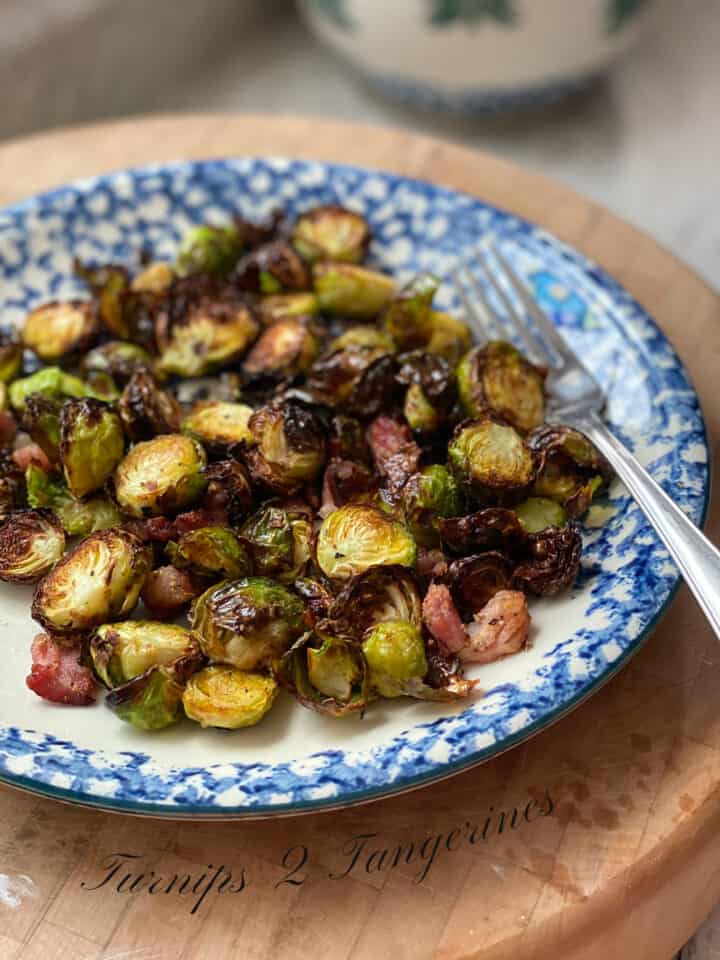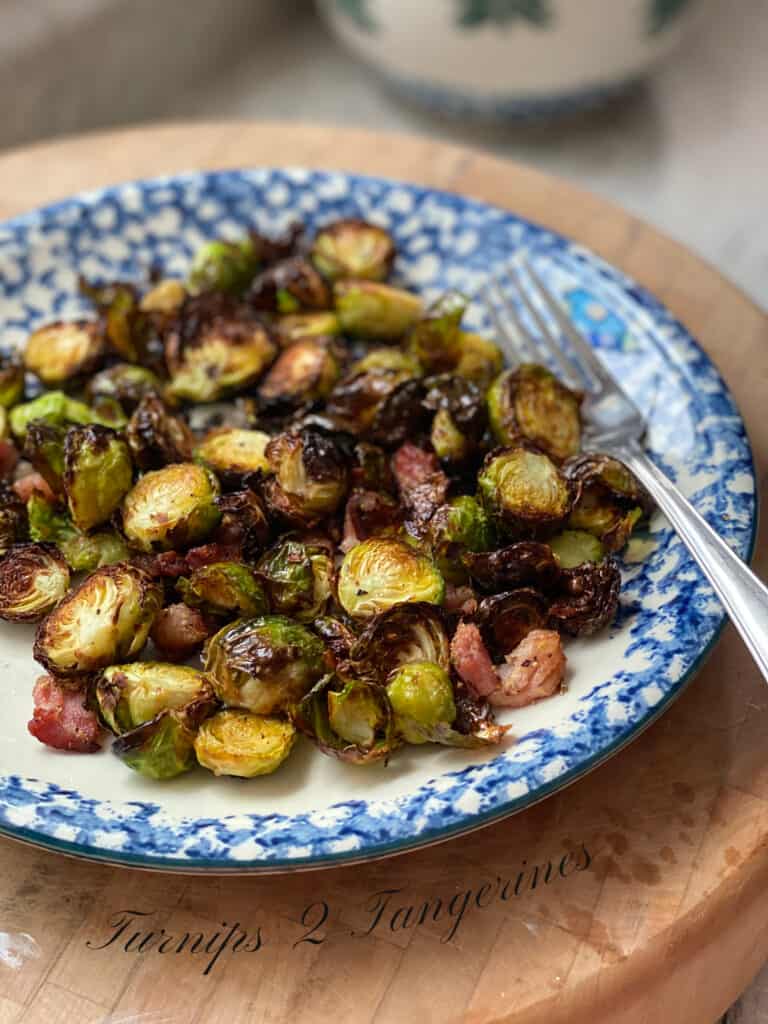 Brussels Sprouts
Lately at the grocery store I've been seeing fresh Brussels sprouts still on the stalk. I've seen them this way at farmers markets but never at the grocery store. I imagine that the purpose of this would be to keep them fresh but honestly I really don't know. I've never purchased sprouts on the stalk before so I can't say. Next fall though, when I see them at the farmers market on the stalk, I'm going to pick some up. But before then, I better do some research as to the best way to store Brussels sprouts still on the stalk. If you have any suggestions leave me a comment below, I'd love to hear from you:) For this simple recipe we used one 16 oz package Brussels sprouts.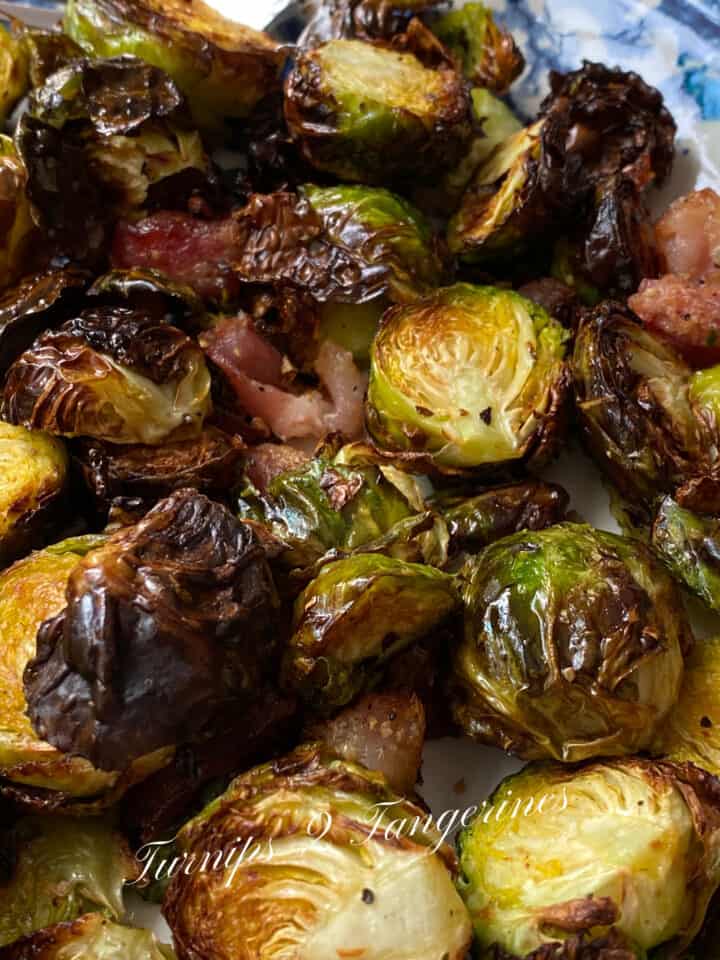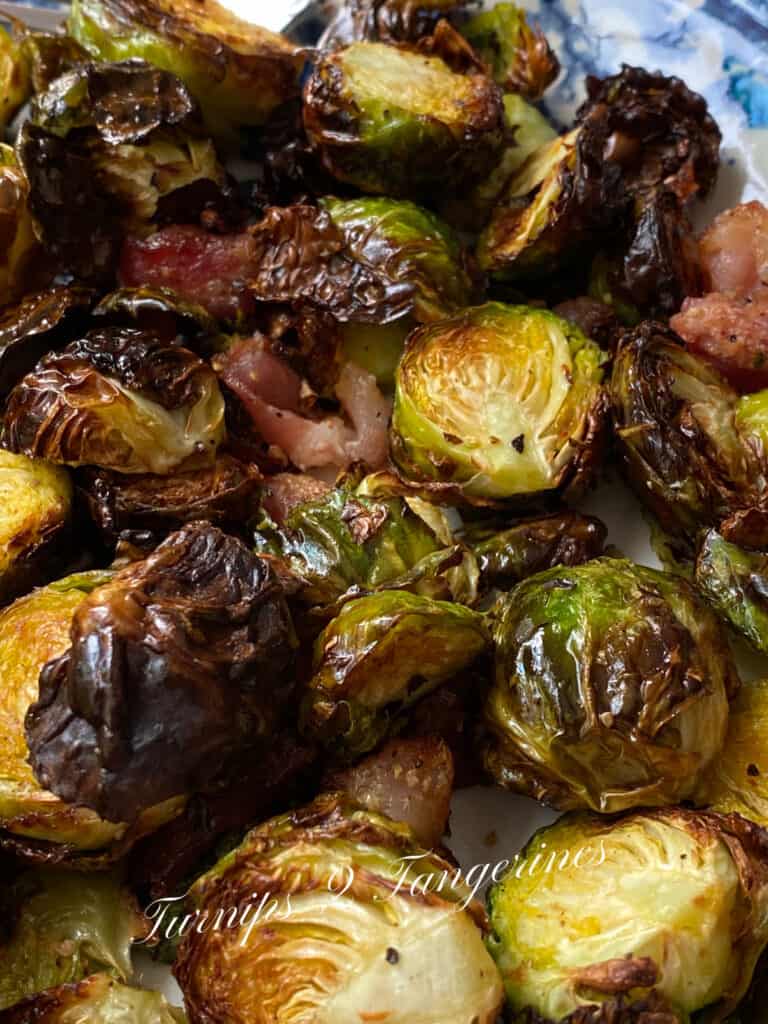 What You'll Need:
The ingredient list is a short one. What you'll need to make Air Fryer Brussels Sprouts with Bacon is:
Brussels Sprouts, 16 oz package
4 Slices Bacon, cubed
Everyday Seasoning Blend or Seasoning of Choice, to taste
2 Tablespoon olive oil
The Everyday Seasoning Blend that I've been using as of late is from Trader Joe's. It's one of our absolute favorites and whenever I get the chance to go to Trader Joe's, I pick up a couple grinders. The nearest Trader Joe's is roughly 2 1/2 hours away so I don't get there often but when I do, watch out! I buy everything in two's. I try to make a Trader Joe's run at least 4 times a year to stock up on all of my favorites:)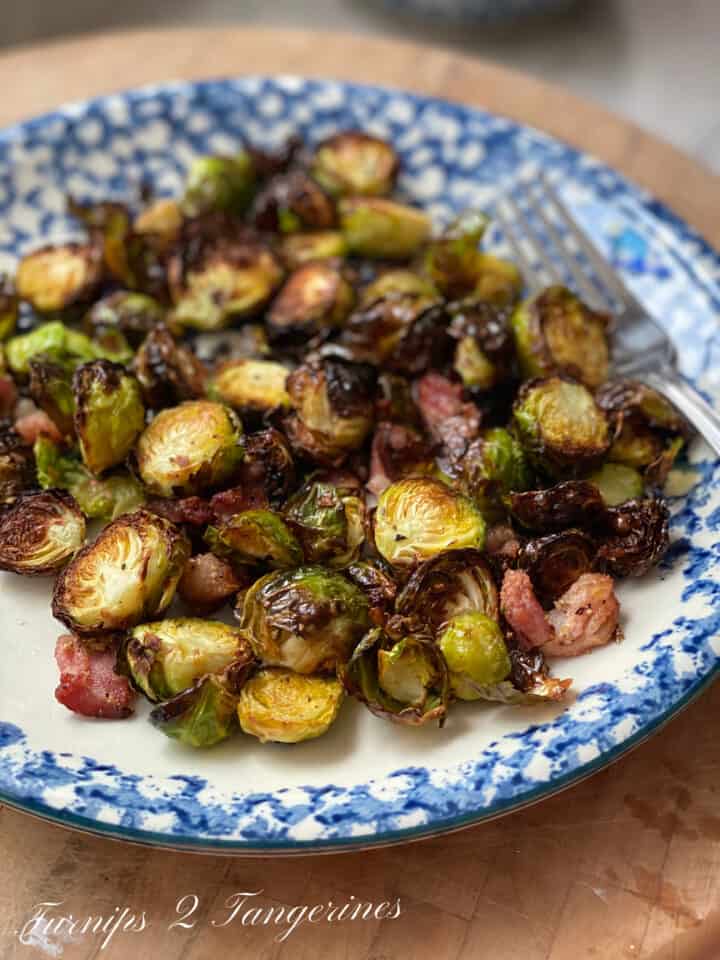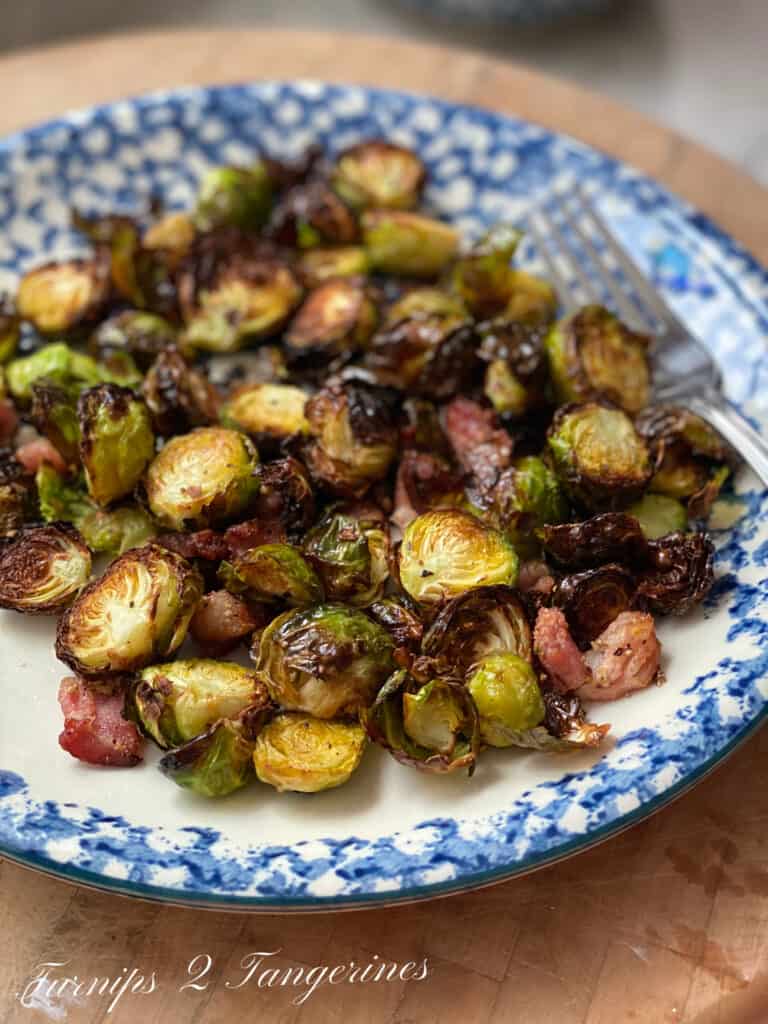 More Brussels Sprouts Recipes
Keto Brussels Sprouts with Bacon
Fast, Easy and Delicious!
Ingredients
1

pound

Brussels sprouts

4

slices

bacon, diced

2

tablespoons

olive oil

Everyday Seasoning or Salt and Pepper to taste
Instructions
Cut your Brussels Sprouts in half, remove stem end, as you cut them, place them into a large mixing bowl.

Add the diced bacon to the bowl.

Mix in the olive oil, and seasoning. Toss well.

Spread the Brussels Sprouts and Bacon out in either the air fryer basket or tray.

Set the temperature to 400 degrees. Add Brussels sprouts and cook for 12 minutes, after 6 minutes, stir the Brussel Sprouts. Continue to air fry for another 6 minutes. Check after the 12 minutes to see if they are as crispy as you like them if not, cook for 3 more minutes.