Keto Wonder Bread Chaffle Recipe
We may earn money or products from the companies mentioned in this post.
Keto Wonder Bread Chaffle Recipe
I saw this recipe over and over again on Pinterest. Each time I saw the recipe, I thought, "Boy, that looks good." It was at that point on my diet that I was really starting to crave carbs. I could have easily eaten a loaf or two of good bread. Not the sliced white or wheat sandwich bread. I'm talking about the kind of bread you buy at a bakery. The kind of bread you need a serrated knife to slice. Brown and crisp on the outside and soft and chewy on the inside, served with lots creamy butter. But for right now anyway, Keto Wonder Bread Chaffle Recipe will have to do.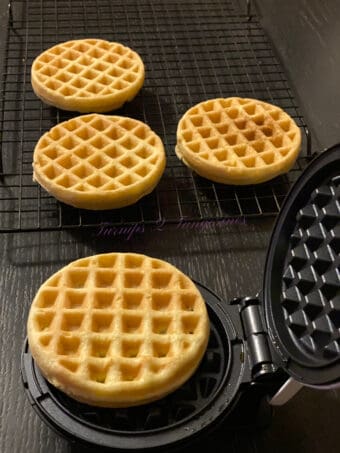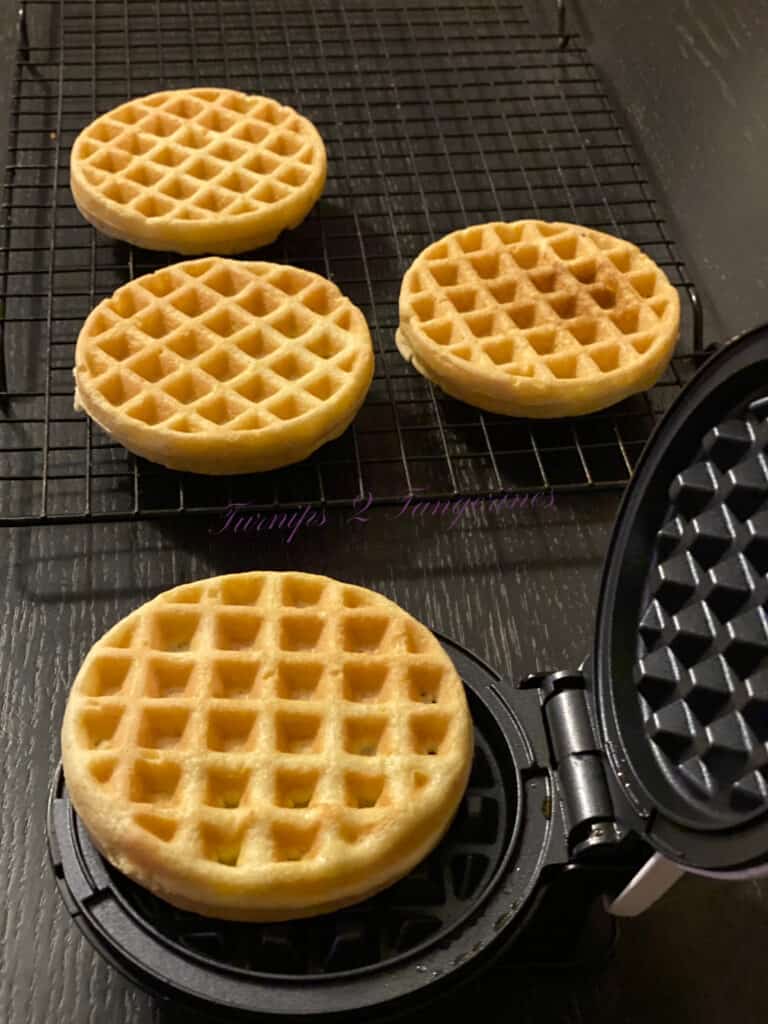 Soft, Easy & Delish

This recipe makes an absolutely amazing low carb sandwich bread. The mini chaffles are easy, soft and don't have that eggy taste some chaffles have that are made with only eggs and cheese. They're surprisingly thick and can be popped into your toaster also. Perfect for sandwiches, served with maple syrup, or topped with anything, such as grilled burgers, grilled salmon, or tuna salad. Which is exactly what I topped my chaffle with; tuna salad and cheese. The tuna salad recipe is your basic recipe; one small can tuna, drained. Toss in one tablespoon each; diced onion, celery and/or dill pickle. Mix everything together with a few tablespoons of mayonnaise. Serve on top of a toasted chaffle. Top with sliced cheese. Here a a easy recipe for Tuna Salad Sandwich.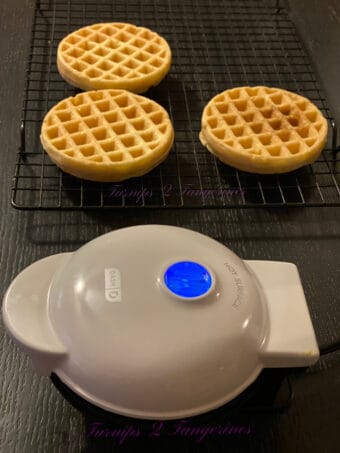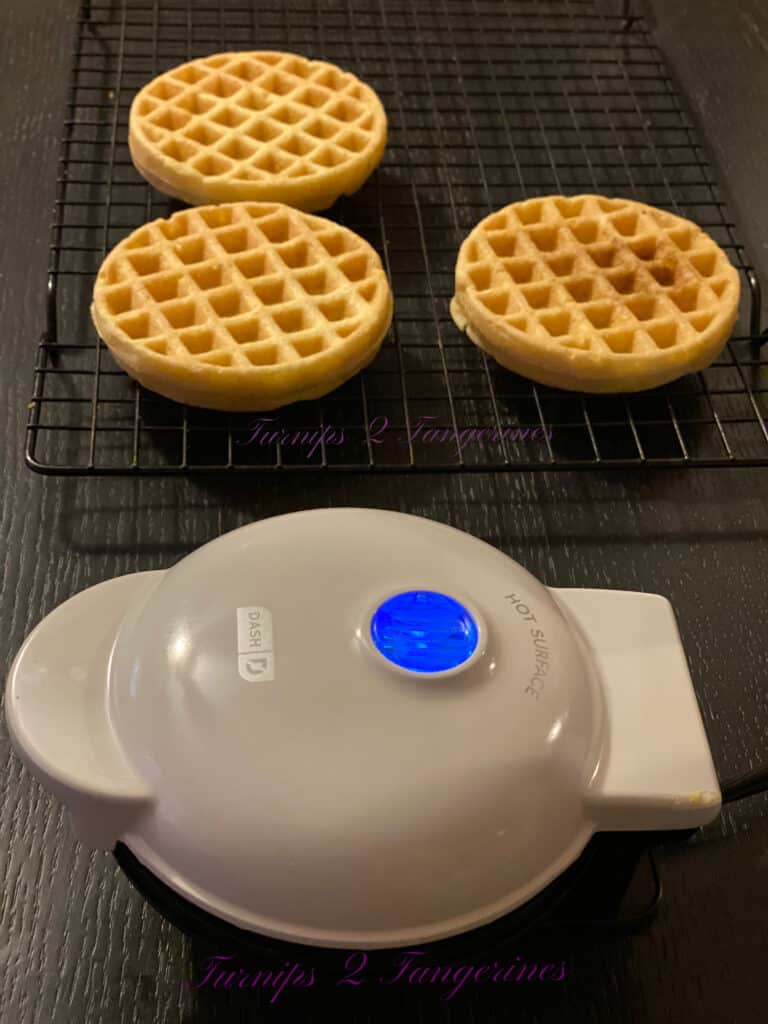 Dash Mini Waffle Maker
In order to make these super easy and delicious Keto mini waffles, you'll need a mini waffle maker. That's when Dash mini waffle maker joins the party. This mini waffle maker is tiny!! I mean, when I got it in the mail, I thought it was for my granddaughters play kitchen. This baby is tiny!! I picked it up and chuckled thinking, "what ta hell is this!" Don't get me wrong, this mini waffle maker is powerful. It's perfect for this recipe or any recipe really that calls for a single serving size or  a serving for two. The Dash mini waffle maker is small enough that it can be stored anywhere.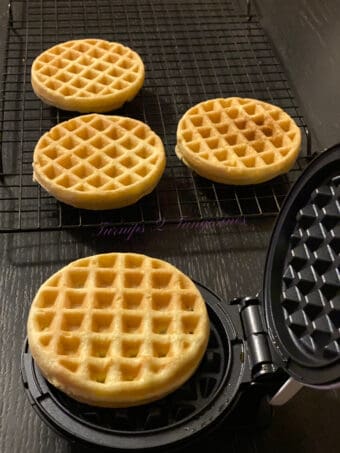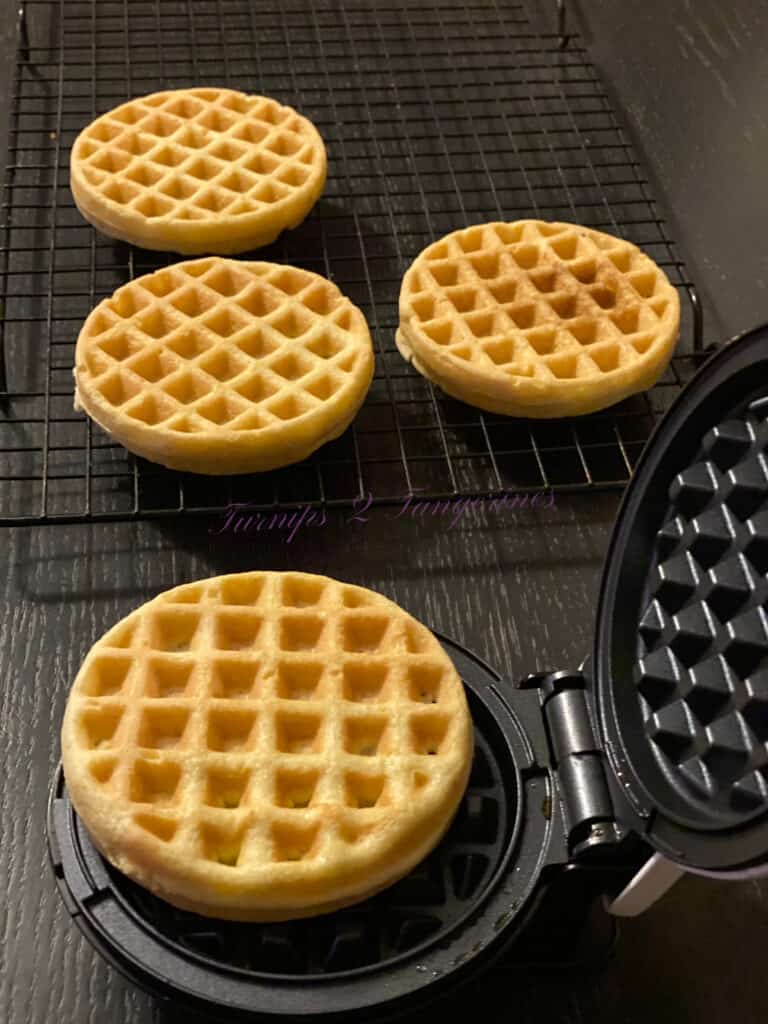 Have a small army to feed? Do what I like to do, spend a morning making mini waffles or chaffles. On your counter, set up an assembly line. A batter station, mini waffle station, and cooling station. When you get a couple dozen waffles made, allow to cool and place them individually or by twos into ziplock baggies. Toss them in the freezer and you're good to go. When I need a waffle or chaffle they're ready when I am.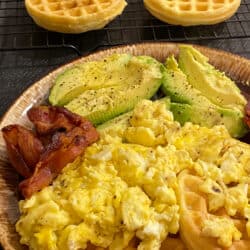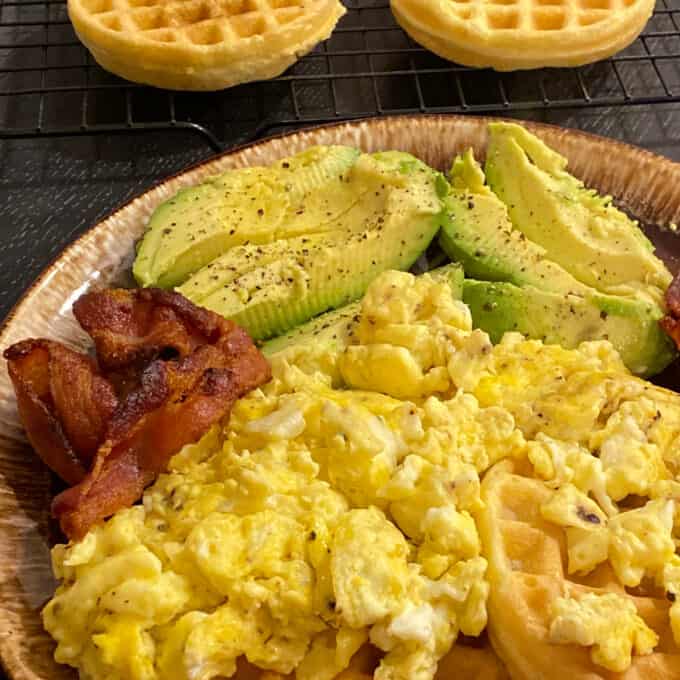 Keto Wonder Bread Chaffles
Ingredients
1

large

egg

3

tablespoons

almond flour

1

tablespoon

mayonnaise

1/4

teaspoon

baking powder

1

teaspoon

water
Instructions
Preheat your mini waffle maker.

Meanwhile, whisk together the egg in a small bowl until well beaten.

Add the almond flour, mayo, baking powder and water; mix well.

Spray your waffle maker with non-stick spray and pour half of your batter in. Close the lid and allow to cook for about 3 minutes or until the automatic timer or light goes off. Repeat for second waffle.