We may earn money or products from the companies mentioned in this post.
Tater Tot Casserole,  A True Classic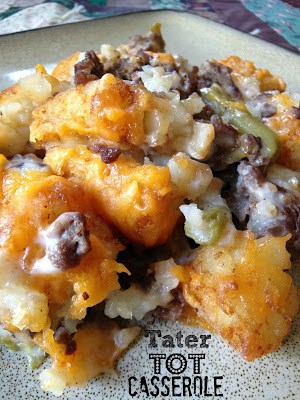 Tater Tot Casserole, A Can-Can Recipe.
This is a can can recipe. What exactly does that mean? Well, a can can recipe, is a recipe that uses two or more cans of condensed soup. I have been using condensed soup in recipes since I started cooking, many years ago. My mom used condensed soup and I think my grandma did too. I mainly use cream of mushroom soup, cream of celery soup and cream of chicken soup. Lately I've been using cream of shrimp soup and cream of leek soup.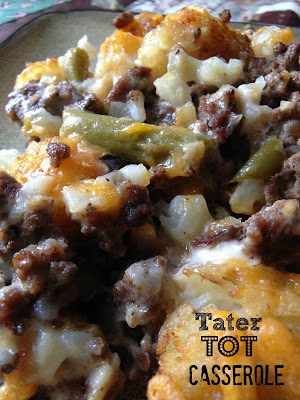 Cream of Whatever
I know that there are some people who turn up their nose at the thought of using canned condensed soup..if you have the time and money to make your own version of condensed (cream of mushroom) soup, then by all means, knock yourself out! In fact, send me some, I'd love to try it. But seriously, there is a reason why Campbell's Soup has been in business for so many years. Campbell's Cream of Condensed Soup is: 1. Convenience 2. Versatility 3. Affordability and 4. Always creamy and delicious.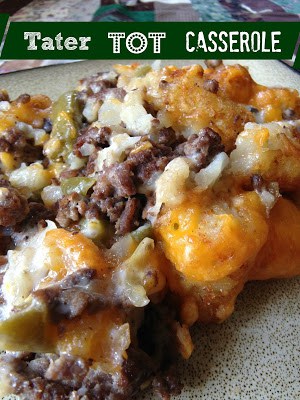 So Many Varieties, So Little Time
Have you ever really looked at all of the varieties of Campbell's condensed creamed soup! Campbell's makes over 70 varieties of condensed creamed soup, from cream of asparagus soup to cream of shrimp soup and everything in between. Condensed creamed soups are here to stay. I for one am glad because every now and then, all you want for dinner is a good ol' fashioned casserole or bake dish or hot dish…depending on where you live.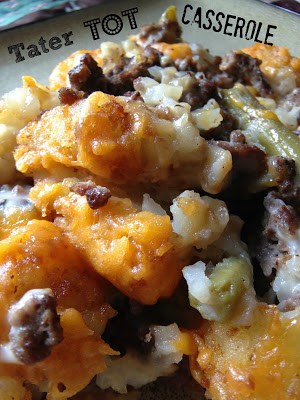 Casserole Classic
Tater tot casserole has got to be one of those casseroles that everyone has had, at least once in their life. Either your mom made it, your grandma made it, a childhood friends mom made it, or you ate it in the school cafeteria. After all, tater tot casserole has been around forever! This is my families version on the classic, Tater Tot Casserole.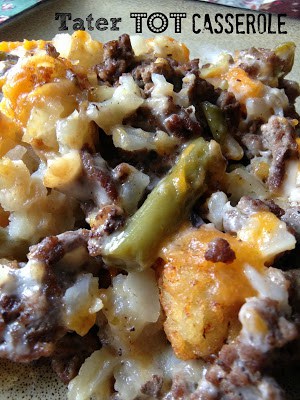 Tater Tot Casserole
An old fashioned classic casserole.
Ingredients
2

pounds

ground beef

1/2

of a large onion, chopped

salt and pepper, to taste

1

teaspoon

garlic powder

1

14 1/2 oz can

green beans (Cut, French-style or Italian-style)

2

10 1/2 oz can each

condensed cream of mushroom soup, undiluted

1- 32

ounce package

tater tots, frozen

2

cups

shredded cheddar cheese
Directions
Preheat oven to 350 degrees.

Brown ground beef with chopped onion, season with salt and pepper to taste and garlic powder, drain off fat. Spread the beef in the bottom of a 3-quart baking dish.

Drain the can of green beans. Spoon vegetables over the meat.

Using a rubber spatula, spread the cans of soup over the top of the vegetables and meat. Arrange a layer of tater tots over the top.

Bake for 45 minutes, sprinkle with shredded cheddar cheese, bake an additional 15 minutes.