Garlic Herb Bubble Bread
We may earn money or products from the companies mentioned in this post.
Garlic Herb Bubble Bread
Garlic Herb Bubble Bread is pure yum! Just about everyone loves garlic bread or at least some kind of garlic bread. I'm a huge fan of bread in general, so I have made garlic bread in just about any way you can think of. Don't even get me started on foccacia bread! This recipe calls for frozen bread dough. Don't you just love frozen bread dough? I sure do! There are so many things you can make with frozen bread dough besides bread.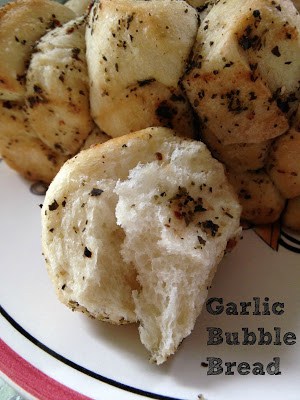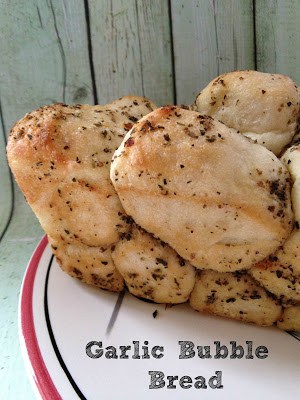 Bubble Bread or Bubble Rolls
One of my favorite things to make with frozen bread dough besides monkey bread, bubble bread, cinnamon rolls or coffee cake is garlic bread. This recipe for garlic bubble bread is so fast and easy it's scary. Garlic bubble bread can be better described as garlic rolls in a loaf pan. When you remove the bread from the pan, let it cool slightly, you are left with buttery, garlicky, herb infused pull-apart rolls. So I guess this recipe could or should be called Garlic Herb Bubble Rolls. Whatever you call them, bread or rolls, they are fantastic.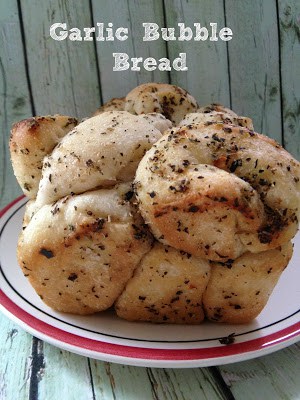 Very Affordable
In my part of the country, you can purchase a 3 lb. bag of Rhodes frozen bread dough for roughly $3.99. That comes to about $1.30 per loaf. Now if you have looked at the price of bread lately, that's a steal. I've seen a loaf of bread going for $4.99, for one loaf of bread. I have used Rhodes white frozen bread dough, wheat bread dough, sweet bread dough, and pizza bread dough.
There is nothing better than the smell of baking bread wharfting from your kitchen, well maybe there is one thing better…biting into a butter soaked warm piece of bread. My suggestions for making your frozen bread baking and eating easier, #1 Use the correct loaf pan size and #2 Invest in an electric knife. Yes, you read that right. An electric knife. The kind your mom and grandma used to slice the Thanksgiving turkey with.
Electric Knife?
Head to your local Goodwill, St. Vinny's or Christian Thrift Store and pick yourself up an electric knife! They sell for a couple of dollars and I don't think I have ever not seen an electric knife at any of these places. Nothing cuts a fresh loaf of bread better than an electric knife, at least in my humble culinary opinion. An electric knife will cut through your warm bread like a knife through butter.
Follow the Directions
When making a loaf of bread, if the directions call for using an 8 x 5-inch loaf pan use an 8 x 5-inch loaf pan. If you use a 9 x 5-loaf pan your bread will not rise correctly and will not turn out properly. Loaf pans are very inexpensive and if you go thrift shopping like I do, you'll be able to pick up a loaf pan for under $2.00. While your thrift shopping, look for and buy an electric knife. Electric knives are super cheap at thrift stores, usually under $3.00 and they make cutting a loaf of bread a breeze. No more squashed bread!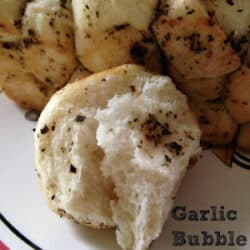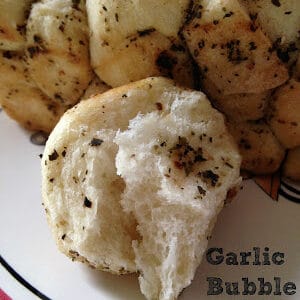 Garlic Bubble Bread
Ingredients
1/4

cup

butter, melted

1

tablespoon

dried parsley flakes

1

teaspoon

dried Italian seasoning

1

teaspoon

garlic powder

1/4

teaspoon

garlic salt

1/4

teaspoon

crushed red pepper flakes

2

teaspoons

minced garlic

1

loaf frozen bread dough, thawed
Instructions
In a bowl. combine butter, parsley, Italian seasoning, garlic powder, garlic salt, crushed red peppers, and minced garlic. Cut dough into 1" pieces; dip into butter mixture. Layer pieces in a greased 9 x 5 loaf pan. Cover and let rise until doubled, about 2 hours. Rising time will vary. Bake at 350º for 30 minutes or until golden brown.
Recipe On Tap
Easy Monkey Bread a.k.a. Bubble Bread and Banana Chocolate Chip Monkey Bread.