On the Menu Today~
Mini Cheddar Loaves
Plus, Herb Butter and
Sun Dried Tomato Butter
This is another great recipe using Bisquick.
Only four ingredients are needed to bake up a batch
of these delicious mini cheddar cheese loaves.
Great to serve with chili, soups, stews or
to make a "mini" ham sandwich….
spread slices of cheddar bread with mustard,
add a few slices of your favorite ham and
wallah..you have a great, fast and easy sandwich.
Mini Cheddar Cheese Loaves make a great gift too.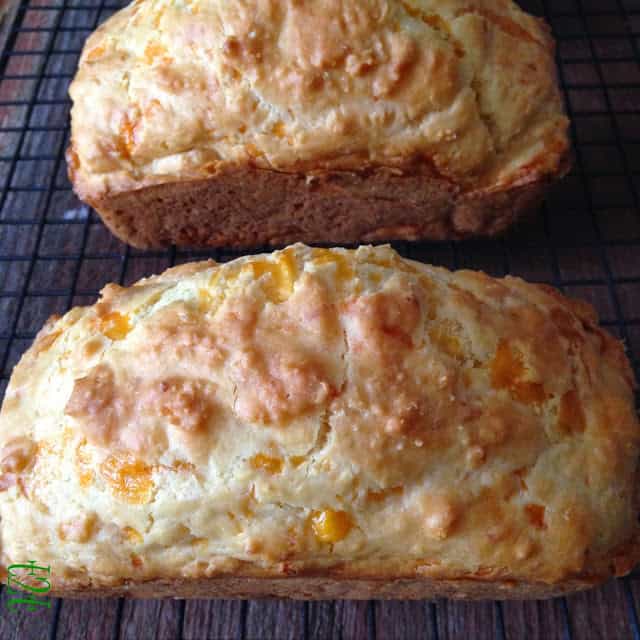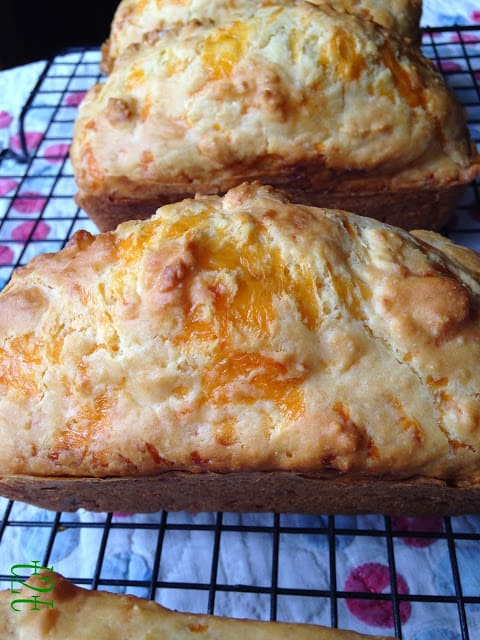 Ingredients
3 1/2 cups




biscuit/baking mix

2 1/2 cups (10 oz)




shredded sharp cheddar cheese

2




eggs

1 1/4 cups




milk
Cooking Directions
In a large bowl, combine biscuit mix and cheese.
In a small bowl, beat eggs and milk.
Stir into Bisquick/cheese mixture, just until moistened.
Pour into four greased and floured 5-3/4 x 3 x 2 in. loaf pans.
Bake at 350 for 35 to 40 minutes or until a toothpick inserted near the center comes out clean.
Cool for 10 minutes. Remove from pans.
Slice and serve warm with flavored butters~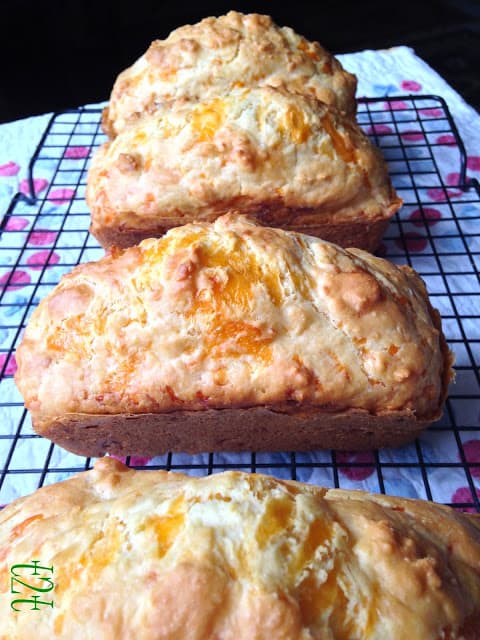 Two Delicious Flavored Butter Recipes~
Ingredients
1/2 cup




butter, softened

1 clove




garlic, minced

2 tablespoons




minced fresh parsley or 2 teaspoons dried parsley flakes

1 teaspoon




dried basil
Cooking Directions
In a small mixing bowl, combine all ingredients.
Beat until smooth.
Ingredients
1 cup




butter, softened

1 tablespoon




finely chopped green onion

1 teaspoon




finely minced garlic

2 tablespoons




finely chopped sun dried tomatoes in oil
Cooking Directions
Melt 1 tablespoon butter in a small skillet, stir in onion and garlic.
Cook over medium heat, stirring constantly until onion is softened.
Remove from heat, cool 5 minutes.
Beat remaining butter in a small bowl at medium speed until creamy, reduce speed to low.
Add onion, garlic and sun-dried tomatoes. Beat until well mixed.
Cover and refrigerate at least 1 hour.