We may earn money or products from the companies mentioned in this post.
Strawberry Sourdough Pancakes
When the winter blues have got you down and the thought of springtime tickles your fancy, celebrate with a plate of strawberry sourdough pancakes. Pile your pancakes high with fresh strawberries and lots of whipped cream. In my area, strawberry season is still months away but it's never to early to try new ways to enjoy strawberries. (and my hubby will always eat pancakes)
The Strawberries
The strawberries in this recipe are lightly mashed with a potato masher (yes, I still own one:) or a fork. The strawberries are tossed with granulated sugar and finely diced crystallized ginger. This mixture is allowed to macerate for an hour. Macerate basically means one of two things; to soak a food, usually fruit, in a liquid in order to infuse it with the liquids flavor. A spirit such as brandy, rum or a liqueur is usually the macerating liquid or to sprinkle fruit with sugar and let mixture sit for a few hours to allow the fruit to release its juice.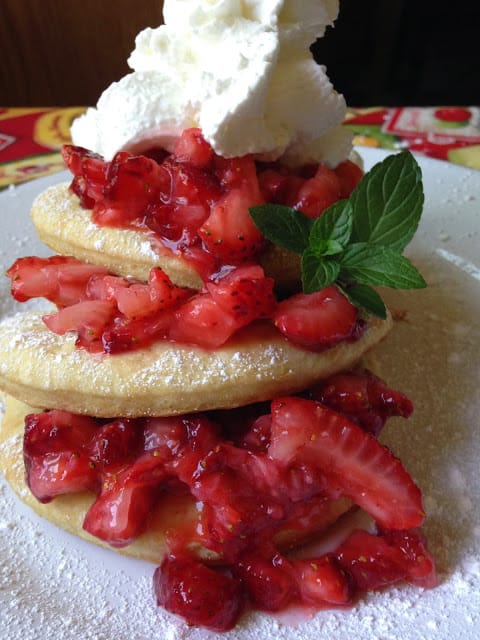 Strawberry Sourdough Pancakes 
Ingredients
2 cups sourdough starter
1 egg
1/4 cup vegetable oil
2 tablespoons sugar
1/2 teaspoon salt
1/2 teaspoon baking soda
6 fresh strawberries, sliced

6 cups




fresh strawberries, rinsed and hulled

1/4 cup




sugar

2 tablespoons




finely diced crystallized ginger

2 cups




heavy whipping cream

1/4 cup




sugar

1/2 teaspoon




strawberry extract, optional

sifted




powdered sugar

sprigs of




fresh mint
Cooking Directions
Pancakes Directions:
Have all ingredients at room temperature.
Mix starter, egg and oil in a bowl.
Add sugar, salt and soda, mix well.
Spoon onto a lightly greased griddle or skillet over medium-high heat. Lay several sliced strawberries on top of batter of each pancake.
Turn pancakes when surfaces are covered in bubbles. Cook until golden brown.
Prepare strawberries:
Place strawberries in a medium bowl. Mash lightly with a potato masher, about 6 times. Mix strawberries with 1/4 cup sugar and crystallized ginger. Allow to stand at room temperature to macerate for one hour.
Prepare whipped topping:
In large, chilled bowl combine the heavy cream, 1/4 cup sugar and vanilla. With chilled beaters and an electric mixer on medium, beat until soft peaks form. Chill.
On a serving plate, layer pancakes, strawberries, and whipped cream.
Garnish with sifted powdered sugar and a sprig of fresh mint.
Strawberry Muddy Buddies is a delicious snack kids of all ages will love.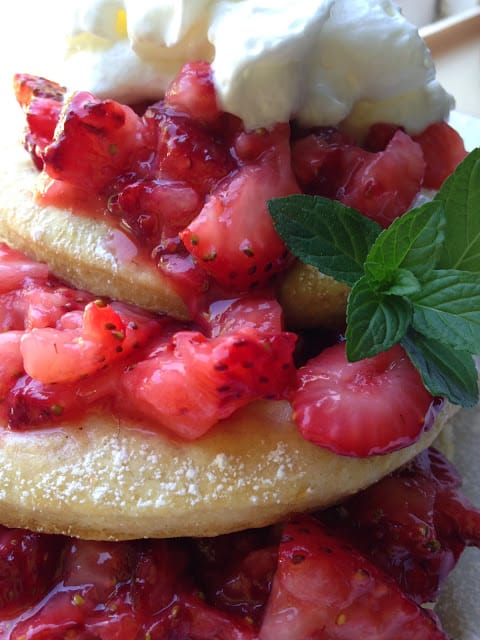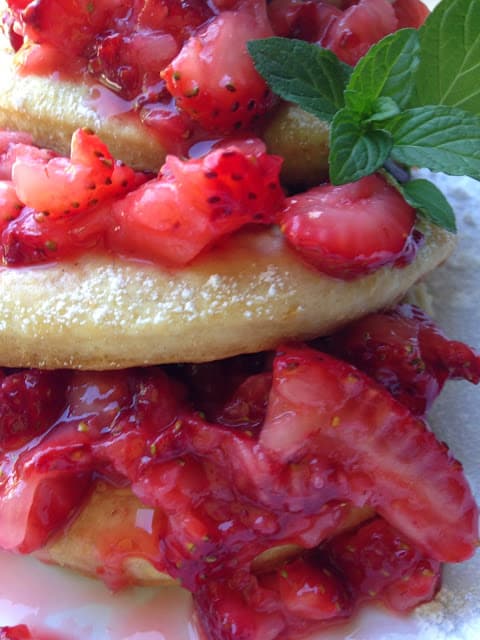 For this recipe we used Driscoll Strawberries
*Note: This is an updated recipe.*