We may earn money or products from the companies mentioned in this post.
Strawberry Muddy Buddies
Oh do I love me some Muddy Buddies. You would think then, that my recipe box would be loaded with muddy buddy recipes. The truth is I don't dare make them. When it comes to muddy buddies, I have absolutely no self-control. (Frankly, cookies fall into this category as well) I could literally eat pounds of muddy buddies. I found this out to be true the first time I made a batch of muddy buddies,  a batch of peppermint muddy buddies. A big mistake! I couldn't stop eating them, one batch, then another and another. I was starting to get worried that I'd have to join a MB support group!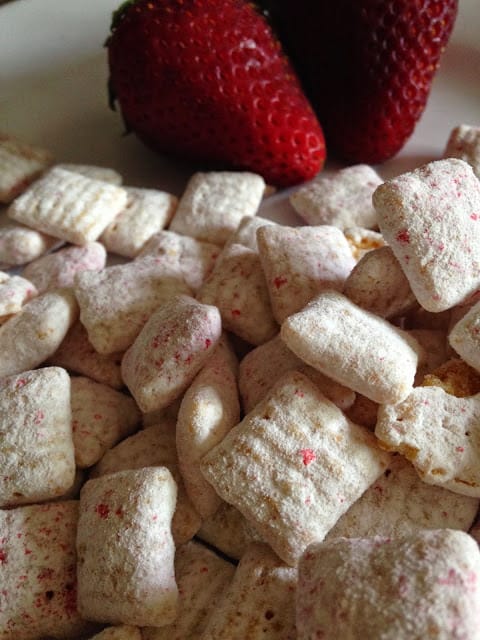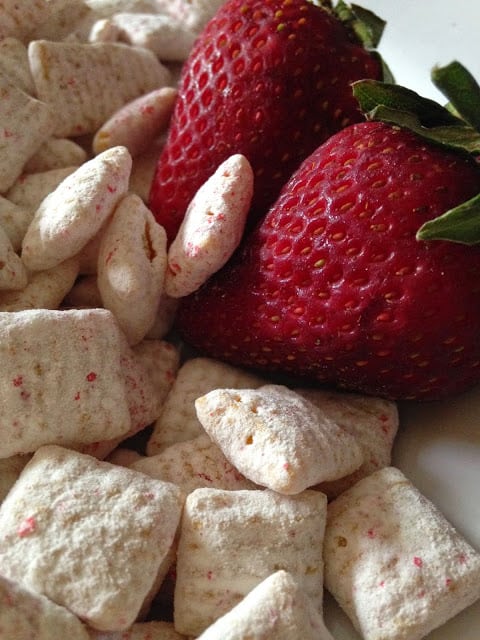 Strawberry Time
It's Strawberry Time!! Make a big batch of Strawberry Muddy Buddies and make some friends! After all, muddy buddies are meant to be shared with your buddy. Even though this recipe doesn't contain any strawberries, just dry strawberry cake mix, you certainly could add some crushed freeze dried strawberries. You would add the crushed freeze-dried strawberries after pouring the melted white chocolate over the cereal. Proceed with the recipe and you'll have added another flavor layer to the muddy buddies.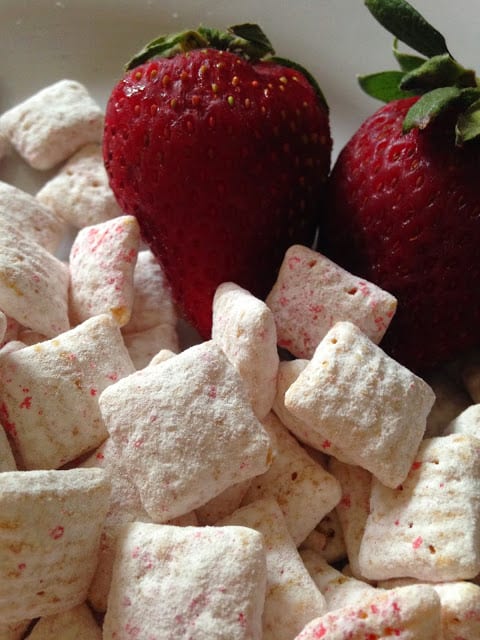 Strawberry Muddy Buddies
A new twist on a childhood favorite:)
Keyword:
cereal, strawberry cake mix
Ingredients
5

cups

rice chex cereal

1

12 oz bag

white chocolate chips, melted

1 1/2

cups

dry strawberry cake mix

1/2

cup

powdered sugar

pink sprinkles, optional
Directions
Pour the powdered sugar and the strawberry cake mix, (drinto a plastic bag and shake to combine. Pour the Chex cereal into a large bowl.

Melt the white chocolate chips in the microwave for 45 seconds. Stir until smooth and melted.

Pour the melted white chocolate over the Chex cereal and mix until the cereal is coated.

Add the cereal mixture to the plastic bag with the powdered sugar and strawberry cake mixture and shake until the cereal is completely covered. If desired, add sprinkles. Shake bag.If desired, add sprinkles. Shake bag.
Nutrition Facts
Strawberry Muddy Buddies
Amount Per Serving (1 g)
Calories 288
Calories from Fat 45
% Daily Value*
Fat 5g8%
Cholesterol 1mg0%
Sodium 465mg20%
Potassium 18mg1%
Carbohydrates 58g19%
Protein 2g4%
Vitamin A 210IU4%
Vitamin C 2.5mg3%
Calcium 142mg14%
Iron 4.6mg26%
* Percent Daily Values are based on a 2000 calorie diet.