Italian Antipasto Salad
We may earn money or products from the companies mentioned in this post.
Italian Antipasto Salad
Pasta Time is here!! Summer just isn't summer without the addition of cold pasta salads to the menu. I serve pasta salad at least once a week during the warm summer months. They're easy to prepare and you don't have to heat up your kitchen! There is nothing better than eating a pasta salad on a warm summer evening and washing it down with an ice cold glass of sweet tea. Italian Antipasto Salad is one of my favorite pasta salads.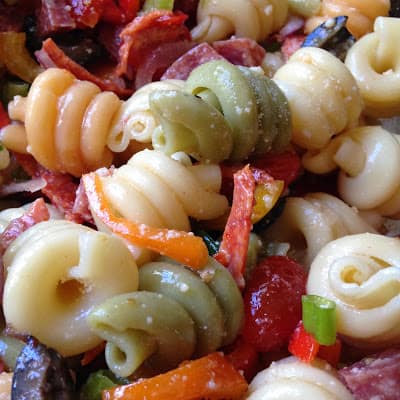 What Does Chiffonade Mean?
This recipe calls for six basil leaves cut into chiffonade strips. What does chiffonade mean? Well, I'm here to explain this very easy technique with the big, fancy name. Chiffonade is a chopping technique in which herbs or leafy vegetables, such as spinach or basil, are cut into long thin strands.
This is accomplished by stacking leaves, rolling them tightly cigar-style, then slicing the leaves perpendicular to the roll. This technique can also be applied to crepes or thin omelets to produce strips. "Chiffonade" means little ribbons in French, referring to the little ribbons you create while cutting.
Antipasto
Antipasto literally means before the meal. This Italian term refers to hot or cold hors d' oeuvre. An assortment of antipasti could include appetizers as cheese, cured meats, olives, smoked fish and marinated vegetables. It's the traditional first course of a formal Italian meal. Typical ingredients of a traditional antipasto include cured meats, olives, peperoncini, anchovies, artichoke hearts, various cheeses and vegetables in oil or vinegar.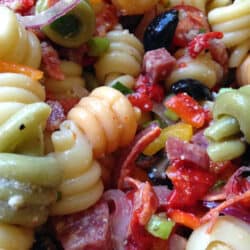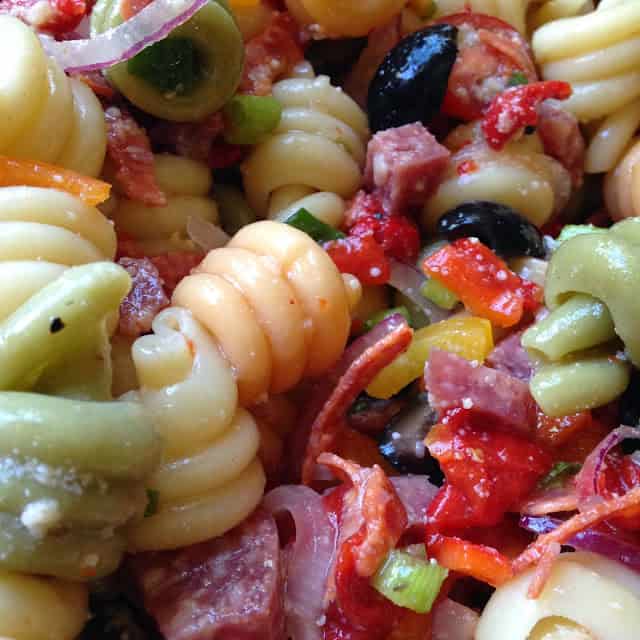 Italian Antipasto Salad
A delicious salad reminiscent of the Italian favorite Antipasto.
Ingredients
7

ounces

tri-colored spiral pasta or pasta of your choice

1/2

cup

sweet mini peppers, thinly sliced

1/2

small red onion, thinly sliced

1

2 1/2 oz can

sliced black olives, drained

1

cup

grape tomatoes, cut in half

1/4

cup

roasted red peppers, chopped

1/4

cup

chopped pimentos

4

ounces

hard salami, cubed

4

ounces

pepperoni, sliced and cubed

4

ounces

provolone cheese, cubed

1/2

cup

zesty Italian salad dressing

1/4

cup

Parmesan cheese

6

basil leaves, chiffonade
Instructions
Cook pasta according to package directions. Rinse in cold water and drain well. Place pasta in a large bowl. Add the next 8 ingredients.

Whisk together zesty Italian dressing and Parmesan cheese. Pour over ingredients in bowl.

Stir to combine. Refrigerate 2 hours. Add more zesty Italian dressing if needed.

Right before serving, sprinkle chiffonade basil leaves over pasta salad.
Recipe Ideas
Looking for more pasta salads? We've got you covered. Start your summer off with one of these: Sensational Summer Salads and Penne with Artichokes. For this recipe we used a zesty Italian salad dressing from Kraft. A light drizzle of extra-virgin olive oil, torn fresh basil leaves and a sprinkling of fresh grated Parmesan cheese is really all that is needed to make this salad stand out on it's own.