We may earn money or products from the companies mentioned in this post.
Prune Raisin Bread
A nicely spiced prune bread with the added sweetness of raisins. This hearty bread gets it deep, rich flavor from molasses. Full of prunes and raisins, it's also good for you. This is a must try bread, flavorful, moist and full of fiber.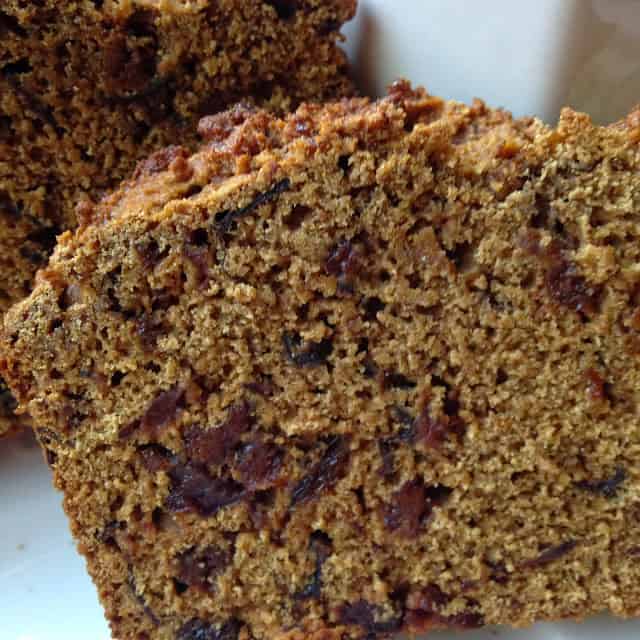 Prunes
I have recently "re-discovered" prunes or dried plums. To learn more about this forgotten but good for you fruit. Read more about prunes here: Let's Talk Prunes  
Quick Breads
For me, quick breads are a slice of comfort. If you look through our Recipe Box, you'll discover that we love quick breads here on T2T.  Quick breads are not only "quick" to make but you can mix together any combination of ingredients and you'll have a delicious loaf of bread in no time. From start to finish, most quick breads are ready in under an hour to seventy minutes. For breakfast, I often have a slice of bread with my cup of coffee and I always have a loaf of quick bread in my freezer at all times….you never know when you'll want a slice of comfort. Another plus, quick breads freeze beautifully.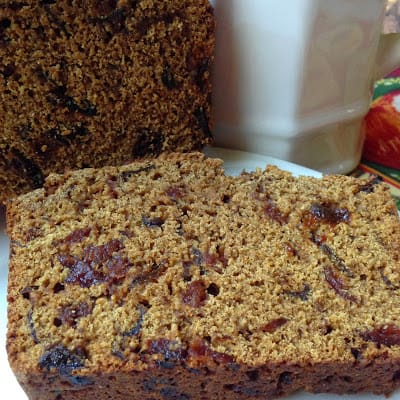 Prune Raisin Bread
Keyword:
prunes, raisins, spices
Ingredients
3/4

cup

chopped pitted prunes

1/2

cup

raisins

1/2

cup

prune juice

1

cup

flour

1

cup

whole wheat flour

1

teaspoon

baking powder

1

teaspoon

ground cinnamon

1/2

teaspoon

baking soda

1/4

teaspoon

ground ginger

1/4

teaspoon

ground allspice

1/8

teaspoon

salt

2

egg whites

1/3

cup

molasses

3

tablespoons

oil

1/4

teaspoon

vanilla extract
Directions
Preheat oven to 350º Spray 8 x 4 inch loaf pan with nonstick cooking spray; set aside.

Combine prunes, raisins and prune juice in a small saucepan. Bring to a boil over medium-high heat. Remove from heat; let stand 5 minutes.

Combine all-purpose flour, whole wheat flour, baking powder, cinnamon, baking soda, ginger, allspice, and salt in medium bowl. Combine egg whites, molasses, oil and vanilla in a small bowl. Add to flour mixture and stir until just blended. Add prune mixture; stir until moistened.

Pour batter into prepared pan. Bake 55 to 60 minutes or until toothpick inserted near middle comes out clean. Cool in pan on wire rack, 10 minutes.

Turn bread out onto wire rack. Cool completely.
Nutrition Facts
Prune Raisin Bread
Amount Per Serving (1 g)
Calories 274
Calories from Fat 54
% Daily Value*
Fat 6g9%
Sodium 127mg6%
Potassium 549mg16%
Carbohydrates 53g18%
Protein 5g10%
Vitamin A 125IU3%
Vitamin C 0.7mg1%
Calcium 70mg7%
Iron 2.4mg13%
* Percent Daily Values are based on a 2000 calorie diet.