Island Jerk Salmon on Cedar Planks
We may earn money or products from the companies mentioned in this post.
Island Jerk Salmon Grilled on Cedar Planks
This is a simple, yet elegant way to grill salmon. Grilling salmon on soaked cedar planks, allows the salmon to pick up flavors from the soaked planks. Flavors from the liquid the planks are soaked in plus the smoky flavors from the grill. We soaked the cedar planks in a Riesling White Wine that lends a sweet, fruity taste which comes from the apricot and peach flavors found in the wine. Island Jerk Salmon Grilled on Cedar Planks is super delicious!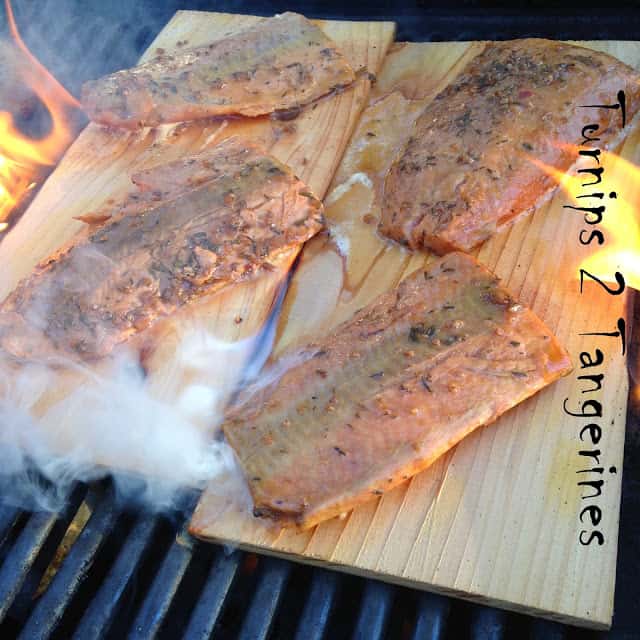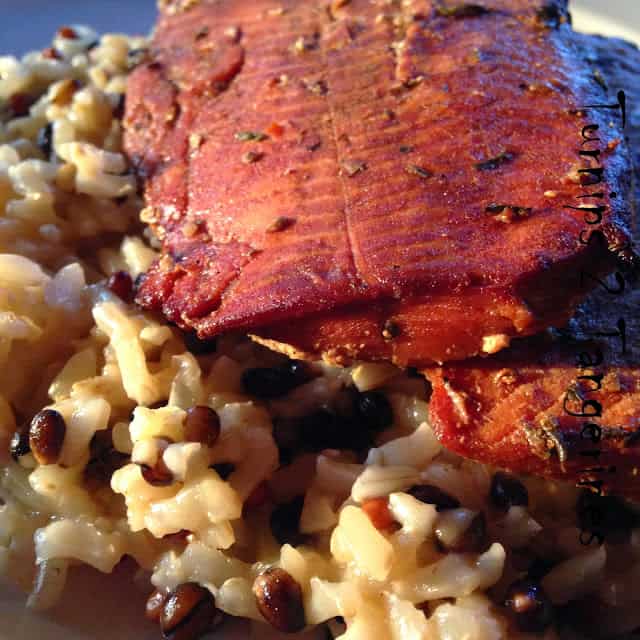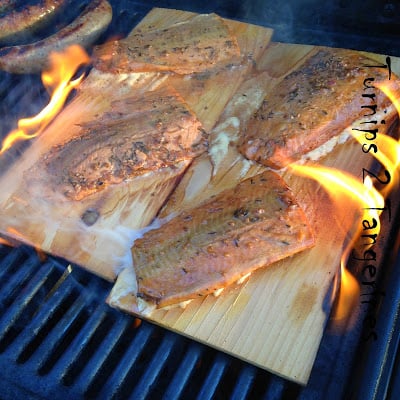 Gourmet Warehouse
For this recipe, we used a marinade called Island Jerk from Gourmet Warehouse Island Jerk marinade is great to use for chicken or fish. It's made with soy sauce, lemon juice, allspice, onion and garlic. It's a wonderful marinade for Salmon. Gourmet Warehouse is located and produced in the heart of the Low County on Hilton Head Island, South Carolina. This area of Hilton Head Island has fast become a hot bed for foodies and food trends alike.
All Gourmet Warehouse products are inspired by their surroundings and local culture. All products are hand crafted with love and care. They don't mass produce their products to make sure that the very best ingredients and attention are taken with each and every bottle. Their 23 year history is a testimony to their insistence on producing quality products at competitive prices. They don't use fillers, use the highest quality spices to produce the finest products.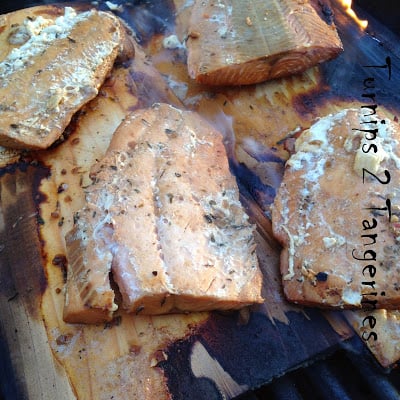 Soak the Planks
You can soak cedar planks in a variety of different liquids such as: water, wine, sake, beer, tea or apple cider. Experiment with different liquids and see which one you like best.  We used a Riesling White Wine. The average soaking time depends really on how long you want to soak your planks. I found that a minimum of 2 hours works best and for full flavor, a maximum of 6 hours. This is only a guide therefore see what your family likes.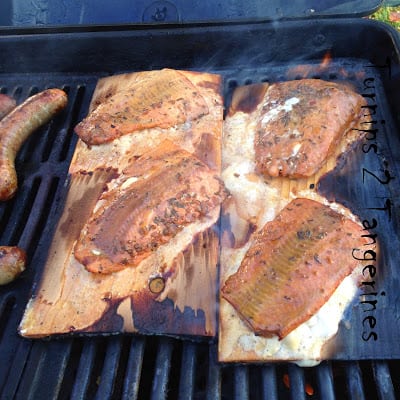 Cedar Plank Care
You can find cedar planks at grocery stores or hardware stores. I bought my cedar planks at Menards Cedar planks can be re-used until they become overly charred, cracked or impossible to clean. To clean, scrub the residue left behind after each use with a scrubber. Allow the planks to air dry until the next use. You can also cut a lemon in half and lightly rub the planks with the lemon while they are still damp.
Allow the planks to air dry completely until next time. Do not use detergents of any kind on the cedar boards. This can give the cedar planks a "soapy" taste. We used pre-cut salmon fillets to fit on the pre-cut cedar planks. You can grill a whole salmon on cedar planks too. Look for longer planks and soak them as you would pre-cut planks.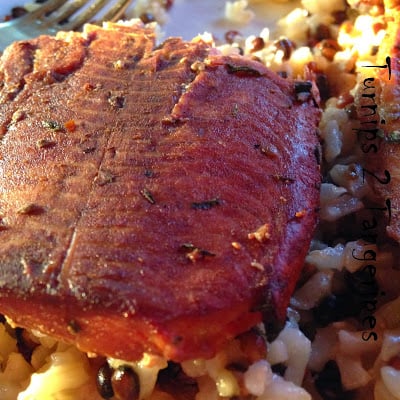 Serve Island Jerk Salmon on Cedar Planks on top of a bed of Uncle Ben's Long Grain and Wild Rice . Serve with steamed Fresh Asparagus 101.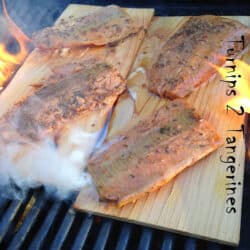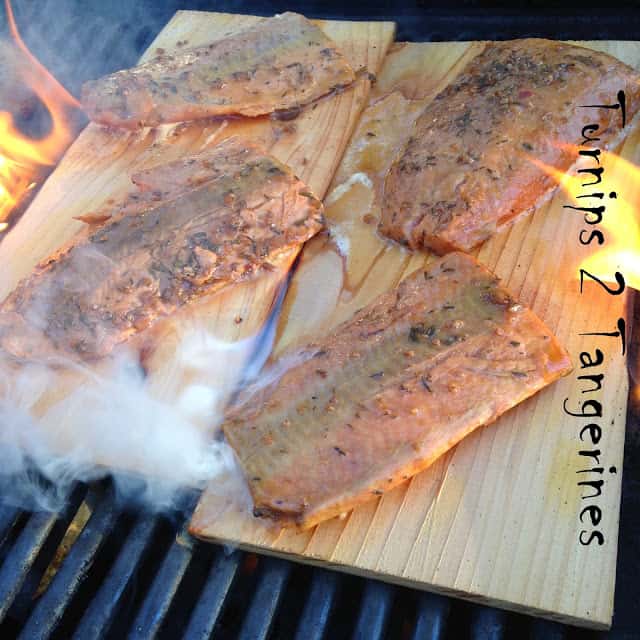 Salmon on Cedar Planks
Our favorite way to prepare salmon.
Ingredients
4

4 oz

salmon fillets with skin left on

1 1/2

cups

Island Jerk Marinade or marinade of your choice

cedar planks

white wine, water or liquid of your choice

1

gallon

size ziplock baggie
Instructions
Soak the cedar planks in water, wine, sake or cider for 2 hours before grilling.

Place the salmon fillets in the ziplock baggie, pour marinade over salmon fillets and marinade in the refrigerator for 2 hours. (Place the baggie in a large bowl to catch any drips)

Heat your gas or charcoal grill to about 350 degrees or medium heat setting.

Place the soaked cedar planks on the grill in a single layer so that they are in contact with the grill grates. Allow a small open space on the sides for heat and air to flow. This will help the cedar planks to smoke.

Remove the salmon fillets from the marinade and lay skin side down in a single layer on top of the cedar planks. Discard left-over marinade. Cover grill.

Cook the salmon fillets for 12 to 15 minutes. Check the salmon after 8 minutes. Smaller fillets will cook more rapidly than larger whole salmon fillets. The salmon is done when it is uniformly pink in the center and flakes easily with a fork.

Remove the skin gently, using a thin spatula, to separate the skin from the salmon.