Stuffed Mini Peppers
We may earn money or products from the companies mentioned in this post.
Stuffed Mini Peppers
Don't you just love all the "mini" or "baby" vegetables that are available in the produce section of all grocery stores? You know the kind, they have taken over the produce section and I couldn't be happier about it. It's a great way to get more vegetables into your diet or to introduce vegetables that you might not otherwise try. Stuffed Mini Peppers is the perfect recipe to get you started.
Mini Vegetables
It's made a world of difference in our household, that's for sure! I'm pretty sure that I have bought every "mini" or "baby" veggie I could get my hands on. Baby potatoes, peppers, cucumbers, zucchini, eggplant, brussels sprouts and baby beets. Check out Melissa's Produce. (This isn't a sponsored post, we just like mini vegetables:)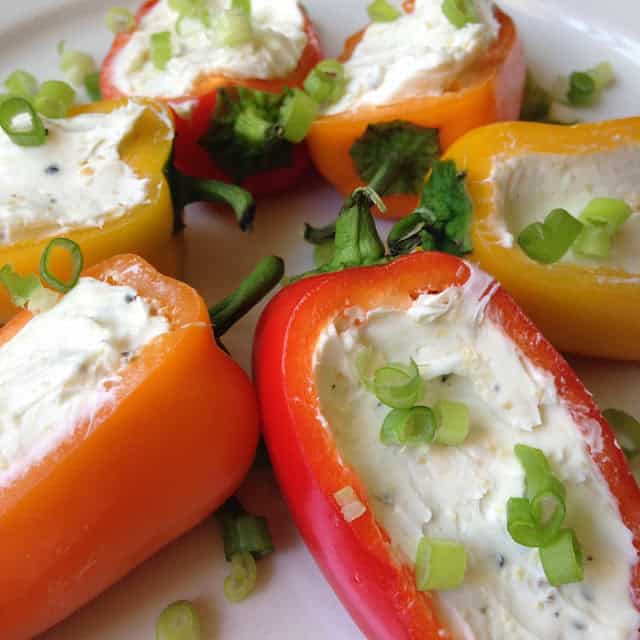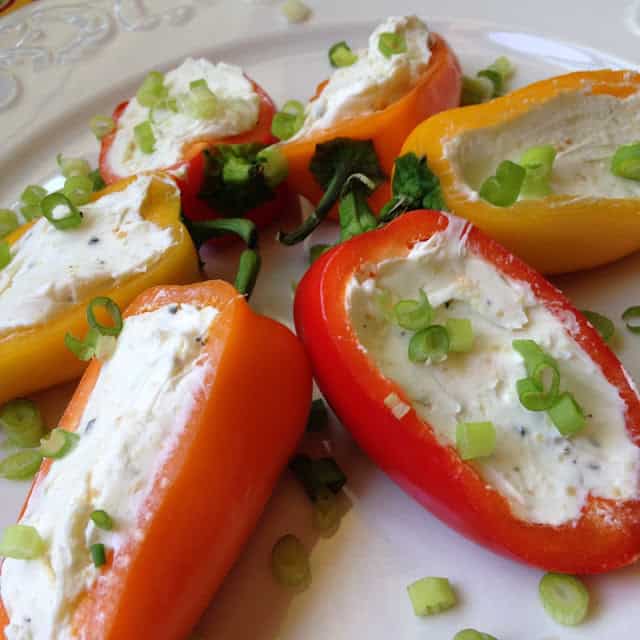 Appetizers
Appetizers, especially summertime appetizers, are the kind that are enjoyed while sitting on the dock watching the sun set or while sitting at the picnic table playing a game of hearts are best as simple as possible. Stuffed mini peppers are a lovely appetizer, perfect to serve on a warm summer evening with a glass of chilled white wine or a brandy old-fashioned. 
Recipe Tip: 
To make this recipe even easier than it already is, simply substitute your favorite vegetable cream cheese spread or onion and chive cream cheese spread for the 8 oz package of cream cheese and onion and herb seasoning blend called for in the recipe. Also, you might want to eliminate the lemon juice and zest called for in the recipe but this is optional.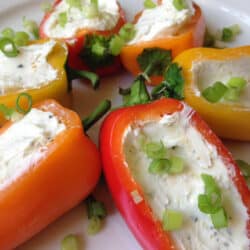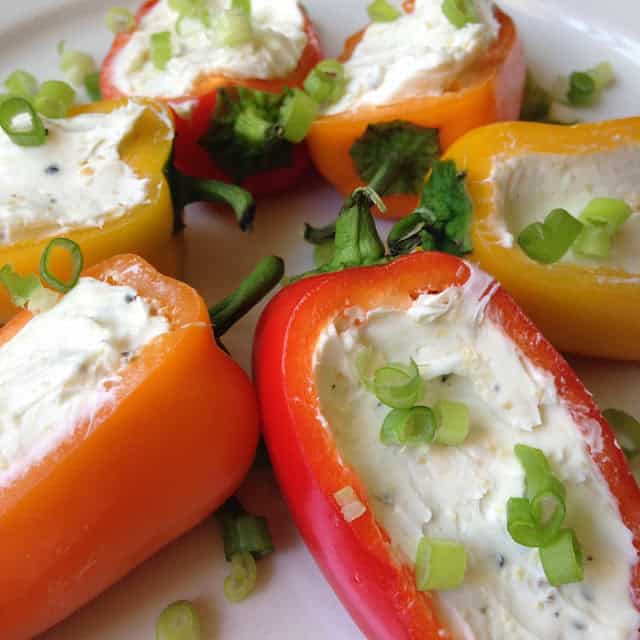 Stuffed Sweet Mini Peppers
Super easy and a great appetizer.
Ingredients
6

sweet mini peppers

1

8 oz package

cream cheese, soften

1

tablespoon

onion and herb seasoning blend

1/2

teaspoon

lemon juice

1/2

teaspoon

lemon zest

1

4 oz can

tiny shrimp, drained

3 to 4

green onions, thinly sliced
Instructions
Beat cream cheese until creamy, add seasoning blend, lemon juice and lemon zest, beat until well combined. Fold in shrimp and 2 tablespoons green onions. Set aside.

Leaving stem on the peppers, slice peppers in half, remove seeds and membranes.

Fill mini peppers with cream cheese mixture. Sprinkle with remaining sliced green onions
Italian Antipasto Salad is perfect to serve for dinner on a warm summer night. Don't forget the wine! If you aren't a fan of sweet mini peppers then swamp out your favorite "mini" vegetables such as cherry tomatoes or cucumbers.