Velveeta Down-Home Mac n Cheese
We may earn money or products from the companies mentioned in this post.
Velveeta Down-Home Mac n' Cheese
Sometimes you find the best recipes on the back of boxes…We found this one in the inside of the box of Velveeta. Velveeta Down-Home Mac n' Cheese has that "down-home" taste that you look for and want in a mac n' cheese recipe. Easy, cheesy, with a buttery-cracker topping that I love on mac n' cheese.(but I like a buttery-cracker topping on everything) The buttery crust and velveeta cheese makes this recipe sensational!
Processed Cheese
Living in America's Dairyland, you are probably wondering why would I use "processed cheese?" The answer to that is a very simple one, there is a time and place when using processed cheese is the most appropriate cheese to use. Let's face it, nothing melts like processed cheese! It doesn't clump, separate, or get greasy. You can melt processed cheese for like for-ever too. Plus, it tastes great!
What is Processed Cheese?
Processed cheese is mass-marketed cheese products known for their long shelf life, great flavor and a texture that's often creamy. Such products melt smoothly and without separating. Processed cheese is also known as pasteurized process cheese and/or American cheese. It was invented by Swiss citizens Walter Gerber and Fritz Stettler in 1911 and American James L. Kraft was granted a patent for it on 1916.
Processed Cheeses
Processed cheeses are made by blending and heating shredded or ground pasteurized cheeses with ingredients such as salt and other seasonings, water, coloring, emulsifiers and preservatives. Defective cheeses, cheese with minor faults in the rind, texture and flavor, may be added to the mix. The mixture is cooked until the cheese becomes homogeneous, smooth and glossy.
Kraft
Kraft introduced the pre-sliced cheese slices in 1950. Processed cheese can be sliced, cut into bite size pieces, spreadable, or in blocks. Processed cheeses do not undergo further aging, so both flavor and texture are static. Velveeta several different varieties of processed cheese, such as; sharp cheddar, Mexican, original, queso blanco, 2% milk, mini blocks and jalapeno.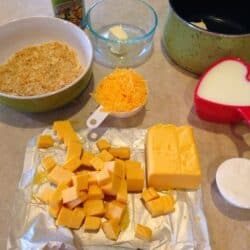 Velveeta Down-home Mac 'n Cheese
Fast, Easy and Delicious!
Ingredients
1/4

cup

butter, divided

1/4

cup

flour

1

cup

milk

1/2

pound

(8 oz )Velveeta cheese, cut into 1/2 inch cubes

2

cups

elbow macaroni, cooked

1/2

cup

shredded cheddar cheese

6 to 8

buttery crackers crushed
Instructions
Melt 3 tablespoons butter in a medium saucepan over medium heat.

Whisk in flour. Cook 2 minutes, stirring constantly.

Gradually stir in milk.

Bring to a boil, cook and stir 3 to 5 minutes or until thickened.

Add Velveeta; cook 3 minutes or until melted, stirring frequently. Stir in macaroni.

Spoon into 2-quart casserole sprayed with non-stick cooking spray.

Sprinkle with cheese.

Melt remaining butter, toss with cracker crumbs, sprinkle over casserole.

Bake 30 minutes or until heated through and bubbly.
Chai Spice Cupcakes with Vanilla Cream Cheese Frosting would be perfect ending to Down-Home Style Velveeta Mac n Cheese.
Velveeta Cheese is made by Kraft.