New England Style Baked Beans
We may earn money or products from the companies mentioned in this post.
New England Style Baked Beans
New England Style Baked Beans are a real favorite here in Turnips 2 Tangerines. We really enjoy our baked beans and have many different recipes in our recipe box. In fact, we like any kind of beans and or legumes.  Here are a few recipes you might be interested in: Slow Cooker White Beans with Smoked Ham Hocks and Pinto Beans with Pork Neck Bones. New England Baked Beans are a variety of baked beans that are sweetened with molasses and flavored with salt pork.
Dried Beans
Dried beans are rich in protein, calcium, phosphorus and iron. Their high protein content, along with the fact that they're easily frown and stored, make them a staple throughout many parts of the world where animal protein is scarce or expensive. Store dried beans in an airtight container for up to a year. Dried beans are available prepackaged or in bulk. Before using dried beans, be sure to pick through them to remove the imperfect ones and rinse the dried beans well. Dried beans are an all natural product, and need to be cleaned of any tiny stones and etc.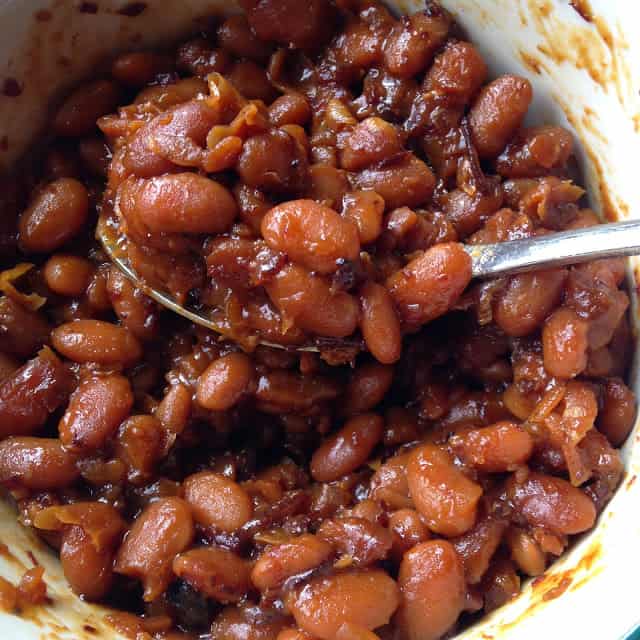 What Makes Them New England?
New England Style Baked Beans get the name New England with the addition of navy beans, maple syrup and molasses. New Englanders tend to use navy beans or even great northern white beans vs other types of beans. Another addition in New England style beans is salt pork. The history of New England baked beans is a long one and deep in traditions of New Englanders.
Native Americans had made corn bread and baked beans, the Pilgrims at Plymouth Colony learned these recipes in the early 1620's. The Pilgrims likely added barley to the corn meal to invent New England brown bread. The triangular trade of slaves in the 18th century helped to make Boston an exporter of rum, which is produced by the distillation of fermented molasses. At that time, molasses was added to local baked bean recipes, creating Boston Baked Beans.
In colonial New England, baked beans were traditionally cooked in beanpots on Saturdays and left in brick ovens overnight. On Sundays, the beans were still hot, allowing people to indulge in a hot meal and still comply with Sabbath restrictions. Brown bread and baked beans along with frankfurters continue to be a popular Saturday night staple throughout the region.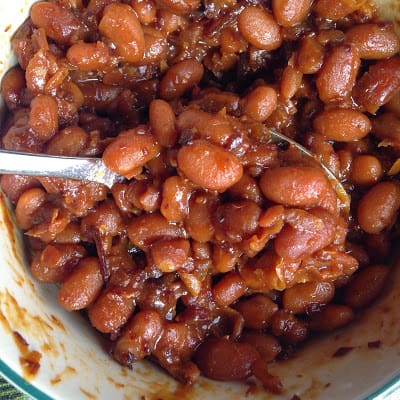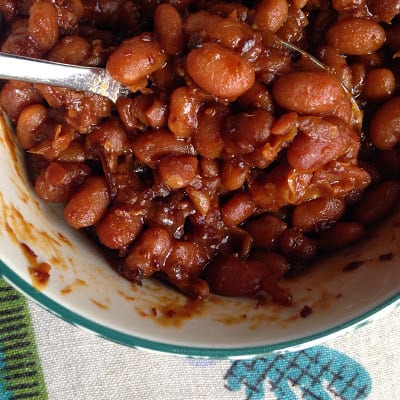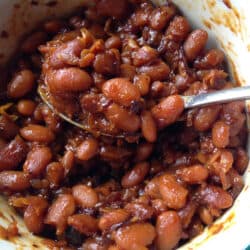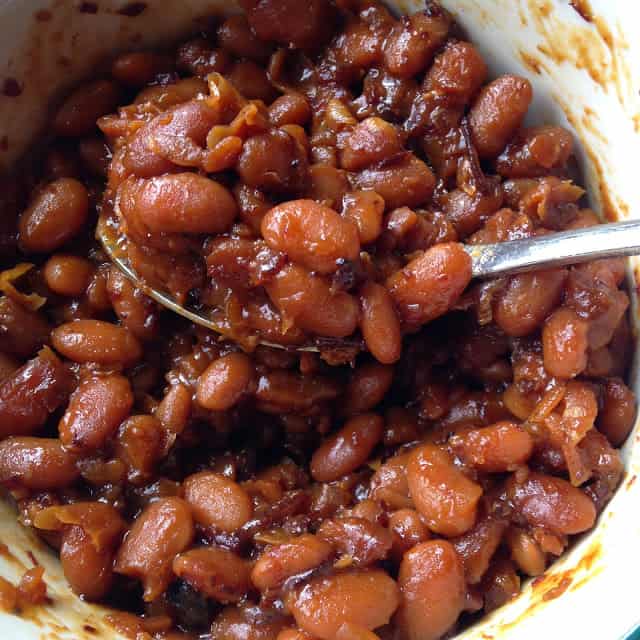 New England Style Baked Beans
Ingredients
1

pound

navy beans

6

cups

water

1

onion, chopped

6

slices

bacon, cut into medium pieces

1/4

cup

plus 2 tablespoons maple syrup

1/4

cup

molasses

2

teaspoons

dry mustard powder

1/2

cup

ketchup

1

tablespoon

apple cider vinegar

1/4

teaspoon

pepper

1/8

teaspoon

ground cloves

2

tablespoons

brandy, optional
Instructions
Soak beans overnight; place beans in a large saucepan or Dutch oven.

Add enough cold water to cover the beans.

Cover the pan, let stand at room temperature at least 8 hours or overnight.

Drain and thoroughly rinse the beans.

In a large saucepan, combine the 6 cups water and soaked beans.

Add a 1/2 teaspoon baking soda.

Bring to a boil, turn the heat off.

Par-boil for 2 to 3 minutes.

Drain beans, reserving liquid.

Set beans aside.

Preheat oven to 300

In a large bean pot, combine the cooked beans, onion, bacon, maple syrup, molasses or brown sugar, dry mustard powder, ketchup, apple cider vinegar, pepper, ground cloves and bourbon.

Cover with enough reserved bean liquid to cover.

Bake, covered, for 4 to 6 hours or until beans are soft.