Strawberry Marshmallow Krispie Treat Cups
We may earn money or products from the companies mentioned in this post.
Strawberry Marshmallow Krispie Treat Cups 
with Philadelphia Ready to Eat Cheesecake Filling
Strawberry Rice Krispies Cereal
Initially when I came up with this recipe I had planned on using strawberry flavored Rice Krispie cereal. I saw strawberry flavored Rice Krispies somewhere in my area but per usual I didn't pick any boxes of cereal. When I decided to make marshmallow treats using strawberry flavored Rice Krispies and strawberry fluff…well, lo and behold and just my luck, no strawberry flavored Rice Krispies. In fact, I couldn't find any Rice Krispie cereal, strawberry or otherwise anywhere. Well, eventually I did find Rice Krispies but I have yet to find the strawberry flavored, gull dang it. This is the exact reason why I buy three of everything and pick it up the minute you see something…don't wait!
Many of the Same
This recipe has two ingredients that we mentioned in a previous post; strawberry fluff and Philadelphia ready to eat cheesecake filling. Both are favorites of ours here at Turnips 2 Tangerines and we highly recommend trying both products, if you can find them:) By the way, this isn't a sponsored post for any of the products we've mentioned in our latest strawberry posts; Philadelphia Ready to Eat Cheesecake Filling, Strawberry Marshmallow Fluff and Strawberry Rice Krispies.
How To Make
To make the Rice Krispies marshmallow cups for this recipe, you'll need a mini muffin pan. I happen to have two pans and each pan has 24 compartments. One pan was plenty for us, actually a twelve size mini muffin pan would have been more than enough for us. The secret when making the marshmallow cups is twofold first off, lightly butter your mini muffin cups and second, while the marshmallow/cereal mixture is still warm, press the mixture into the lightly buttered mini cups, forming a cup, (wearing gloves helps during this process) and lastly, allow the cups to set up or become firm before filling with the cheesecake filling. Top each cup with a dollop of cool-whip whipped topping. (strawberry flavored if you dare)
UP NEXT: 2 Ingredient Strawberry Fluff Marshmallow Dip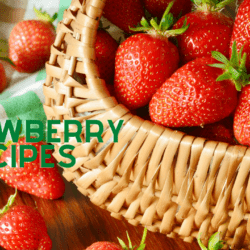 Strawberry Marshmallow Krispies Treat Cups
Strawberry flavored krispie treats made into bite size cups and filled with a ready to eat cheesecake filling.
Ingredients
4

tablespoons

butter

1 or 2

7 oz jars

Strawberry Flavored Fluff

6

cups

Rice Krispies Cereal (perferably strawberry flavored)

2 to 4

cups

Philadelphia Ready to Eat Cheesecake Filling

1

cup

cool-whip
Equipment
1 mini muffin tin (24 cup)
Instructions
In a large saucepan, melt butter. Add the strawberry fluff and stir until well blended. Stir in cereal and mix until well coated.

Spoon marshmallow/cereal mixture into lightly buttered mini muffin cups and form into cups. Allow cups to set up. Spoon ready made cheesecake filling into cups. Refrigerate for an hour. Before serving top each with a dollop of cool-whip.