Authentic German Potato Salad
We may earn money or products from the companies mentioned in this post.
Authentic German Potato Salad
Today we are going to share a recipe for Authentic German Salad. There is a recipe for German Potato Salad already on T2T but it's not called "Authentic." With summer on the way and Memorial Day right around the corner, it's time to dust off those potato salad recipes. Each year, we like to try at least two new kinds of potato salad. This recipe for Authentic German Potato Salad is super easy and oh so delicious! It's nice to change things up a bit, even though the old predictable is still our favorite. My usual potato salad recipe is about as simple as it gets; potatoes, eggs, onion, mayo, salt, pepper, vinegar, mustard and sugar. Dill Potato Salad and German Potato Salad are favorites.
Southern Germany
German Potato Salad is a traditional potato side dish originating in Southern Germany. In Northern Germany, the dish is different and similar to American style potato salad made with mayonnaise. Generally, when referring to German Potato Salad, it's the Southern style potato salad everyone knows and loves. Authentic recipes for German Potato Salad and many German dishes are passed down from one generation to another. Serve Authentic German Salad with coming UP NEXT: Authentic Rouladen, another delicious German recipe.
German Potato Salad
German potato salad is a popular side dish for a hearty meal. Containing a rich mixture of sweet and sour tastes tossed with bacon and potatoes, German style potato salad is best served hot. While it is somewhat different from traditional potato salad, it is worth considering as an alternative. The actual origin of this dish is southern Poland, and there are two basic recipes. The lesser-known Northern style is close to American potato salad, made with mayonnaise, and served cold. The style more commonly known as German potato salad contains no mayonnaise, and it is served hot or warm.
Basic Ingredients
The basic ingredients are potatoes, bacon, vinegar, sugar, and onions. However, it doesn't matter if the vinegar is cider or white, or if the potatoes are red or russet. What makes a German potato salad recipe really stand out are the added spices and herbs. The ingredients are fairly inexpensive, easy to make and leftovers may be reheated without losing any of the flavor. Kielbasa, sliced and browned, is often included in hot German potato salad. Even though I've never tried it this way, it's definitely something to consider the next time German Potato Salad makes an appearance.
Vary Greatly
Recipes for hot German potato salad vary greatly. Orange Some cooks will add herbs such as dill or rosemary, others will add a sprinkling of celery seed, chives or parsley. Add a little kick by adding a bit of dried or prepared mustard and a little cayenne pepper. Of course, a few dashes of salt and ground black pepper are almost always included in a recipe for this salad. Fresh dill weed and fresh chives are often used to flavor most potato salads. We love a hearty turn of the pepper grinder also.
Many people think hot potato salad is best served with sauerkraut and sausages. I personally think so too. At Octoberfest celebrations, large dollops of potato salad are consumed as a compliment to beer and bratwurst. It is also a favorite side dish for a family dinner or a special German feast. Most Americans consider potato salad to be a grilling season staple only, but in Germany potato salad is seen on the menu year round. Hey, I'm all for that! Potato salad, Baked beans and Deviled eggs aren't just for grillin' season anymore!
UP NEXT: Strawberry Marshmallow Krispie Treat Cups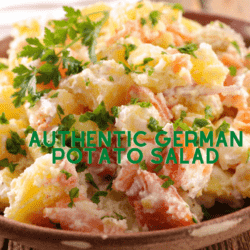 Authentic German Potato Salad
Authentic "Warm"German Potato Salad
Ingredients
3

cups

diced potatoes

4

slices

bacon

1

small onion

,

diced

1/4

cup

white vinegar

2

tablespoons

water

3

tablespoons

white sugar

1

teaspoon

salt

1/8

teaspoon

black pepper

1

tablespoons

chopped fresh parsley or chives

2

tablespoons

chopped fresh dill
Instructions
Place the potatoes into a pot and fill with enough water to cover. Bring to a boil and cook for about 10 minutes or until easily pierced with a fork. Drain and set aside to cool.

Place the bacon in a large deep skillet over medium-high heat. Fry until browned and crisp, turning as needed. Remove from the pan and set aside.

Add onion to the bacon grease and cook over medium heat until browned. Add the vinegar, water, sugar, salt, and pepper to the pan. Bring to a boil; then add the potatoes and parsley. Crumble in the bacon. Heat through, then transfer to a serving dish. Serve warm.
Nutrition
Calories:
129
kcal
,
Carbohydrates:
9
g
,
Protein:
3
g
,
Fat:
9
g
,
Saturated Fat:
3
g
,
Polyunsaturated Fat:
1
g
,
Monounsaturated Fat:
4
g
,
Trans Fat:
1
g
,
Cholesterol:
15
mg
,
Sodium:
728
mg
,
Potassium:
45
mg
,
Fiber:
1
g
,
Sugar:
9
g
,
Vitamin A:
8
IU
,
Calcium:
3
mg
,
Iron:
1
mg
*Calories and Nutrition Information is an Estimate Only.