2 Ingredient Strawberry Fluff Marshmallow Dip
We may earn money or products from the companies mentioned in this post.
2 Ingredient Strawberry Fluff Marshmallow Dip
Welcome Back to Turnips 2 Tangerines. Today's recipe involves sweet juicy strawberries for serving and 2 ingredients that make up this fantastic dip. Making this recipe is super simple and oh so delicious. 2 Ingredient Strawberry Fluff Marshmallow Dip is one you will be making over, and over again this summer. You'll want to stock up on Strawberry Marshmallow Fluff that's for sure! One draw back, the only place that I found strawberry fluff was on Amazon. I order often from Amazon but hopefully you'll be able to find it at your local grocery stores where you live. As for me , so far in my area of Wisconsin I can't find it so guess I'm shit out of luck as they say.
Strawberry Marshmallow Fluff
The secret to this simple recipe hands down is the strawberry fluff. I mean this stuff is the best! I can and have eaten this stuff right out of the jar with a big old spoon. In fact, when my granddaughters were here for a visit I gave then eat a spoon and said, "I want you guys to try this." After answering several questions like; "What it is?" "What are you going to make with it?" etc., etc., they both tried a spoonful. The first thing Willow said was, "Grandma this is really good! I could eat it all with my spoon!" "Can I have some more!!"
The main reason why I live this stuff so much is it actually tastes good! It's not overly sweet, it doesn't have that fake strawberry flavor that so many other strawberry flavored things do and it's exactly like regular fluff..thick, sticky, & gooey. I have been coming up with new ways to use strawberry fluff and I can't wait to share the recipes with you.
UP NEXT: Strawberry Banana Cheesecake Fluff

Recipe Tip:
To add even more strawberry flavor to this already yummy dip, substitute an 8 oz. tub of strawberry flavored cream cheese, for the plain. Honestly, this is my favorite way of preparing and serving this dip.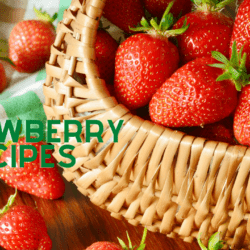 2 Ingredient Strawberry Fluff Marshmallow Dip
Ingredients
1-

8 oz. package

cream cheese, room temperature

1-

7 1/2 oz. container

strawberry flavored marshmallow fluff

fresh strawberries, cookies and/or crackers for serving
Instructions
Beat cream cheese with an electric mixer until light and fluffy. Fold in strawberry marshmallow fluff. Chill and serve with your dippers.
More Ways With Marshmallow Fluff
Fluffernutter Cookies
Marshmallow Fluff Frosting