Strawberry Caprese Salad
We may earn money or products from the companies mentioned in this post.
Strawberry Caprese Salad
Strawberry Caprese Salad is my take on a salad I recently ordered and loved at Panera Bread . Last week I spent some time in Oshkosh with Bobby and Kim. The reason for my visit, to take a look at the hard work they've done on their yard, to see if the mulberries were ripening and to hang out. The mulberries were no where near ready to be 'whacked' so after walking around the yard for about an hour, we decided to do a little thrift shopping.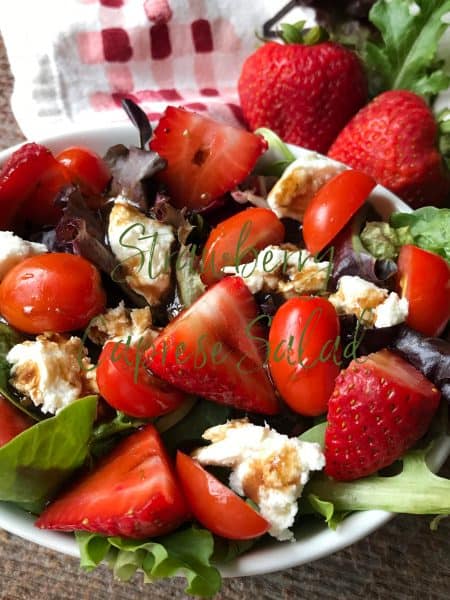 Let's Eat!
After several hours of thrift shopping, hunger started to settle in. Believe it or not, you can really work up an appetite while thrift shopping:) We decided on Panera Bread. I ordered half a grilled cheese sandwich and a small side salad called Strawberry Caprese Salad. One bite and I immediately feel in love with this super delicious, fresh tasting salad. I wish I would have ordered the larger version and 86'd the grilled cheese. As I was eating this sensational salad, I said to myself, "Self, I can make this!"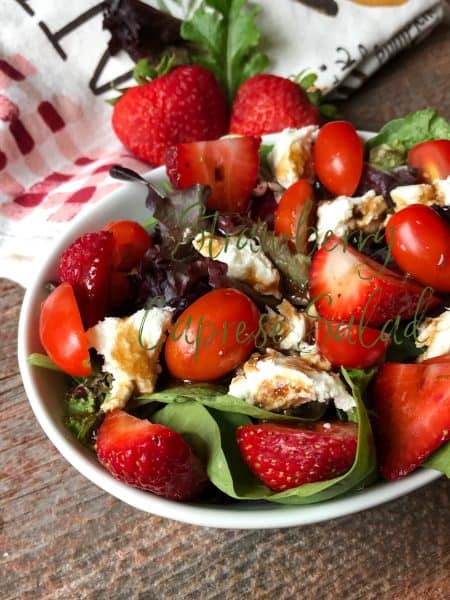 Copy-Cat Recipe
And that's what I did. I came home and made my copy-cat version of Panera's Strawberry Caprese Salad. Panera's strawberry salad was topped with an excellent balsamic glaze. For my copy-cat version I decided to go with a balsamic vinaigrette. The salad was super with the balsamic vinaigrette but the next time I make strawberry caprese salad at home, I'm definitely making a balsamic glaze.
What is a Balsamic Glaze
A balsamic glaze is easy to make, requires only 2 ingredients and adds a ton of flavor to anything it's drizzled on. A glaze is simply a balsamic reduction. Balsamic vinegar that has been simmered down to a thick, sweet, sticky syrup. A small amount of sugar, brown sugar or honey is usually simmered along with the vinegar. Drizzle balsamic glaze on salads, pasta, vegetables, chicken, pizza and even desserts. A balsamic glaze or reduction would be perfect drizzled over strawberry caprese salad.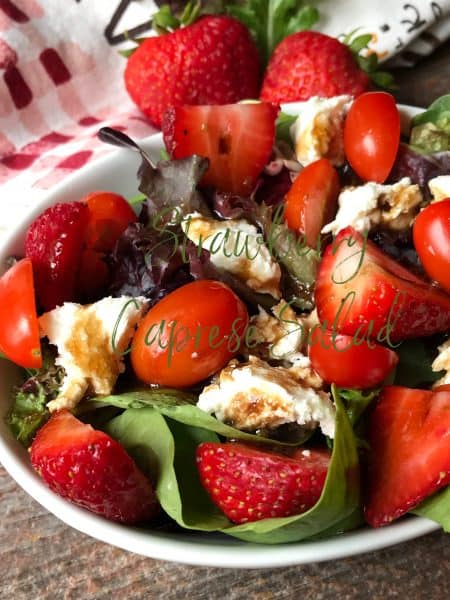 Perfect Example
This salad is the perfect example when a homemade balsamic vinaigrette or balsamic glaze is in order. There are times when a bottled balsamic vinaigrette or balsamic glaze (reduction) is sufficient and times when the recipe needs a homemade 'touch.' This is one of those times when "homemade fresh is best." Homemade balsamic vinaigrette or balsamic glaze are both easy to make. Get into the habit of making homemade vinaigrettes or glaze and keep a bottled variety on hand too.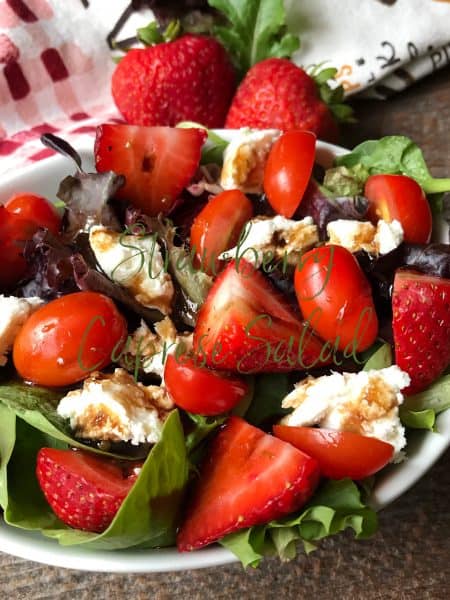 What Does Caprese Mean?
Caprese pronounced [kah-PRAY-say] is a simple salad of fresh mozzarella, tomatoes and basil. Lightly seasoned with salt, black pepper and extra virgin olive oil. It takes its name from southern Italy's island of Capri in the Gulf of Naples. Caprese shouldn't be confused with Margherita. Caprese is a salad and Margherita is a pizza topping. The two have the same ingredients, but one is a salad and the other is a pizza topping. The colors red, white and green represent the flag of 🇮🇹 Italy.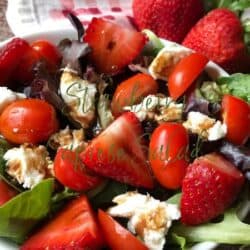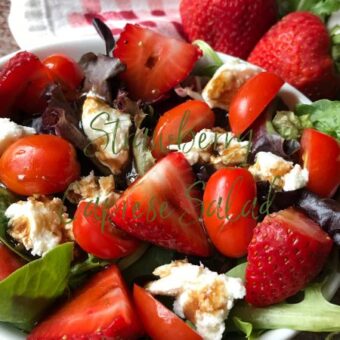 Strawberry Caprese Salad
A delicious blend of fresh flavors.
Ingredients
1

8 oz container

spring green mix

8

fresh basil leaves, torn

1

pint

fresh (small) strawberries, steamed removed, cut in half

6

ounces

fresh mozzarella, torn

1/4

cup

bottled balsamic vinaigrette
Instructions
In a large bowl toss together salad mix, basil leaves, strawberries, tomatoes and cheese.

Drizzle with balsamic vinaigrette. Serve
Recipes On Tap
Cantaloupe Berry Salad, BBQ Bacon Wrapped Onion Bombs and for dessert Fresh Peach Kuchen.