Balsamic Cucumber Tomato Salad
We may earn money or products from the companies mentioned in this post.
Balsamic Cucumber Tomato Salad
Balsamic Cucumber Tomato Salad is a light and refreshing side dish or side salad. It pairs well with grilled kabobs, chicken or even hot dogs. If you're a fan of cucumbers you'll surely like this fast and easy salad. Made with thin slices of English cucumber, grape tomatoes, onion and reduced-fat feta cheese. Not only is this salad light and delicious, it's not too bad on the waistline either:) With the many balsamic vinaigrette's on the market today, purchase one that is reduced-fat, low-cal and you can cut the calories even further in this salad.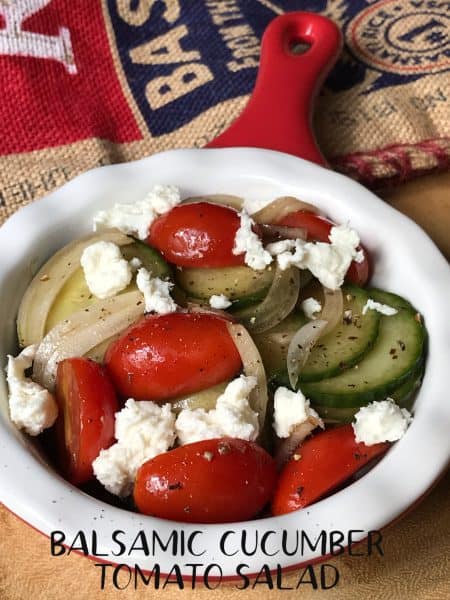 Balsamic Vinaigrette
This salad is made with a bottled balsamic vinaigrette as was the last recipe I posted. With that in mind I thought I'd share some information on balsamic vinegar and vinaigrette. We love balsamic vinegar and vinaigrette in my house and I use both often in recipes. As I've stated before, I personally think that some recipes turn out fine with a bottled balsamic vinaigrette. Find a bottled vinaigrette you like, stick with it and stock-up:)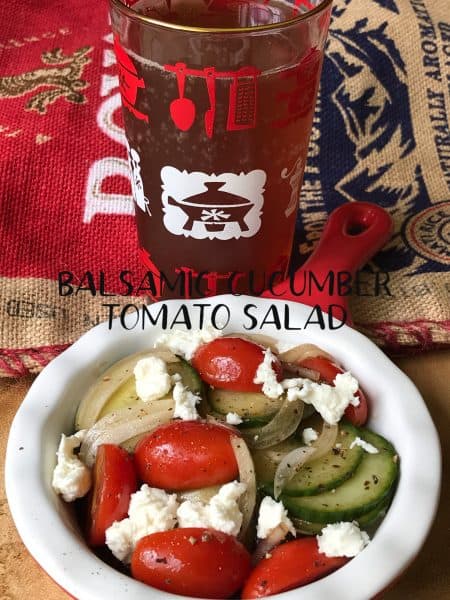 Some Recipes
Some recipes turn out better with a homemade, from scratch balsamic vinaigrette. The choice is really up to you but keep in mind when purchasing balsamic vinegar, to buy the best brand you can afford. Prices range from $3 per bottle all the way up to $100 per bottle. Many times the quality of vinegar used in a recipe will determine how much to spend also. For example; if you're making a dish were the balsamic vinegar will play a huge difference in the taste of the finished dish, purchase a better quality balsamic vinegar. If the recipe calls for a tablespoon or so, a lower quality balsamic vinegar can be used.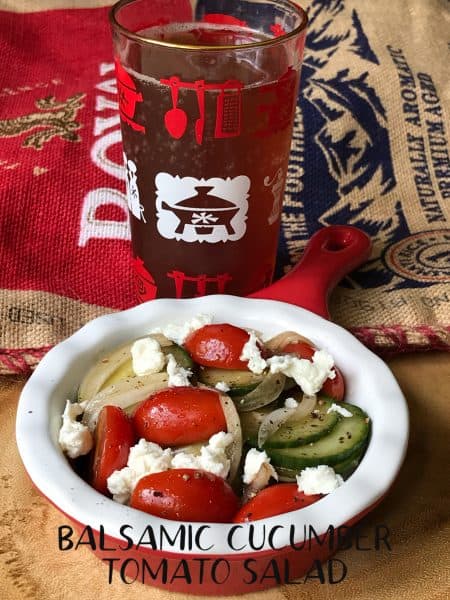 What is Balsamic Vinegar
Balsamic vinegar hails from Italy. It's made in and around the area of Modena and Reggio Emilia. Balsamic vinegar is produced from white Trebbiano grapes. The "must" is cooked down, concentrated until deep, dark and rich. The vinegar continues to gain its dark color and pungent sweetness from a lengthy period of aging in barrels. Balsamic vinegar is made similar to the way that wine is made and aged.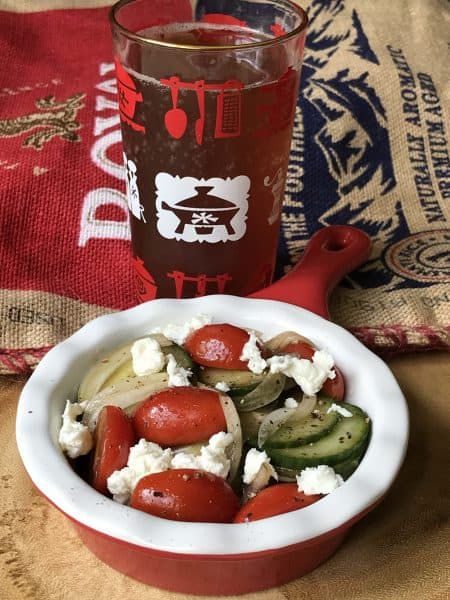 Aged Balsamic Vinegar
Balsamic vinegar is aged in wood containers made of chestnut, juniper, and mulberry. Balsamic vinegar graduates from larger to smaller size barrels as the vinegar ages over a period of years. It should be noted that many balsamic vinegar contain sulfites. Sulfites are primarily added to inhibit the growth of unfavorable, flavor-detracting bacteria.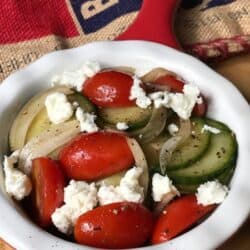 Balsamic Cucumber Salad
This easy going side dish is perfect alongside grilled kabobs, chicken or anything hot off the grill.
Ingredients
1

English cucumber, thinly sliced

2

cups

grape tomatoes, halves

1

medium

sweet onion, thinly sliced

1/2

cup

balsamic vinaigrette

3/4

cup

crumbled, reduced-fat, feta cheese
Instructions
In a large bowl, combine cucumber, tomatoes and onion. Add vinaigrette; toss to coat. Refrigerate, covered, until serving. Just before serving, stir in cheese. Serve with a slotted spoon.
Recipes On Tap
Here are a few more super salads that will go super with your summer meals. Guacamole Salad, Simply Sweet Watermelon Salad. You can't have a summer BBQ without German Style Coleslaw and German Potato Salad.
Balsamic vinaigrette used in this salad Annie's Balsamic Vinaigrette