Special Shrimp Bake
We may earn money or products from the companies mentioned in this post.
Special Shrimp Bake
Your family will love this delicious recipe for Special Shrimp Bake. Serve with a small tossed salad and slices of warm buttered French bread for a hearty and comforting meal. This dish is simple yet elegant enough to serve guests. Serve Special Shrimp Bake with a light, crisp white wine such as a Zinfandel.
Rice
This recipe calls for 2 cups cooked rice. I have made this recipe using extra long grain rice, wild rice and a wild rice/white rice medley. All have been super great in this recipe so feel free to use your favorite rice, rice blend or any left-over rice you might have in your refrigerator. Jasmine rice or basmati rice would also work nicely in this recipe. Special Shrimp Bake is our version of a recipe we found in a Taste of Home Cookbook, The Best of Country Cooking, 2000.
Cream of Whatever Soup
This recipe calls for using a can of cream of shrimp soup and it was the first time that I've ever used cream of shrimp soup in any recipe. I've never even used it in a dip recipe which is unusual for me. Personally, I think cream of shrimp soup would be darn good in a dip recipe or a sauce of some kind.  Now I know what your thinking. I thought the same thing too. Cream of shrimp soup?? C'mon now.
Yes or No?
Whereas some of you are totally against using any form of cream of whatever soup, and have gone so far as to ban them from your kitchens. I on the other hand, use and like to use cream of whatever soups in some of my recipes. After all, Campbell's Soup has been around for many years, so they must be doing something right.
Cream of Shrimp Soup
I was a little skeptical when I saw cream of shrimp soup in the ingredient list. I wasn't sure what to expect and actually had to go to several stores to find cream of shrimp soup. When I did find it, it was considerably more expensive than the other creamed soups.
Name Brands
Now I do want to interject something here. As I've stated earlier I do used cream of whatever soups but I do not, will not, use "off" brands or "store" brands of soups (especially cream of) When it comes to creamed soups, I'm a Campbell's Soup brand gal all the way.
In the End
Anyway, I was really impressed with cream of shrimp soup. It had a pleasant smell, tasted fantastic, was nice and thick, and there were actually pieces of shrimp throughout the soup. I really think that the soup is what made this special shrimp bake, "special." It made me want to try even more recipes using this somewhat unknown cream of whatever soup.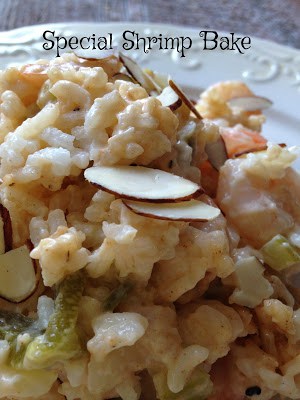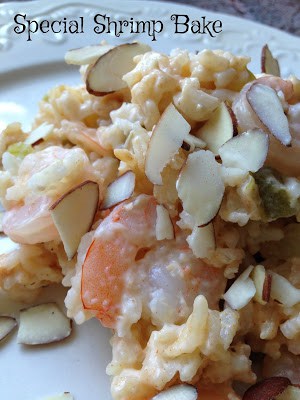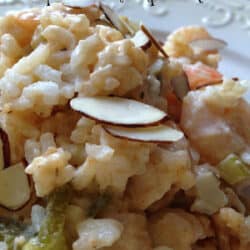 Special Shrimp Bake
A special shrimp bake to serve family and dinner guests.
Ingredients
3

quarts

water

2

teaspoons

salt, divided

2 1/2

pounds

uncooked medium shrimp, peeled and deveined

2

tablespoons

vegetable oil

2

tablespoons

lemon juice plus 1 teaspoon lemon zest

1/4

cup

finely chopped green pepper

1/4

cup

finely chopped onion

1/4

cup

finely chopped celery

2

tablespoons

butter

1

10 3/4 oz can

condensed cream of shrimp soup, undiluted

1

cup

half and half

2

cups

cooked rice

1/2

teaspoon

lemon-pepper seasoning

1/2

teaspoon

seafood seasoning (Old Bay)

1/2

cup

slivered almonds

2

cups

shredded Swiss cheese
Instructions
Season water with 1 teaspoon salt. Bring water to a boil. Add shrimp, boil for 3 minutes. Drain, rinse shrimp under running cold water. Set aside.

In a small skillet heat oil over medium heat until hot. Sauté green pepper, onion and celery in hot oil for 5 minutes. Remove from heat; stir in lemon juice, lemon zest, butter and shrimp. Set aside.

In a large bowl combine cream of shrimp soup, half and half, rice and seasonings. Fold in shrimp mixture.

Lightly spray 2 quart casserole dish with non-stick cooking spray. Spoon shrimp mixture into prepared dish. Cover, bake at 350° for 45 minutes.

Remove cover, sprinkle top with almonds and cheese. Bake 15 minutes longer or until cheese has melted and casserole is bubbly.
Nutrition
Serving:
1
g
,
Calories:
332
kcal
,
Carbohydrates:
15
g
,
Protein:
33
g
,
Fat:
15
g
,
Saturated Fat:
7
g
,
Cholesterol:
376
mg
,
Sodium:
1742
mg
,
Potassium:
243
mg
,
Fiber:
1
g
,
Sugar:
1
g
,
Vitamin A:
225
IU
,
Vitamin C:
12.1
mg
,
Calcium:
271
mg
,
Iron:
3.4
mg
Like Shrimp, try tyis recipe also. Shrimp Noodle Supreme. In the recipe we used the popular seafood seasoning by Old Bay Seasoning.