Creamy Ham and Swiss Noodle Bake
We may earn money or products from the companies mentioned in this post.
Creamy Ham and Swiss Noodle Bake
This easy, creamy casserole is a breeze to throw together. With prep time just under 15 minutes you'll have this comforting casserole in the oven in no time. Hands down this is my favorite casserole. Every now and then I like a good, satisfying casserole and I always reach for this recipe.Creamy Ham and Swiss Noodle Bake needs to bake for one hour. Giving you plenty of time to head out the door and get some shoveling done. When you get back in the house this warm, delicious, and comforting casserole will be waiting for you.
Casseroles
My older sister was the Queen of Casseroles. At one time, I bet she could have made a different casserole for everyday of the week for a month. I on the other hand, was the Queen of the Crock-pot (and blazers) in my family. Half the time I just threw ingredients into the crock-pot, turned it on low, and went to work. My kids never liked casseroles, so I'm sure if I asked them what their favorite casserole was, they probably couldn't answer. They would always moan and groan because they had to eat another "crock-pot" meal and I would give them the same answer Aggie gave me, "then go hungry."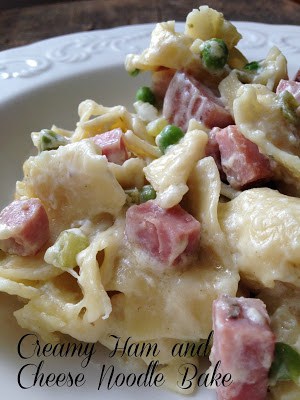 Always Peanut Butter
I was just kidding, I didn't make my kids go hungry and my mom didn't make me go hungry either. I did the same thing that she did and what I'm sure so many moms still do. I know my daughter does it too. Mom's best friend, peanut butter! I was fortunate that when my kids were young, they didn't have any food allergies. If my kids didn't like what we were having for dinner, they could always have a peanut butter and jelly sandwich.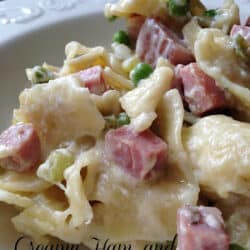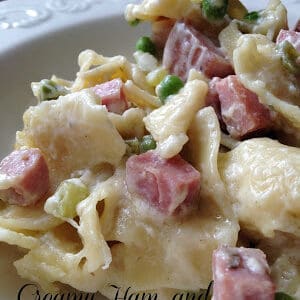 Creamy Ham and Cheese Noodle Bake
Satisfying and Delicious. A mixture of Swiss cheese, ham, peas, and noodles. Topped with potato chips for that added layer of crunch.
Ingredients
16

ounces 

uncooked extra wide egg noodles

2 

celery ribs, diced

1

small

onion, diced

1

tablespoon

vegetable oil

2

cups

fully cooked turkey ham or ham, chopped

1

can (10 3/4 oz)

cream of mushrooms soup

6

oz

frozen peas, thawed

2

cups

shredded Swiss cheese

3/4

cup

half and half

1

teaspoon 

Dijon mustard

2

cups

crushed potato chips
Instructions
Cook noodles according to package directions; drain. Meanwhile, in a large skillet, saute celery and onion in oil until tender. Add cubed turkey ham and saute for 5-8 minutes. Stir in noodles and remaining ingredients.

Transfer to a greased 2-quart baking dish.

Cover and bake at 350º for 45 minutes. Top with crushed potato chips. Bake an additional 15 minutes.
Recipes On Tap
Looking for more casserole recipes? We've got them:) Tuna Noodle Casserole and Tater Tot Casserole. For this recipe we used extra wide, no yolk egg noodles. No Yolks. Bacon Chicken Fettuccine Alfredo