Save Broccoli Stems for Recipes
We may earn money or products from the companies mentioned in this post.
Save Broccoli Stems for Recipes
Don't throw away those Broccoli Stems. Today I'm going to share with you a kitchen tip that I have been using for a long time. The next time you buy broccoli and you are going to use the broccoli florets only, save the stems. You can peel the stems and leave them whole, slice the stems or chop them into cubes. Use them right away or freeze them for later.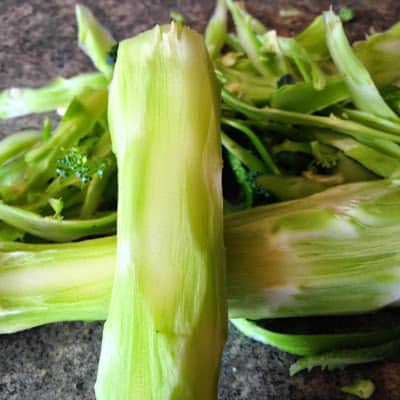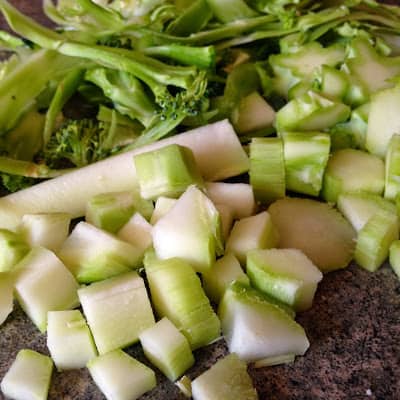 Not All Stems Are The Same
Most vegetable stems can be tough, woody and lack flavor. However, broccoli stems are tender and have tons of flavor and vitamins. Add the stems to soups, stews and use in stocks. Broccoli stems can be shredded and then added to salads and slaw recipes too. When I make a recipe for creamed broccoli soup, the majority of the broccoli in the soup is from the stem portions.
Great For Soup and Stock
Broccoli stems hold up well, which makes them ideal for longer cooking times. Broccoli florets can then be added at the end of the cooking time. So the next time you buy a bunch of broccoli, keep the stems! Peel the stems, toss them into a ziplock freezer baggie, date the baggie and put the baggie in your freezer. The next time you want to make vegetable stock or broccoli soup, some of the prep work will be already done.
Fresh Is Best
If at all possible and whenever possible, fresh is best. When broccoli is in season where ever you live, head to your favorite farm market or farm stand and pick up some fresh heads of broccoli. Use the broccoli florets in the recipe you're making and save the stems. The stems have more flavor in my humble culinary opinion than the florets. I'm not a huge fan of "raw" broccoli but I love broccoli that is cooked, steamed or baked.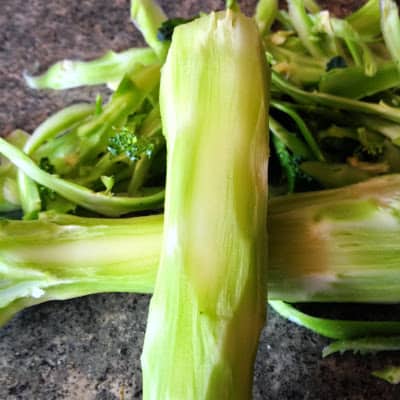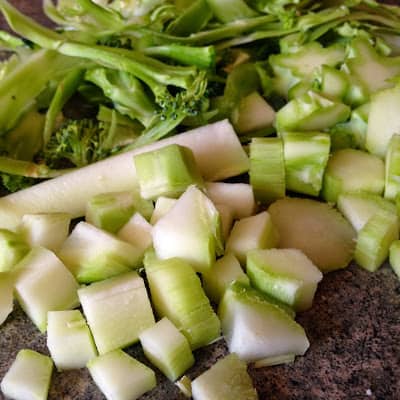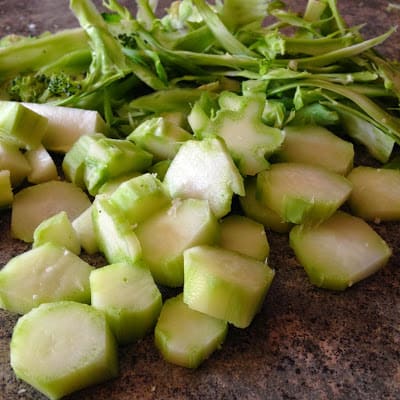 Recipes:
One of my favorites ways to use broccoli stems is in soup recipes. Here are our favorite recipes using broccoli stems. Cheesy Broccoli Tortellini Soup, Cheesy Broccoli Soup, Broccoli Cauliflower Cheese Soup and a recipe that I make every Thanksgiving, Slow Cooker Broccoli.