Roasted Garlic Spread with Three Cheeses
We may earn money or products from the companies mentioned in this post.
Roasted Garlic Spread with Three Cheeses
Time again for Football Friday and the Game Day Recipe!! This easy and delicious dip can be served with an assortment of vegetables, crackers and pretzels. In fact, anything goes with roasted garlic spread with three cheeses. Spread it on garlic toast and double the garlic flavor or spread roasted garlic spread on slices of baguette and place under the broiler for a few minutes. Yummy, cheesy, toasty and super delicious.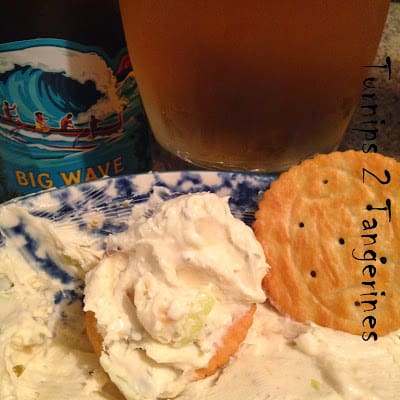 Pass It On
Pass It On! Hungry for more Roasted Garlic Recipes?? Then we've got you covered. Here is a sampling of our favorite garlic recipes; Garlic Vampire Dip with Garlic Naan and How to Roast Garlic and Garlic Dip. Garlic is a species in the onion genus, Allium. Its close relatives include the onion, shallot, leek, chive and Chinese onion, all of which most if not all of use have used in cooking. Garlic is native to Central Asia and northeastern Iran, but can basically be grown just about anywhere. Long been used as a common seasoning worldwide, with a history dating back to several thousand years of human consumption.
Big Wave
Make a big wave or splash at your next party and proudly serve Big Wave Beer. Big Wave Golden Ale is a lighter-bodied golden ale with a tropical hop aroma and flavor. It's smooth, easy drinking and refreshing. Made with a caramel malt which contributes to the golden hue of the beer. Special blend of hops provides a bright, quenching finish that makes you want to grab another and another. Pairs well with seafood, poultry, salads, and light pasta dishes.
Catch a Wave
The waves in Hawaii are legendary. In the winter months, the island's north and west coasts see big waves that often climb to 40 feet, with huge curls of white water breaking off shore. This is just one reason why surfers, body boarders, paddlers and those willing to just watch from the beach, enjoy this way of life. Catch a Wave on the Island of Oahu, Makaha. Kona Brewing Co has many beers to offer with names such as: Longboard Island Lager, Gold Cliff IPA, Hanalei Island IPA, and Castaway IPA just to name a few.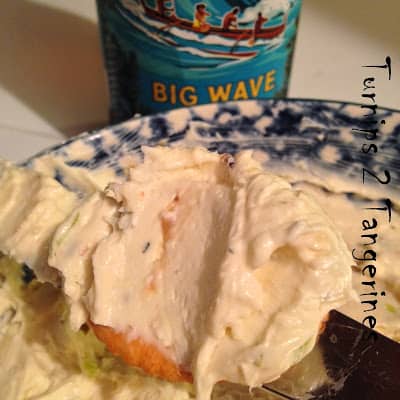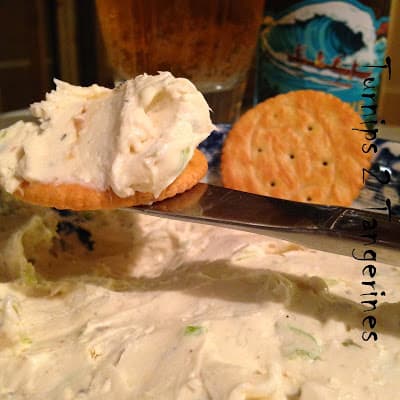 Roasted Garlic Spread with Three Cheeses
A super delicious appetizer.
Ingredients
2

heads of garlic

2 to 3

teaspoons

olive oil

pinch

of kosher salt

1

8 oz package

cream cheese, room temperature

1

3 oz package

goat cheese, room temperature

1/4

cup

thinly sliced green onions

1

tablespoon

mayonnaise with olive oil

1

teaspoon

hot sauce

1

teaspoon

dried oregano

1/4

teaspoon

onion powder

1/4

teaspoon

garlic powder

1/3

cup

crumbled blue cheese

assorted fresh vegetables and crackers
Instructions
Preheat oven to 400 degrees. Cut tops off garlic heads to expose tops of cloves. Place garlic on a medium piece of heavy duty foil. Drizzle with olive oil and sprinkle with salt. Wrap garlic in foil, place in the oven. Bake 45 minutes or until garlic is very tender. Remove from oven. Cool completely.

Place softened cream cheese and goat cheese in a large bowl. Squeeze garlic into the bowl, add sliced green onions, mayo, hot sauce, oregano, onion and garlic powder. Beat cream cheese mixture until smooth. Stir in blue cheese.

Cover and refrigerate 3 hours or overnight.
Looking for more delicious snacks? Jalapeño Poppers Wrapped in Bacon are always a hit at any party.