Pumpkin Ginger Chocolate Chip Muffins
We may earn money or products from the companies mentioned in this post.
Pumpkin Ginger Chocolate Chip Muffins
There is only one thing I can say about these muffins, Outstanding!! Pumpkin Ginger Chocolate Chip Muffins are packed full of delicious fall flavors. Canned pumpkin, mini chocolate chips, and diced candied crystallized ginger. Made into jumbo size muffins, therefore giving you more muffin to enjoy! Not only do you get to bite into a warm jumbo, super delicious muffin, they're ready in under an hour! You can barely drive to your local coffee shop, and sit in the drive-through in less than an hour! Stay home, Stay Safe and Make Some Muffins!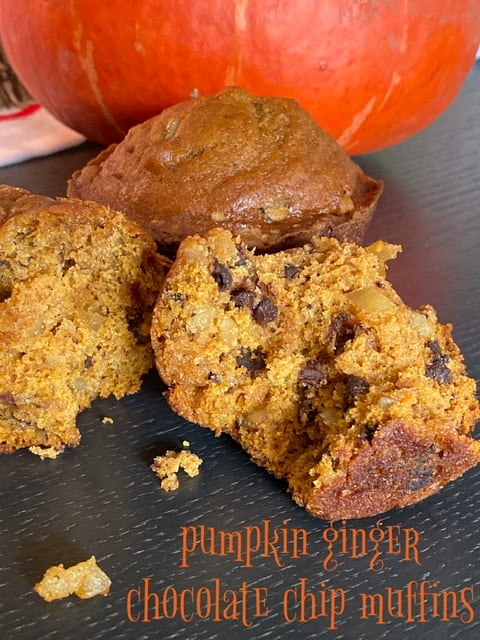 Canned Pumpkin
There was a time when canned pumpkin was only available in supermarkets during the holidays. Once considered a 'seasonal' item, canned pumpkin can now be found, for the most part, in supermarkets year round. After all, pumpkin bread, pumpkin muffins and pumpkin bars with cream cheese frosting taste just as good in July as they do in November eh? Of course, smaller grocery stores might not have the extra shelf space and therefore might not carry canned pumpkin year round. Do what I do, stock up! Buy 3 or 4 cans of canned pumpkin and you'll be all set.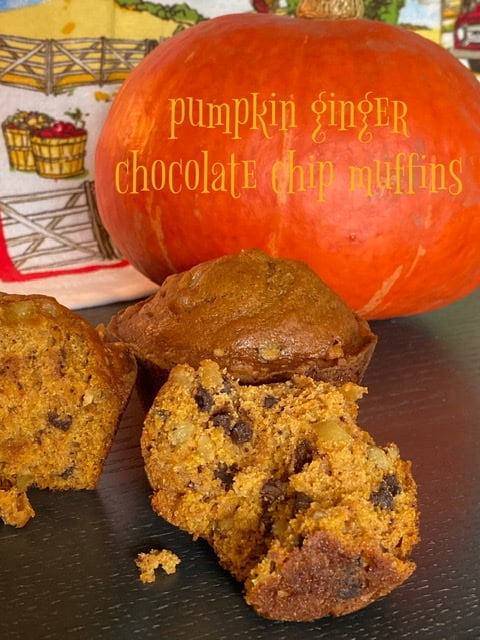 Crystallized Ginger
The secret ingredient, in my opinion anyway, in these tasty pumpkin ginger chocolate chip muffins is the candied crystallized ginger. First let me say once again that I love this stuff! I put it in everything from Slow Cooker Pepper Steak to baked goods. Crystallized ginger gives a nice, peppery bite to both sweet and savory recipes. Secondly, when crystallized ginger is added to a recipe whether it be a sweet or savory, the sugar melts and adds an extra layer of sweetness. The ginger is transformed and closely resembles fresh ginger.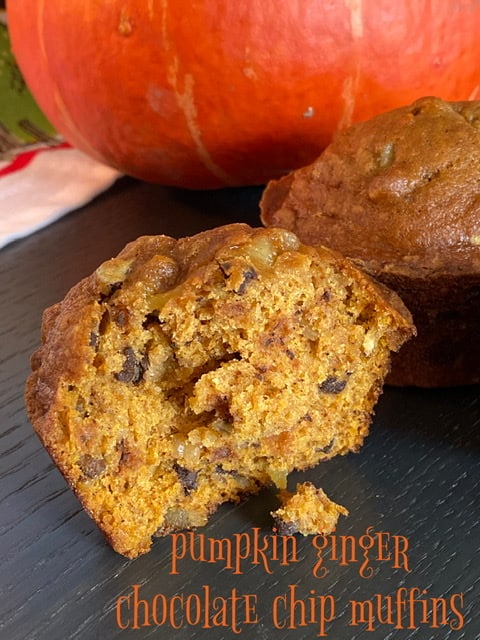 It's almost like adding fresh ginger to your recipe. Being a guest food blogger for Paradise Fruit Co.  I've learned to appreciate all candied fruit and the recipes that can be made with this sometimes forgotten 'old-fashioned' fruit. Once considered only reserved for Grandma's Christmas Fruitcake  or Aunt Fanny's Fruitcake Balls. Thankfully candied fruit has found a new generation of fans and I'm one of them.
Do you enjoy crystallized ginger as much as we do? If so, you will want to try these fantastic recipes. Pumpkin Spice Chocolate Chip Scones, Pumpkin Bars with Cream Cheese Frosting, and Triple Ginger Cranberry Friendship Bread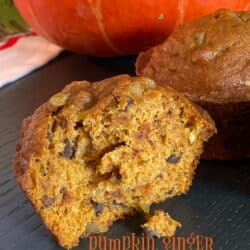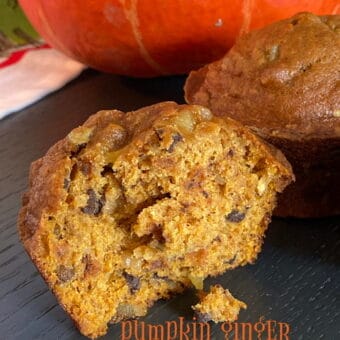 Pumpkin Ginger Chocolate Chip Muffins
The perfect combination of flavors.
Ingredients
1 1/2

cups

flour

1/2

teaspoon

salt

1

teaspoon

baking soda

1

teaspoon

ground ginger

1/2

teaspoon

ground cinnamon

1/2

teaspoon

ground allspice

1/4

teaspoon

ground nutmeg

2

eggs, room temperature

1

cup

brown sugar

1

cup

canned pumpkin

1/3

cup

melted butter

1/4

cup

water

1/2

cup

chopped walnuts

1/2

cup

mini chocolate chips

4

Tbsp

well chopped candied ginger
Instructions
Preheat oven to 350°F. Lightly grease a jumbo size muffin tin. Set aside.

In a medium sized bowl, whisk together the flour, salt, baking soda, and spices. Set aside.

In a large bowl, beat the eggs and whisk in the brown sugar, making sure to break up any lumps of sugar. Stir in the pumpkin, melted butter, and 1/4 cup of water until well combined.

Stir in the dry ingredients, a third at a time, until just incorporated. Do not over-mix. Fold in the chopped walnuts, mini chocolate chips and candied ginger. Do not over-mix.

Spoon mixture into a prepared jumbo muffin tin. Bake for 25 minutes at 350°F. Check for doneness with a toothpick inserted into the center of a muffin. If it comes out clean, it's done. Cool on a rack.