Pumpkin Deviled Egg Recipe
We may earn money or products from the companies mentioned in this post.
Pumpkin Deviled Egg Recipe
When you read the title of this recipe, you might be thinking, "Pumpkin Deviled Egg Recipe? " You've got to be kidding! Enough with the pumpkin flavor already. Man oh man, Pumpkin this and Pumpkin Spice that. Well I'm here to tell you that this recipe for Pumpkin Deviled Eggs does not, I repeat, does not contain any pumpkin. The deviled eggs are just made to look like a pumpkin.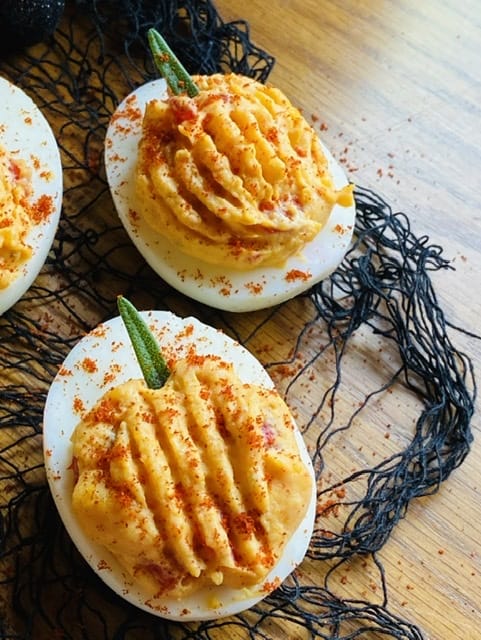 Deviled Eggs
The original name for this recipe is 'Roasted Red Pepper Deviled Eggs.' The recipe is adapted from My Recipes If you want to add a festive touch to your hors d'oeuvre table this holiday season, make these fun and festive deviled eggs. Perfect for any 'Fall' gathering such as Halloween or Thanksgiving. If your family and friends still get together and cheer on your favorite football team, pumpkin deviled eggs are the answer. In fact deviled eggs are always the perfect accompaniment to any party. Don't want to dink around with making deviled eggs?  Make Deviled Egg Pasta Salad instead.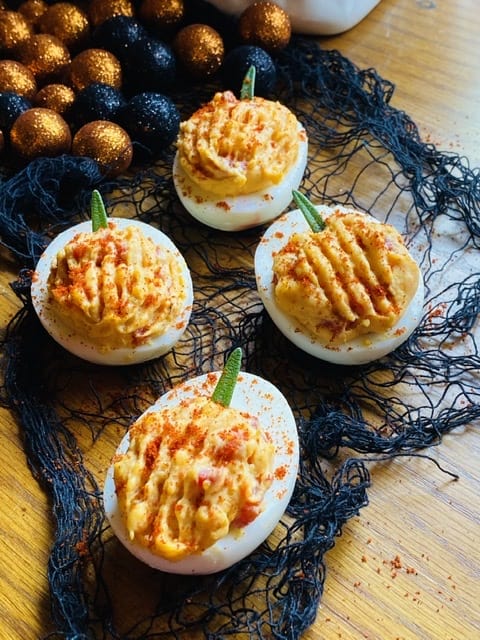 Roasted Red Peppers & Paprika
In this recipe egg yolks take on a slight orange hue from the diced roasted red peppers (from a jar) and paprika. I think most people have heard of or have used jarred roasted red peppers. They're easy to make too. Below is a not only a fantastic recipe for soup but also directions on how to easily roast peppers. Learn how too here: Taco Soup and How to Roast Peppers. For this recipe we used smoked paprika instead of the regular paprika the recipe calls for. You could substitute Hungarian paprika or Spanish paprika. We prefer smoked or smoky paprika which is actually Spanish paprika.
A Word About Paprika
Used as a seasoning and garnish for a variety of savory dishes, paprika is a powder made by grinding aromatic sweet red pepper pods. The pods are quite tough, therefore several grindings are necessary to produce the proper texture. The flavor of paprika can range from mild to pungent and hot. The color from bright orange-red to deep blood-red. Most commercial paprika comes from Spain, South America, California and Hungary. However, the Hungarian variety is considered by many to be superior. Indeed, Hungarian cuisine has long used paprika as a mainstay flavoring rather than simply as a garnish. Here is a great recipe for Slow Cooker Hungarian Goulash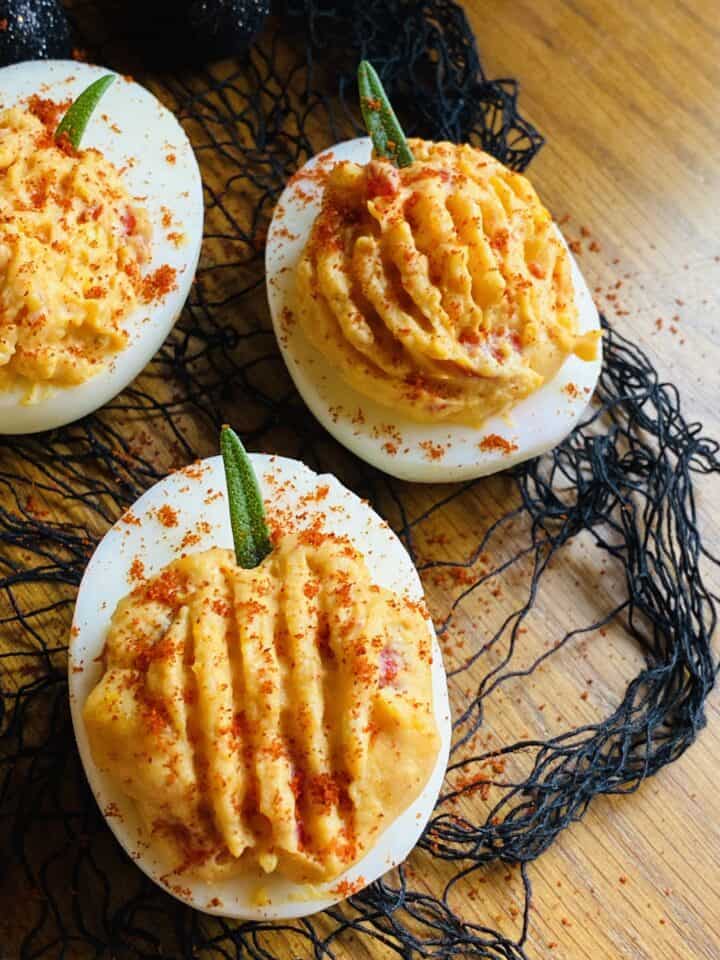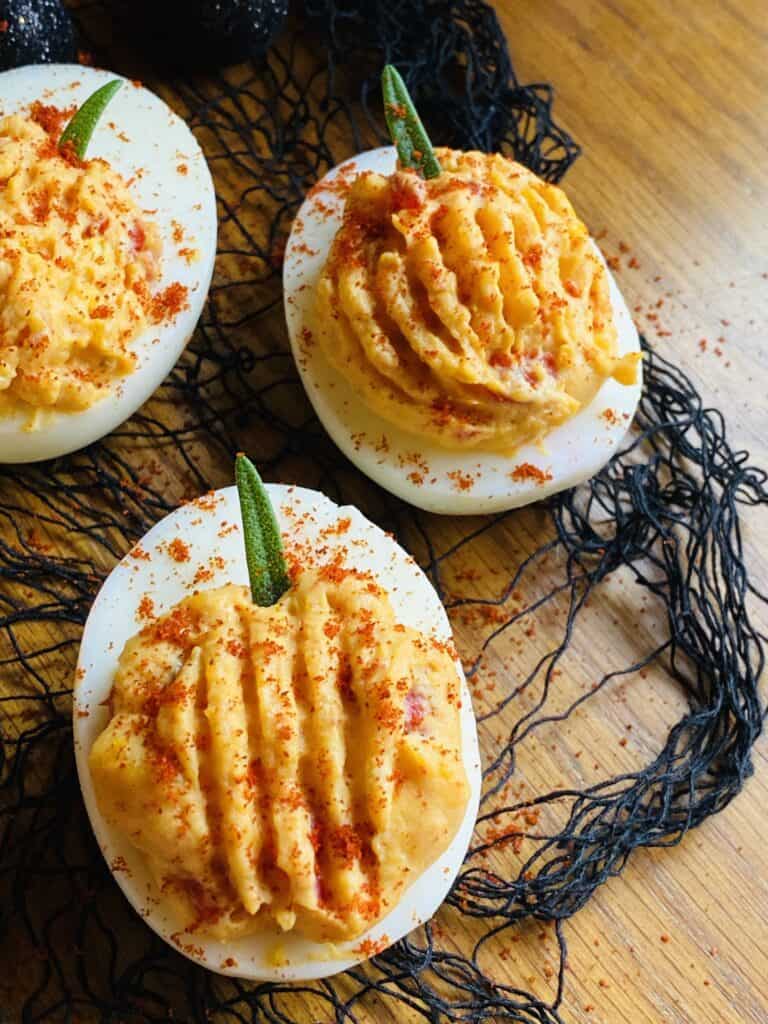 Pimenton
Pimenton is a special Spanish paprika made from peppers that have been slowly smoked and dried over oak fires. The process gives the peppers a rich, smoky quality. There are three versions of pimenton; sweet and mild, bittersweet medium-hot and hot. All supermarkets carry mild paprikas, however ethnic markets must be searched out for the more pungent varieties; gourmet markets will also carry the more exotic styles of pimenton. As with all herbs and spices, paprika should be stored in a cool, dry place.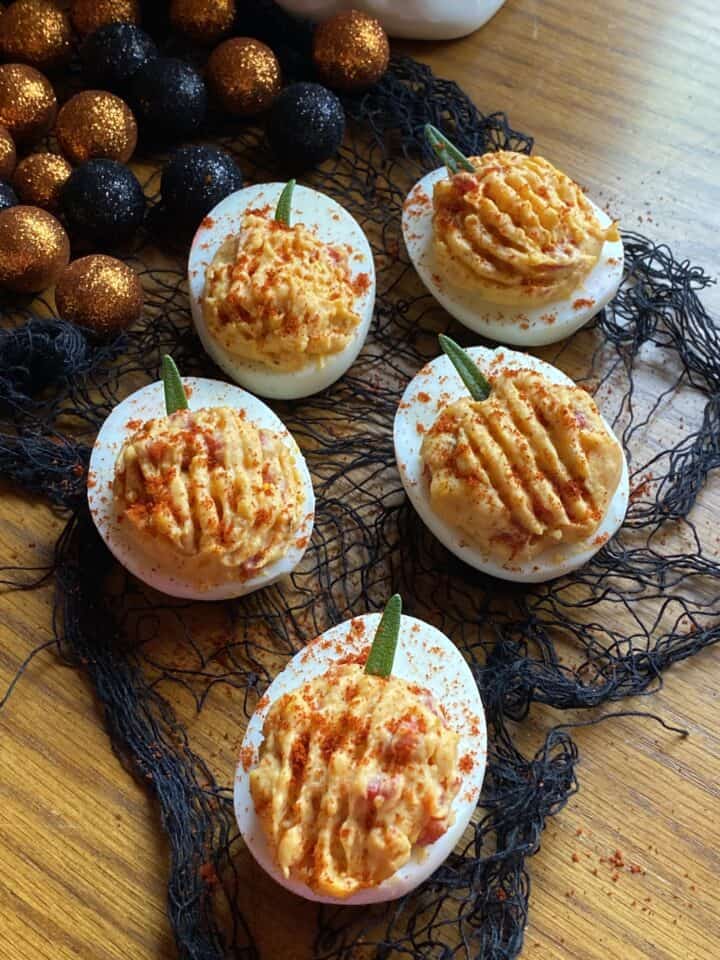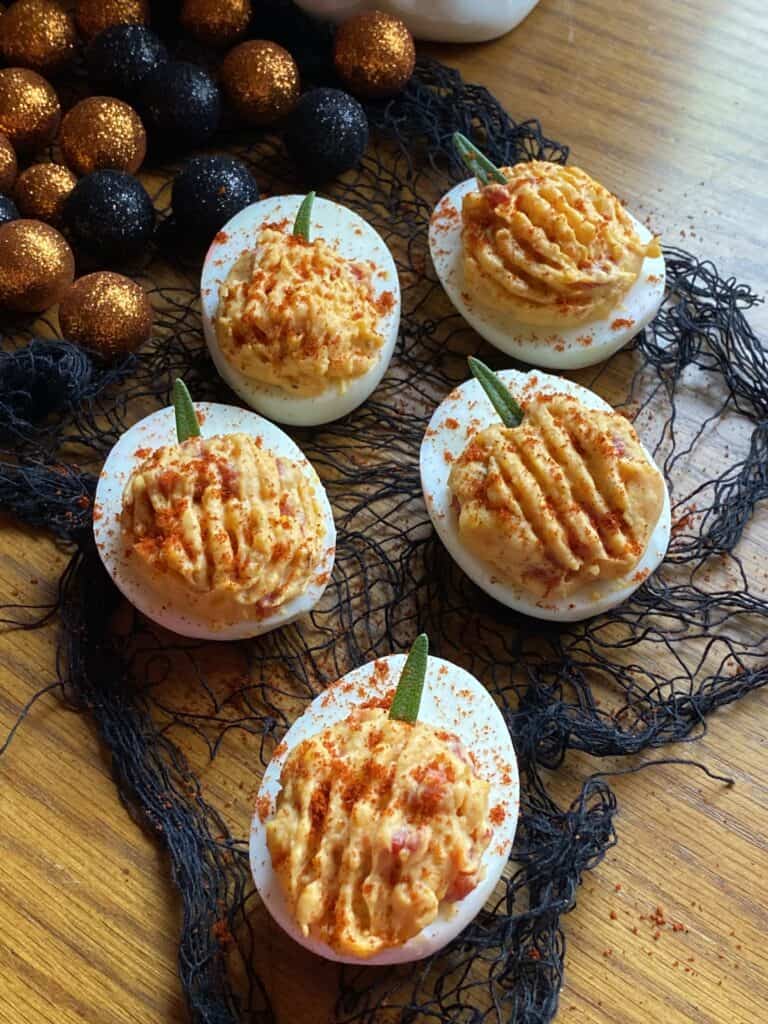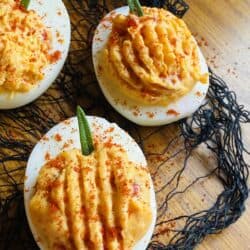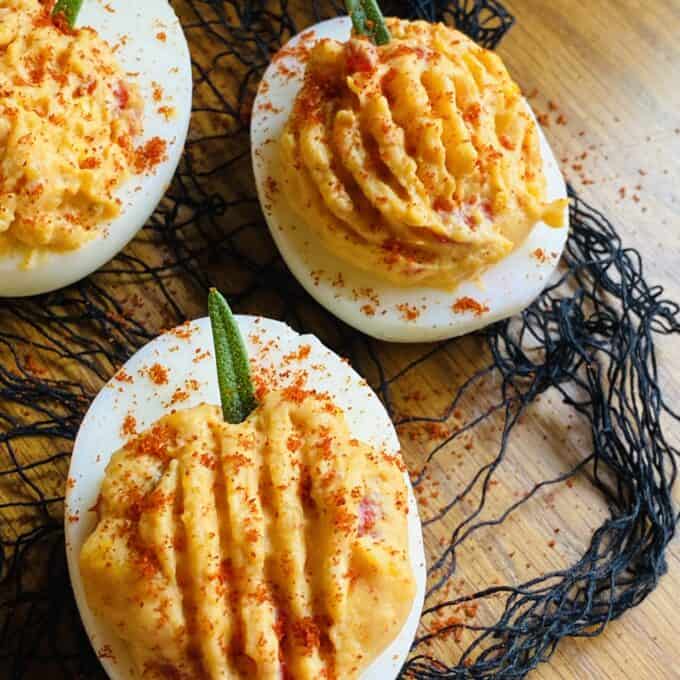 Red Pepper Deviled Eggs
Diced Roasted Red Peppers and Smoky Paprika give these delicious deviled eggs their orange hue.
Ingredients
8

large

eggs

1/4

cup, drained and diced

jarred roasted red peppers

3

tablespoons

mayonnaise

1

teaspoon

Dijon mustard

1/4

teaspoon

smoky paprika, plus more for sprinkling

Salt and pepper to taste

3

chives, cut into 1/2-inch pieces or 16 fresh rosemary
Instructions
Bring a large pot of water to a boil over high heat. Gently lower eggs into water, return to a boil and reduce heat to a low simmer. Cook eggs 11 minutes, drain and place in a large bowl of ice water. Cool completely, at least 10 minutes.

Crack eggs and carefully peel under cool running water. Slice in half lengthwise, scoop out yolks and place them in a food processor with peppers, mayonnaise, mustard and paprika. Lay whites cut side down on paper towels to dry. Process yolk mixture until smooth; taste and season with salt and pepper.

Transfer yolk mixture to a pastry bag fitted with a large round tip or a large ziplock bag. If using a bag, squeeze out air, seal and snip off a corner. Pipe about 1 Tbsp. filling into center of each egg white. With tines of fork make lines in egg filling to resemble a pumpkin. At the top, set a piece of chive or rosemary diagonally into filling to resemble a stem. Sprinkle yolks with paprika. Serve immediately or cover and refrigerate for up to a day.