Devilish Deviled Egg Recipe
We may earn money or products from the companies mentioned in this post.
Devilish Deviled Egg Recipe
This is another delicious deviled egg recipe that's made to look devilish by giving the egg whites a crackle look and adding a few drops of green gel food coloring to the yolks. This same look can be achieved by using any color gel food coloring, white vinegar and boiling water. To make coloring eggs easier, make sure the 'vessel' your using to dye your eggs is large enough to hold the vinegar, food coloring, boiling water and most importantly the egg!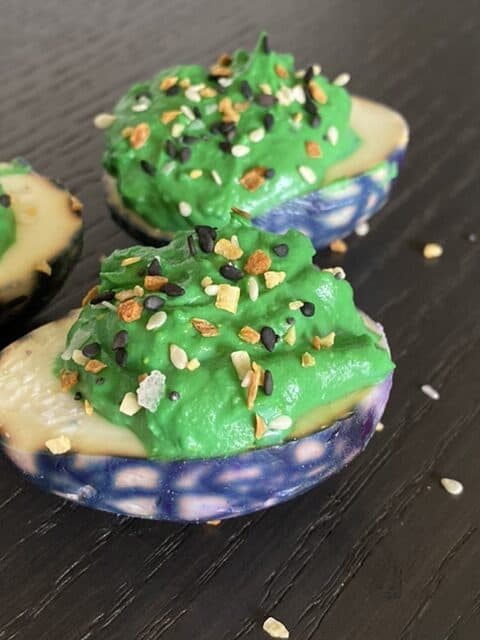 Hard Boiled Eggs
The simple technique of 'crackling' egg whites is really easy to do. I'm not sure if the correct term is 'crackling' but for right now it's the only word that comes to mind. Make a batch of hard boiled eggs. Here's how: Add eggs, any amount, straight from the refrigerator to a saucepan that's large enough to hold the eggs plus enough water to cover the eggs. Lightly salt the water. Bring the water and eggs to boiling.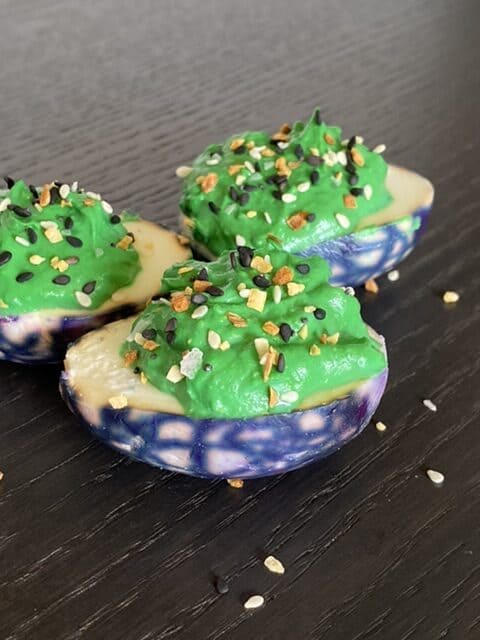 Turn off heat and cover saucepan. Let pan sit on the burner for 15 minutes. Drain water and cover with cold water. Let stand in cold water for 5 minutes. Drain again, set aside. Continue with this recipe or use eggs to make egg salad or to add to potato salad. I've made hard-boiled eggs this way for years and they have turned out every time.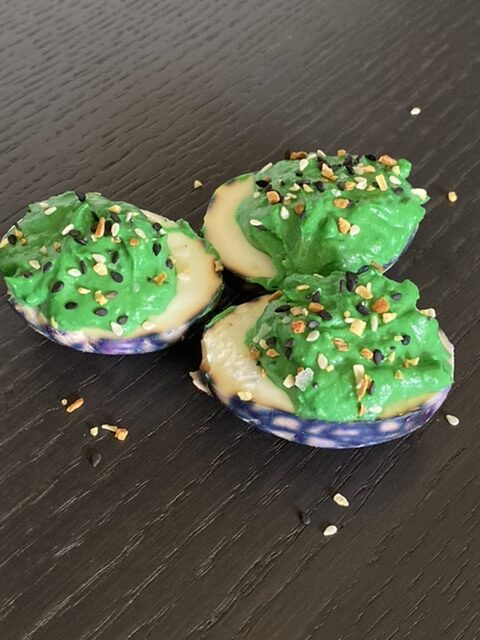 Jelly Jars
The best 'vessel' that I've found for dyeing eggs that works the best is; 1/2 pint glass canning jars sometimes called jelly jars. The only real problem with this method all depends on how many eggs you'll be coloring. You may or may not have a counter top full of hard boiled eggs, being dyed different colors  in glass jelly jars. If you're anything like me, you have an extra dozen or so glass jelly jars hanging around the house. In late summer into early fall of this year, at least in my neck of the woods, I couldn't find glass canning jars to save my a$$.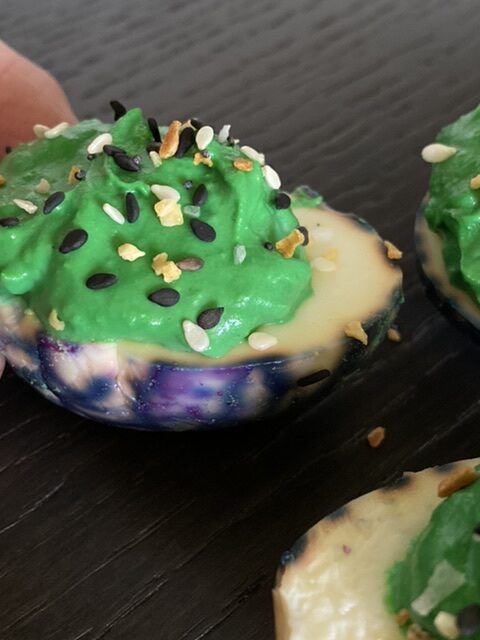 Everyone and their mother must have been busy canning. I couldn't even order them on Amazon….'out of stock.' You might be thinking to yourself, "Why doesn't she just mix the food coloring, white vinegar, boiling water, cracked eggs together in a large bowl and save some time. Well that's true, that would save me time and dishes too. I've found that by coloring eggs separately the color becomes more deeper and darker overall.
Here are just a few of our favorite and most requested deviled egg recipes. Enjoy!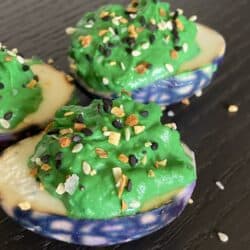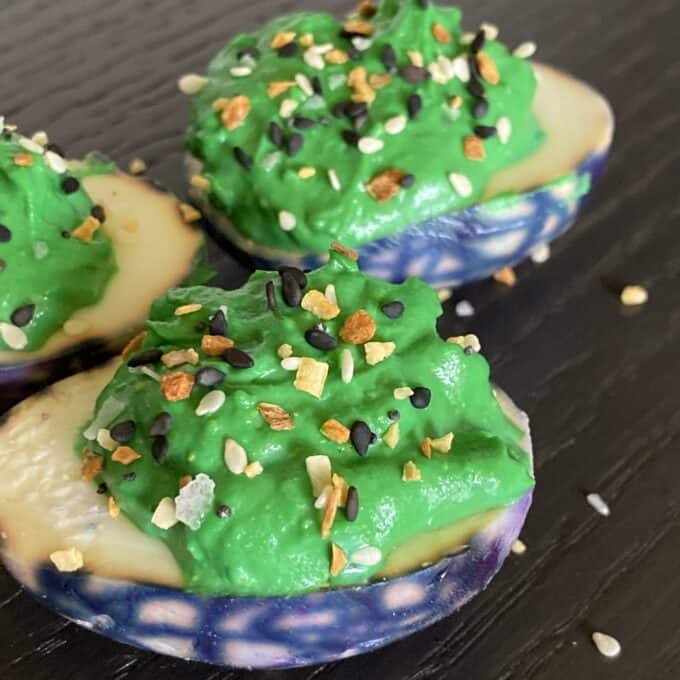 Devilish Deviled Eggs
A fun and festive was to serve deviled eggs.
Ingredients
6

hard-boiled

eggs, unpeeled

6

1/2 pint

glass jelly jars

18

drops

blue or black gel food coloring

12

teaspoons

white vinegar

3-4

tablespoons

mayonnaise

3

drops

green food color

2

teaspoons

Dijon mustard

Salt to taste

Everyday Seasoning, garnish
Instructions
Line 6- 1/2 pint jelly jars on counter top. Squeeze 3 drops of gel food coloring into each glass jar. Add 2 teaspoons white vinegar to each glass jar. Pour in about 2 tablespoons into each glass jar and lightly stir to mix.

Crack the shells of the hard boiled eggs gently with the back of a spoon. Do not remove or peel off the shell.

Place one cracked egg into each glass jars and add boiling water to cover egg. Let stand in water for 10 to 15 minutes.

Remove eggs from the water mixture. Lightly wipe dry. Peel eggs carefully, and cut eggs in half lengthwise.

Scoop out the egg yolks and transfer to a bowl. Place egg whites cut side down on a paper towel to dry.

Place the egg whites, cut side down on paper towels to dry. Set aside.

Mash the yolks with the mayonnaise, green food coloring, mustard, and salt. Pipe the yolk mixture into the egg whites.

Season with Everyday Seasoning or seasoning of your choice. Serve and Enjoy!
Products Used:
Dukes Mayonnaise
Trader Joe's Everyday Seasoning