Pesto and Goat Cheese Polenta Bites
We may earn money or products from the companies mentioned in this post.
Pesto and Goat Cheese Polenta Bites
Having a Dinner Party? Unexpected guests stopped by? Need a fast and easy appetizer for Game Day? Invited to a impromptu party? Try Pesto and  Goat Cheese and Polenta Bites. Featuring Cheese from~ "La Bonne Vie" Pesto and  Goat Cheese Polenta Bites are made with a wonderful and delicious Honey Goat Cheese from "La Bonne Vie" Cheese. Serve these tasty bites with a glass of White Reisling.
Recipes Included
These tasty little bites can also be made with any good quality goat cheese, so if your don't have La Bonne Vie cheese not to worry. Use any honey goat cheese you like. To make things fast and easy, I used an organic polenta roll for this recipe but if you want to make your own, a basic polenta recipe follows. Same goes for the pesto, I used a jarred variety but have included a recipe if you'd like to make your own.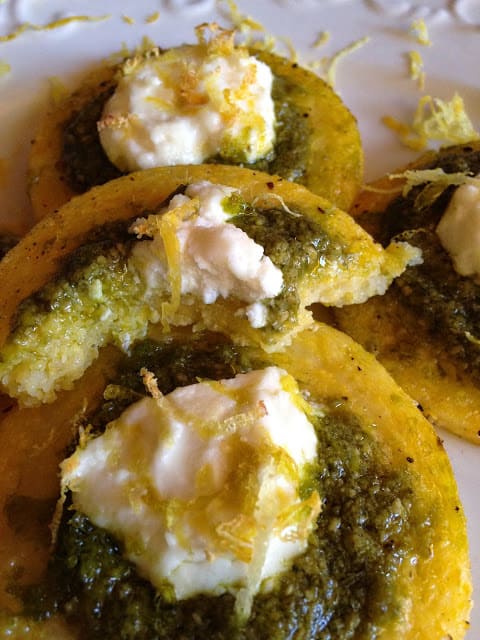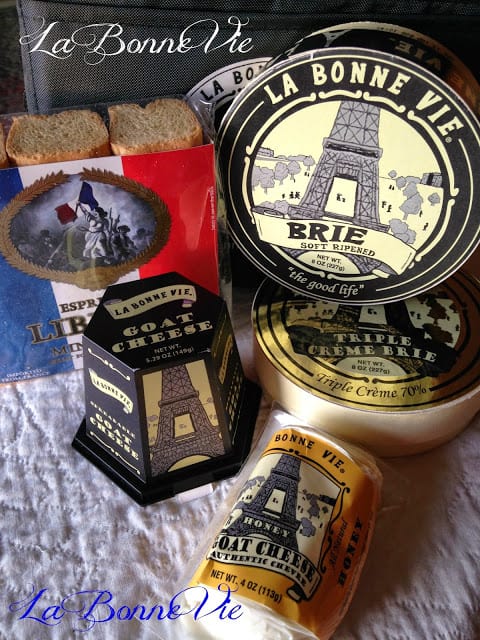 Lemon Zest
Don't skip the lemon zest!! Pesto and Goat Cheese Polenta Bites are topped with a few shards of fresh grated lemon zest. Don't skip on this because the lemon zest adds a layer of fresh, citrus flavor that seems to add just the right touch. Sprinkle the salt and pepper over the bites just before serving to give these bites the best, fresh flavor.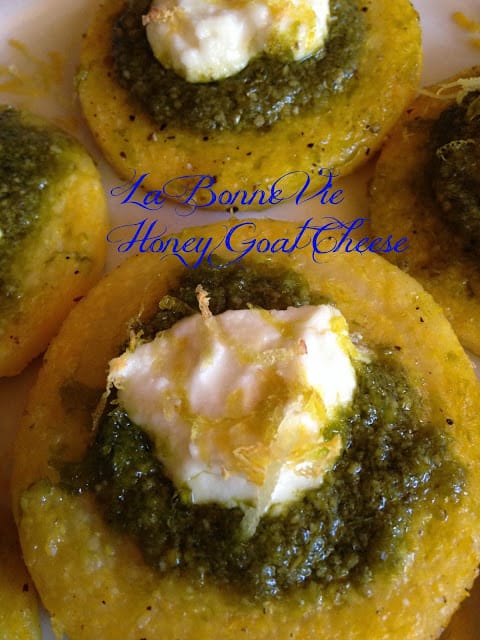 La Bonne Vie Cheese  I was fortunate enough to receive some delicious and remarkable cheese from La Bonne Vie.  I was more than happy to try this wonderful cheese and was super surprised the deliciousness of this cheese. Living in America's Dairyland for many, many years, I have tasted plenty of cheese and La Bonne Vie Cheese is some of the best. Its creamy, tangy yet mild, and melts beautifully.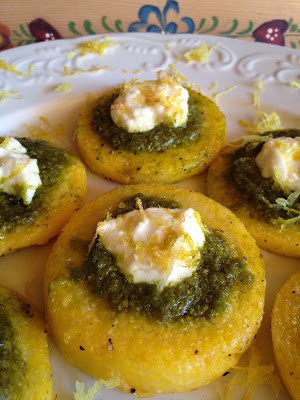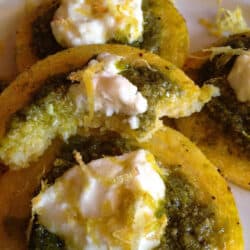 Pesto and Goat Cheese Polenta Bites
Ingredients
1

18 oz roll

organic polenta roll or homemade polenta

2 to 3

tablespoons

olive oil

salt and pepper, to taste

1

jar

basil pesto or homemade basil pesto

4

ounces

honey goat cheese or goat cheese of your choice

2 to 4

tablespoons

fresh grated lemon zest
Instructions
Preheat oven to 375° Line a baking sheet with parchment paper or foil, set aside.

Cut polenta into 10 to 12 rounds or shapes of your choice.

Pan fry polenta rounds in olive oil until golden browned on both sides.

(5 to 8 minutes per side on medium heat)

Season with salt and pepper. Drain on paper towels.

Place polenta rounds on parchment/foil lined baking sheet.

Top each polenta round with a 1/2 teaspoon basil pesto.

Top pesto with a small amount (1 teaspoon) honey goat cheese.

Bake at 375° for 5 to 8 minutes.

Remove from oven, sprinkle with lemon zest before serving.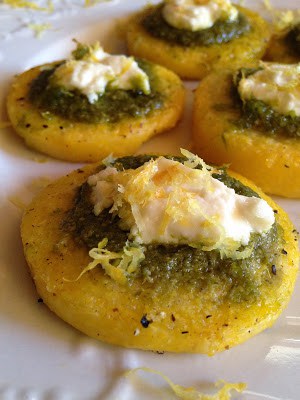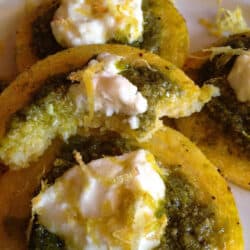 Basic Polenta
Super Easy and Delicious!
Ingredients
6

cups

water

2

teaspoons

salt

1 3/4

cups

yellow cornmeal

3

tablespoons

butter

3

green onions, chopped, optional

,

chopped, optional
Instructions
In a large heavy saucepan, bring 6 cups water to a boil. Add 2 teaspoons salt, gradually whisk in cornmeal. Reduce heat to low.

Cook until mixture thickens and cornmeal is tender, about 15 minutes, stirring often.

Turn off heat, add butter. Stir until butter melts. Stir in chopped green onions.

Lightly butter a 13 x 9 inch baking dish, pour polenta into prepared dish, spread into a 1/2 inch thick layer, spreading it out as evenly as you can. Cool completely. Refrigerate 2 hours or until set. Using a 1 to 1 1/2 inch round cookie/biscuit cutter or shape of your choice, cut out rounds. (as many as you can) Continue with pan frying directions above.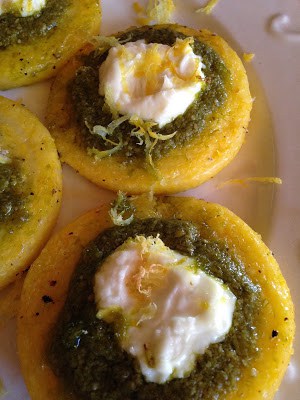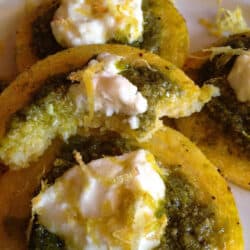 Basil Pesto
Delicious on so many things!
Ingredients
2

cups

fresh basil leaves, packed

1/3

cup

pine nuts

3

cloves

garlic, minced

1/2

cup

freshly grated Romano or Parmesan-Reggiano cheese

1/2

cup

extra virgin olive oil

salt and pepper, to taste
Instructions
Place basil leaves and pine nuts in food processor. Pulse several times. Add the garlic and Romano or Parmesan cheese, pulse several times, scrap down sides. While food processor is running, slowly add the olive oil in a steady stream. Scrape down sides again. Stir in salt and pepper to taste.