Lemon Raspberry Bars
We may earn money or products from the companies mentioned in this post.
Lemon Raspberry Bars
If you're looking for a light, lemony bar, with just a hint of raspberry jam then these bars will surely tantalize your taste buds. Biting into a Lemon Raspberry Bar is like biting into a piece of springtime. Sunny, bright and a breathe of fresh-air. I have always referred to lemon bars as lemon squares. Is there a difference between the two? No, not really. Lemon bars and lemon squares have 2 things in common, lemons and a shortbread crust.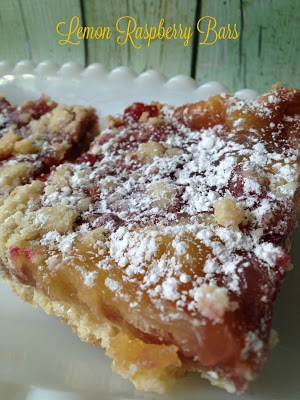 History of Lemon Bars or Squares
Lemon bars or lemon squares are popular dessert bars to make for bake sales, holidays, and potlucks. These delicious dessert squares are always a welcomed sight and are a featured item at many bakeries and coffee ships. Lemon bars or squares are extremely popular in the south where fresh citrus is available year round. Whatever you call them, bars or squares, make up a batch today and enjoy these old-fashioned citrusy squares.
Lemons Both Sweet and Savory
Lemons have been enjoyed across many cultures throughout history. They have been used both to flavor savory dishes as well as being a main ingredient in many sweet treats. Cheesecakes, custards, candies and baked goods such as lemon meringue pie. Lemon custard was highly popular in the 20th century and powdered sugar was often sprinkled on food. Shortbread crust had recently been developed around this time also.
Bars or Squares
Bar cookies or squares date back to the 1920's but there is no specific person or place credited as the origin of bar cookies. Typically, bar cookies are prepared in a pan, baked in the oven and cut into squares. American cookbooks at the time featured date bars or squares as the earliest examples of squares. Before long there were lemon squares, toffee bars, apple bars, pineapple bars and the popular seven-layer bars.
First Known Recipe
The first printed lemon bar recipe appeared in the August 27, 1962 edition of the Chicago Daily Tribune. It was submitted by Mrs. Eleanore Mickelson for the column titled "Today's $5 Favorite Recipe." In contrast to the lemon square recipes of today, Mrs. Mickelson's recipe called for two eggs and three tablespoons of lemon juice. The squares were also made in a 9 x 9-inch square pan. In 1963, Betty Crocker published a lemon bar recipe very similar to Mrs. Mickelson's recipe. From then onward, lemon squares have soared in popularity.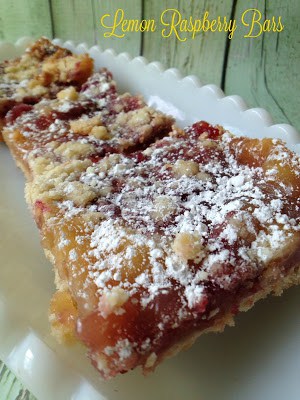 Fast and Easy
Lemon Raspberry Bars have a shortbread crust, are made with a purchased lemon curd and have a swirl of your favorite seedless raspberry jam. These delicious bars are a cinch to make and they will disappear fast. Everyone seems to have a recipe for classic lemon bars. We took it one step further by using convenient, "always have on hand" products. Like with most lemon bars, the shortbread crust is too die for and the lemon filling with a touch of raspberry, perfection.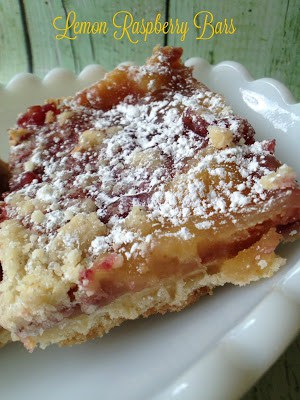 Save Time
To save time, we used a purchased jarred lemon curd. You can certainly make your own lemon curd and use that in place of the purchased lemon curd. If you have home-made raspberry jam or jelly, you can use that also. If you feel like living dangerously, try orange curd, lime curd or even grapefruit curd and use a complimentary jam/jelly for the swirl. Make lemon in a variety of flavor combinations. Let your imagination run wild.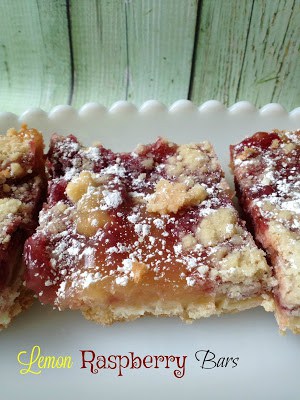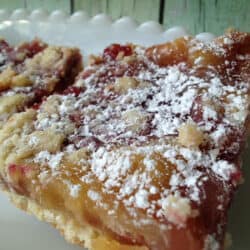 Lemon Raspberry Bars
Lemon Raspberry Bars are made with a shortbread crust, lemon curt and seedless raspberry jam.
Ingredients
1/2

cup

butter, softened

1/2

cup

sugar

1 1/4

cups

flour

1/4

teaspoon

baking soda

1/8

teaspoon

salt

1

10 oz jar

lemon curd

1/4

cup

seedless raspberry jam

2

tablespoons

powdered sugar
Instructions
Heat oven to 350º

Lightly spray a 8 x 8 square baking pan with non-stick cooking spray.

Beat butter and sugar in a large bowl until creamy.

Add flour, baking soda and salt. Mix until mixture forms coarse crumbs. Pat 3/4 of mixture into bottom of prepared pan.

Bake 10 minutes. Remove from oven and cool slightly. Spread curd and seedless raspberry jam over baked layer, swirling together. Sprinkle remaining crumb mixture over top.

Bake an additional 25 minutes or until browned. Remove from oven and cool slightly.

Dust with powdered sugar and cut into squares.