Pinto Beans with Pork Neck Bones
We may earn money or products from the companies mentioned in this post.
Pinto Beans with Pork Neck Bones
Is a real 'stick-to-your-ribs' kinda recipe. Comfort food at it's best. This recipe is perfect on a cold, wintery day, when you're pretty sure summer is never going to come again. Pinto Beans with Pork Necks is made in your crock-pot or slow cooker, depending on what you call it. Either way, this recipe is down-home, comfort food at it's best. Pinto Beans with Pork Necks Bones can be served with long grain rice, mashed potatoes, extra wide egg noodles or polenta. It's all good!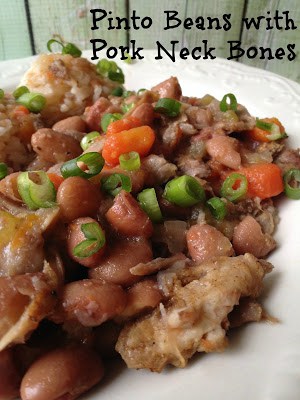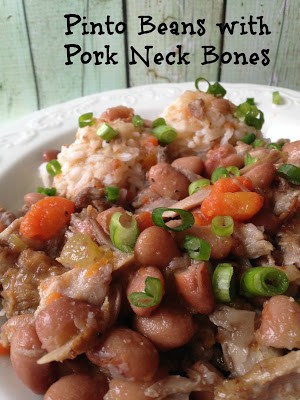 Well Worth the Effort
This recipe is well worth the time and effort it takes to make. It's delicious, nutritious and very economical. Steps 1 through 5 can be done a day or two in advance. This means most of the prep work will be already done on 'cook day.' This recipe makes enough to feed a family of two, four or six depending on your family's appetites. Serve this hearty stew-like meal with a robust beer or glass of apple cider.
Pinto Beans
Are a small, flavorful bean with reddish-brown streaks on a pale pink background, (pinto is Spanish for "painted"). Pinto beans are popular throughout the United States and most Spanish-speaking countries. They're often served with rice or used in soups  and stews. They can be used interchangeably with the pink bean, which is lighter in color prior to cooking but looks the same afterwards.
Both the pinto and pink bean are commonly used in the preparation of refried beans and chili con carne. Pintos are available canned and dried year-round. They are also called red Mexican beans.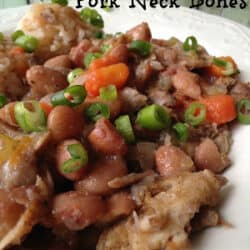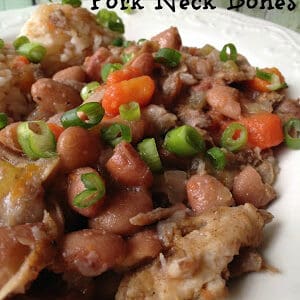 Pinto Beans with Pork Neck Bones
Delicious and well worth the extra effort.
Ingredients
1

pound

pinto beans, sorted

6

cups

water, to cover beans

4

pounds

pork neck bones, cleaned and rinsed

water to cover pork neck bones

2

tablespoons

olive oil

1

large

sweet onion, sliced

4

cloves

garlic, minced

1

teaspoon

salt

1/2

teaspoon

freshly ground black pepper

7

cups

water or stock

,

chicken, pork or vegetable

2

tablespoons

apple cider vinegar

1/4

teaspoon

onion and garlic powder

1/2

teaspoon

red pepper flakes

1/2

teaspoon

paprika

1

teaspoon

ground cumin

2

cups

cooked long grain rice

,

follow package directions

1

tablespoon

parsley flakes

,

optional

Sliced green onions

,

optional
Instructions
Place sorted pinto beans into a large bowl. Cover with 6 cups water.

Let beans soak 8 to 12 hours or overnight.

Pour beans and water into a large saucepan. Bring beans to a boil, reduce heat and simmer for one hour.

Remove from heat and drain. Set aside.

In a large kettle, add cleaned and rinsed pork neck bones. Cover with water.

Bring to a boil; reduce heat and simmer for 1 hour. Remove from heat, drain.

Heat oven to 400º Place pork necks on a large baking sheet. Roast in oven for 30 minutes.

In a large skillet over medium high heat, add olive oil, onions, garlic, salt and pepper. Cook, stirring frequently, for about 10 minutes.

Place the onion mixture, pork neck bones, beans, water or stock, apple cider vinegar and remaining seasonings in a 6-quart (or largeslow cooker. Cook on low for 8 hours. About two hours before the cooking time is completed, remove the pork neck bones from the slow cooker and let them cool enough to handle. Remove the meat and discard the bones and fat from the neck bones. Chop or shred the meat and return it back to the slow cooker, turn the slow cooker to high and cook until the beans are completely tender or for an additional hour.

Serve the pork and pinto beans over cooked rice. Garnish with parsley flakes.
Recipe Note: