Kielbasa, Potato and Onion Scramble
We may earn money or products from the companies mentioned in this post.
Kielbasa, Potato and Onion Scramble
Kielbasa, Potato and Onion Scramble is perfect for breakfast, lunch or dinner. A scramble is basically scrambled eggs with lots of delicious ingredients all scrambled together to make one sensational. We tend to eat them on the week-ends for our Saturday night dinner. Made with eggs, kielbasa, red potatoes, onions and shredded white cheddar cheese. Scrambles can be made with any ingredients you have on hand. A great way to use up left-overs.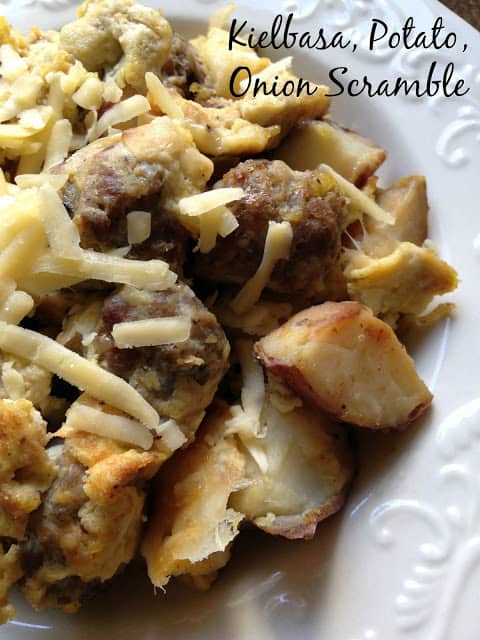 Scramble Night
Make Saturday Scramble night at your house this week-end. Scrambles are a great way to use up left-overs so clean out your refrigerator tonight and make a scramble. Serve this delicious scramble or any scramble with fresh fruit for a delicious, fast, and easy meal. In some countries, the easy meal of left-overs is called Bubble and Squeak. Bubble and Squeak is a traditional British breakfast dish made from potatoes and cabbage.
Bubble and Squeak
This dish has evolved over the years but started out mainly as a dish made with the shallow-fried Sunday left-over vegetables from a roast chicken or pork roast dinner. The main ingredients are potatoes and cabbage, but carrots, peas, sprouts or any other leftover vegetables may be added. In my house we like to add eggs, ham, sausages and any other leftover meat we might have to the mix as well. Made not a traditional way to prepare Bubble and Squeak but just as delicious all the same.
Kielbasa
For this recipe try to find a 'good quality' kielbasa. Depending on where you live, this will prove to be easy or difficult. Here in Wisconsin we have diverse ethnicity. Germans, Polish, Irish and everything in between:) This means one thing, in Wisconsin we have sausage! All kinds of sausage, from bratwurst to kielbasa there is plenty of good quality kielbasa to make this recipe. We bought some delicious polish kielbasa at Super Ron's Food Mart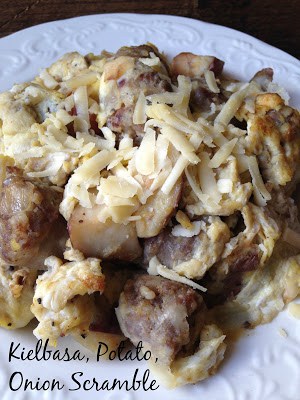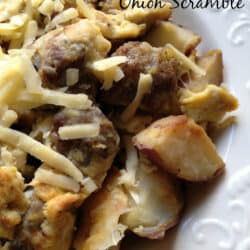 Kielbasa, Potato and Onion Scramble
A delicious way to use up left-overs.
Ingredients
10

large

eggs

2

tablespoons

water

1/2

teaspoon

each salt and pepper

4

tablespoons

olive oil

4 to 6

small

red potatoes, cubed

1

small

onion, chopped

12

ounces

cooked kielbasa, sliced

6

ounces

white sharp cheddar cheese

1/2

cup

chopped fresh parsley or chives

,

for garnish
Instructions
In a large bowl, whisk together the eggs, water, salt and pepper.

Heat 2 tablespoons olive oil in a 10-inch non-stick skillet over medium-high heat. Add the potatoes and cook, covered, stirring occasionally, for 10 to 15 minutes. Add the onion and cook, covered, until the potatoes are golden brown and tender, 10 minutes more. Add the kielbasa and cook, uncovered, tossing occasionally until golden brown, about 15 to 20 minutes; transfer the potato mixture to a plate.

Add the egg mixture to the skillet and cook stirring every few seconds with a rubber spatula to desired doneness, (6 to 8 minutes for medium-soft eggs.) Fold in the potato mixture and cheese. Cook for a few minutes more or until cheese is melted, 5 minutes.

Garnish with chopped fresh parsley if desired.