Shrimp in Spicy Garlic Sauce
We may earn money or products from the companies mentioned in this post.
Shrimp in Spicy Garlic Sauce
This recipe comes to you from Michelle @ Ms enPlace. Michelle's blog was one of the very first blogs I started going too, regularly, when I first started blogging almost 4 years ago, Sunday nights were "See Ya in the Gumbo" on Michelle's blog. Michelle has taken a hiatus from blogging but hopefully she'll be back soon. Michelle's blog is filled with delicious recipes and anything and everything you'd ever need to know about living life 'down on the bayou' in Louisiana. Shrimp in Spicy Garlic Sauce is a delicious, light and easy dish to whip up anytime.
Lemon Bow Tie Pasta
I recently contacted Michelle and asked her if I could try her recipe for Shrimp in Spicy Garlic Sauce and she said of course! This tasty, garlicky, delicious shrimp recipe comes straight to you from the bayou, Thanks Michelle. I served Shrimp in Spicy Garlic Sauce over this really cool and festive looking pasta that I bought at Aldi.  Lemon Bow-tie Pasta is available at: Aldi You can serve this easy and delicious shrimp dish with a light white wine such as a Moscato.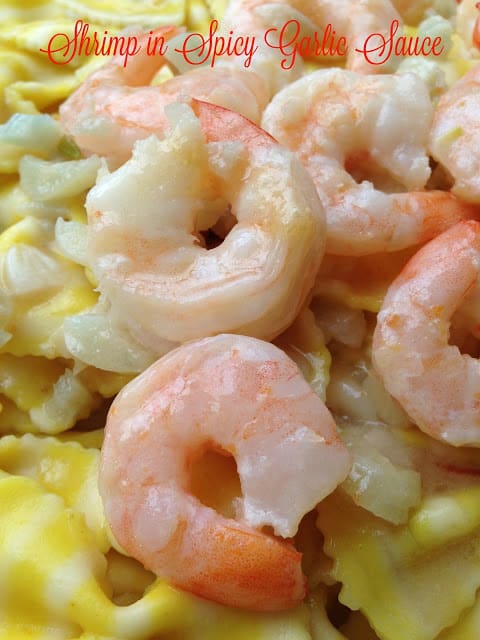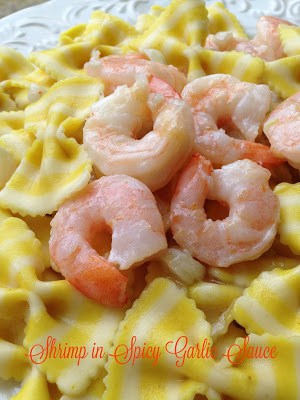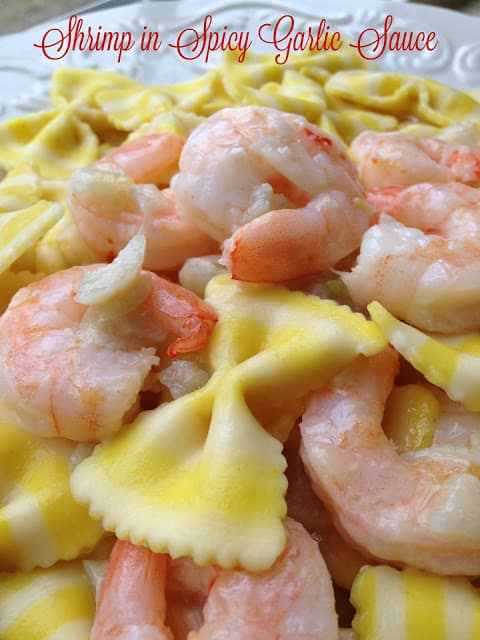 Here is Michelle's recipe and it's absolutely delicious. Thanks Michelle!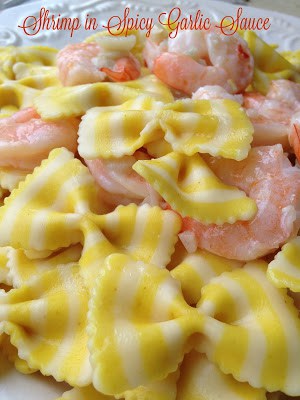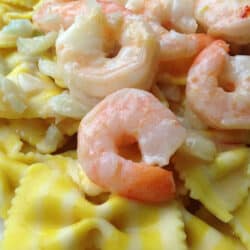 Shrimp in a Spicy Garlic Sauce
Spicy, Garlicky and Delicious!
Ingredients
2 1/2

pounds

medium size shrimp, peeled and deveined

5

tablespoons

minced fresh garlic

1

tablespoon

hot sauce or to taste

salt, to taste

juice

of 1/2 a lemon

1 1/4

cups

olive oil

1

teaspoon

fresh parsley, chopped

1

12 oz package

lemon bow-tie pasta
Instructions
Cook pasta according to package directions, drain and set aside.

Meanwhile, in a medium skillet heat olive oil until hot.

Add garlic and saute' 2 to 3 minutes or until light golden brown.

Add shrimp, hot sauce and salt. Cook for 5 minutes.

Sprinkle with parsley and squeeze with the juice of 1/2 of a lemon. Stir.

Toss together shrimp sauce mixture and cooked lemon bow-tie pasta.

Serve warm or at room temperature.