Italian Style Stuffed Zucchini Boats
We may earn money or products from the companies mentioned in this post.
Italian Style Stuffed Zucchini Boats
Have an over abundance of zucchini in your garden?? Try this delicious recipe for Italian Style Zucchini Boats. With only 7 ingredients, you won't miss the boat with this recipe! This recipe can be made meatless simply by omitting the ground beef called for in the recipe and adding more zucchini. Here is another recipe for zucchini you might want to try Easy Stuffed Zucchini
A Word About Zucchini
Zucchini [zoo-KEE-nee] is a popular summer squash shaped like a slightly curved cylinder, a but smaller at the top than the bottom. A zucchini's skin color can vary from dark to light green, sometimes with yellow markings that give it a mottled or striped look. The off-white flesh has a very pale green cast and the flavor is light and delicate.
Fresh Zucchini
Fresh zucchini is available year-round in most supermarkets, with a peak period during the late spring. Select small zucchini, which will be younger and therefore more tender, have tender skins and less seeds. The skins should be free of blemishes and have a vibrant color. Zucchini can be prepared in a variety of methods including steaming, grilling, deep-frying and baking.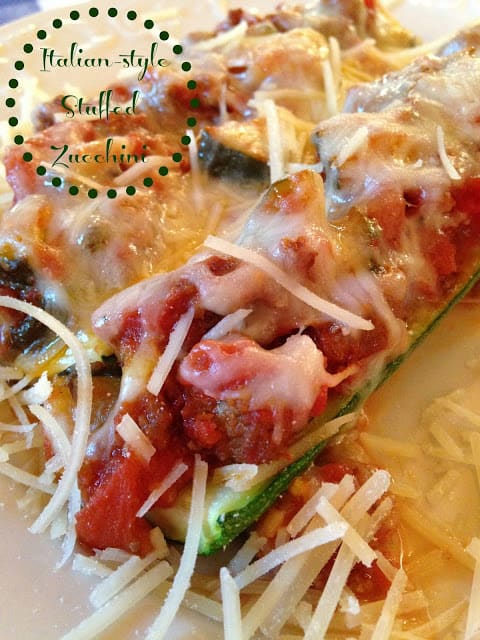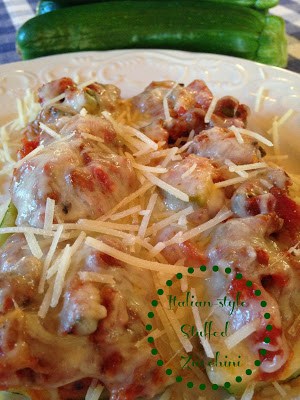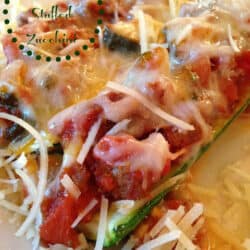 Italian Style Stuffed Zucchini Boats
One of our favorite ways to enjoy zucchini.
Ingredients
6

medium

zucchini

2 to 4

tablespoons

olive oil

1

pound

ground beef or turkey

1

teaspoon

garlic and herb seasoning blend

2 1/2

cups

marinara sauce of your choice

1 1/2

cups

finely shredded Italian-style cheese blend

1/2

cup

freshly grated Parmesan cheese
Instructions
Coarsely chop one zucchini, set aside.

Cut 5 zucchini in half lengthwise, scoop out the seeds of each zucchini making a boat.

Place zucchini in a shallow baking dish, drizzle with olive oil.

Bake for 15 to 20 minutes or until fork tender.

Meanwhile, brown ground beef or turkey in a skillet over medium heat, drain.

Season with garlic and herb seasoning mix.

Add coarsely chopped zucchini and marinara sauce. Simmer for 30 minutes.

Remove zucchini from oven, fill each zucchini boat with meat mixture. Bake for 15 minutes.

Remove from oven and sprinkle with Italian cheese.

Bake for 10 minutes longer or until cheese is melted, remove from oven.

Sprinkle with Parmesan cheese.