Dill Potato Salad
We may earn money or products from the companies mentioned in this post.
Dill Potato Salad
With summer coming to an end Dill Potato Salad will be a great addition to your upcoming Labor Day Festivities. This is the time of the season when dill is in abundance in home gardens and can be found in full force at farm markets and road side farm stands. Fresh dill is inexpensive, a few dollars for a bunch or two. Add fresh dill to salads, jars of pickles, use in canning and great served with any type of fish or seafood.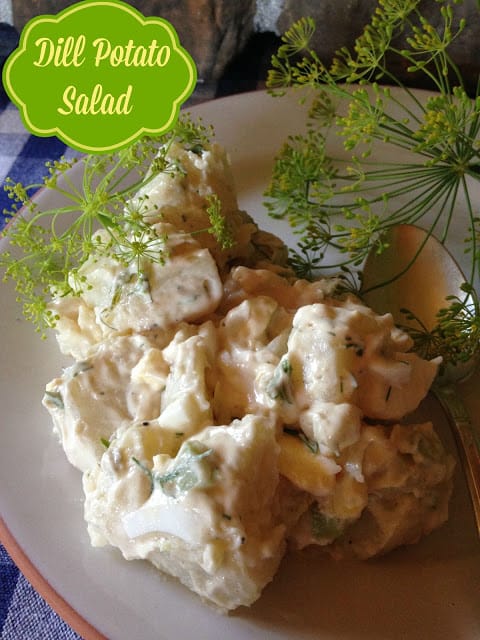 Word About Dill
This annual herb grows up to a height of about 3 feet and has feathery green leaves called dill weed. It's marketed in both fresh and dried forms. The distinctive flavor of fresh dill weed in no way translates to its dried form. Fresh dill does however, quickly lose its fragrance during heating, so should be added toward the end of the cooking time. Dill weed is used to flavor many dishes such as salads, fish and sauces.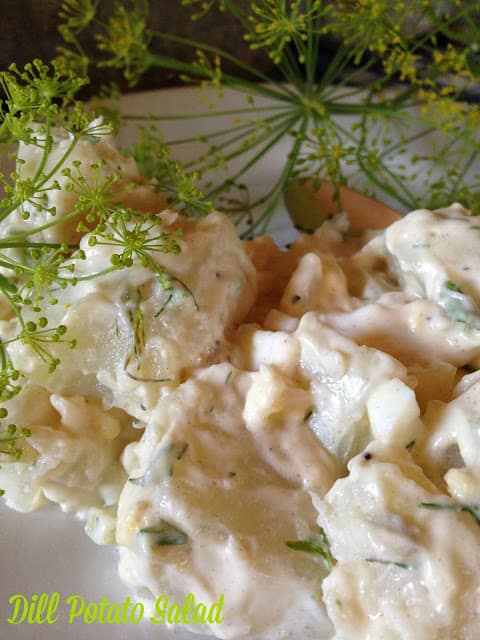 Potato Salad
Potato Salad is a salad of cooked diced or cubed potatoes mixed with other ingredients such as chopped onion, green peppers, celery, hard-cooked eggs, seasonings and a mayonnaise or sour cream based dressing. German potato salad, often served hot, is dressed with a vinegar-bacon dressing. New potatoes are best suited for potato salad because they retain their shape after being cooked and cut.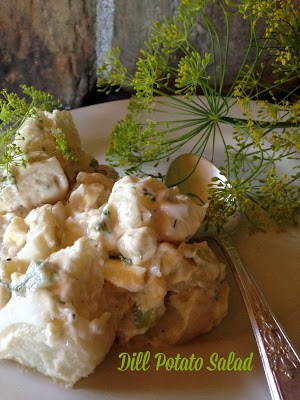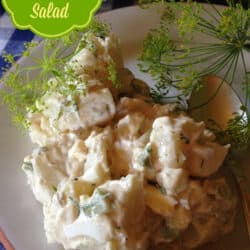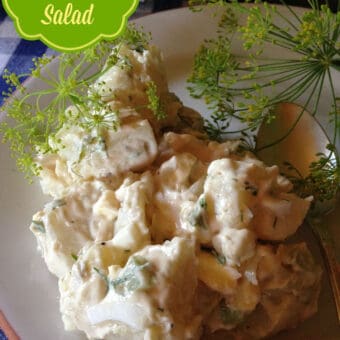 Dill Potato Salad
Ingredients
2 to 3

pounds

unpeeled russet potatoes

6

hard-boiled eggs, roughly chopped

3/4

cup

mayonnaise

2

tablespoons

rice vinegar

2

tablespoons

Dusseldorf mustard

1/3

cup

finely chopped yellow onion

1

stalk

celery, finely chopped

1/2

teaspoon

salt

1/4

teaspoon

pepper

1 1/2

teaspoons

lemon juice

1/4

cup

chopped fresh parsley

2

tablespoons

chopped fresh dill
Instructions
Bring potatoes to a boil in a large pot of water.

Reduce heat to medium-low, simmer until potatoes are tender, about 20 to 25 minutes.

Drain, let stand until cool enough to handle.

Peel potatoes, cut into 3/4 inch pieces, place potatoes and eggs in a large bowl.

In a medium bowl, whisk together: mayonnaise, vinegar, mustard, onion, celery, salt, pepper, lemon juice, parsley and dill. Pour mixture over potatoes and eggs. Toss lightly.

Cover and refrigerate 2 to 4 hours.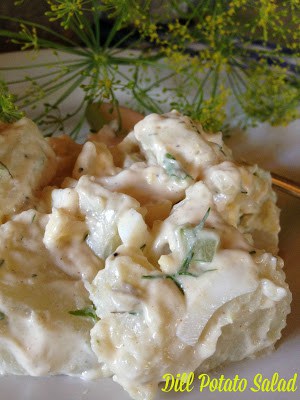 *Dill can be purchased at Farmer's Markets, Farm Stands and at most grocery stores. Look for dill in the produce department and at your local farmer's market in late July through August here in Northern Wisconsin. Also, look for fresh dill at your local grocery store during this same time frame. I can always find fresh dill at 
Trigs
 in late summer, early fall.