Chocolate Cannoli
We may earn money or products from the companies mentioned in this post.
Chocolate Cannoli
Cannoli [kan-OH-lee]; sing. Cannolo [kan-OH-loh] An Italian dessert consisting of tubular or horn-shaped pastry shells that have been deep-fried,  then filled with a sweetened filling of whipped ricotta, often with whipped cream and/or mascarpone, bits of chocolate, candied citron, and sometimes nuts. This recipe for Chocolate Cannoli is made in the same way as regular cannoli only unsweetened baking cocoa is added to the dough.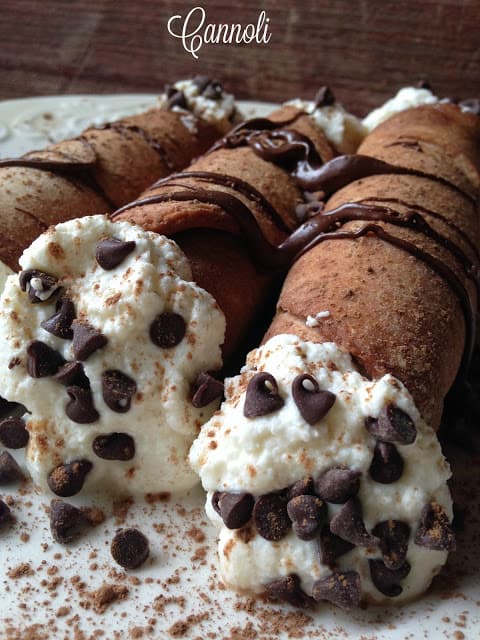 What is Mascarpone?
Mascarpone [mah-skar-POH-nay] Hailing from Italy's Lombardy region, mascarpone is a buttery-rich, double-cream to triple-cream cow's milk cheese. Technically it's not cheese but rather curdled cream because citric or tartaric acid is used rather than rennet. It's ivory-colored, soft and delicate, and ranges in texture from that of light clotted cream to that of room-temperature butter. It's versatile enough to be blended with other flavors and is sometimes sold sweetened with fruit. In Italy's Friuli region, a favorite blend is mascarpone mixed with anchovies, mustard and spices.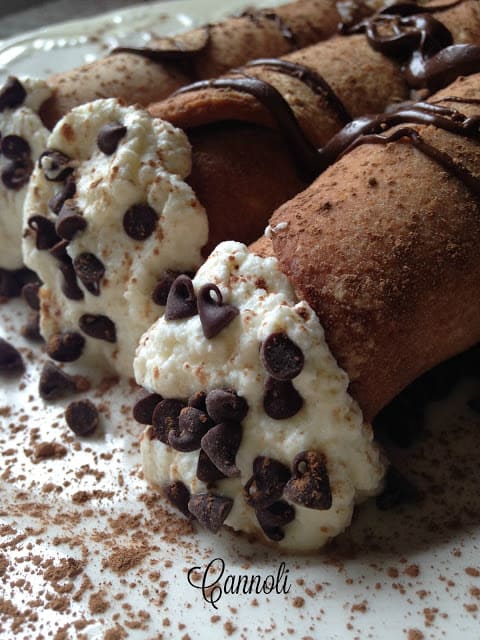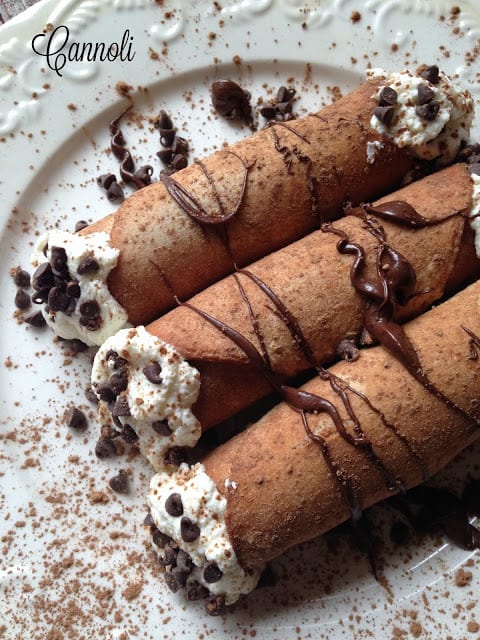 For this Recipe
For this recipe we used a super delicious and creamy Wisconsin mascarpone cheese by BelGioioso Cheese. BelGioioso's commitment to tradition and excellence carries with it the value of knowing how to make Italian cheeses. In the same way as they were long ago from recipes passed down by generations. As the company has grown, the passion for tradition and quality has never diminished. Tradition, selection of ingredients, location and artisan inspiration are cardinal pillars that make BelGioioso cheesemakers the greatest interpreters of the best Italian cheeses in the US.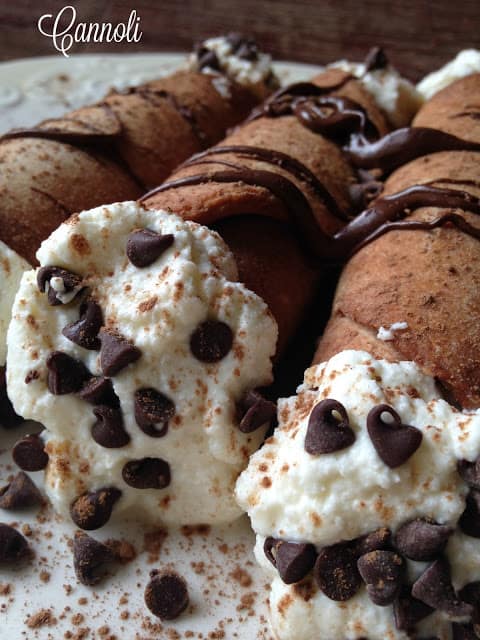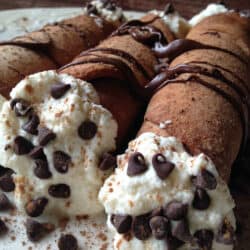 Chocolate Cannoli
Fill chocolate cannoli with a lightly spiced mascarpone filling and dot ends of filling with mini chocolate m & m's.
Ingredients
2

cups

all-purpose flour

1 1/2

teaspoons

unsweetened baking cocoa powder

1/2

teaspoon

ground cinnamon

1/2

teaspoon

salt

2

tablespoons

sugar

3

tablespoons

olive oil

1

teaspoon

white wine vinegar

1/2

cup

Marsala wine

1

large

egg separated, (you will need the egg white only)

metal cannoli tubes

2

quarts

vegetable oil for frying
Equipment
deep, cast iron dutch oven or deep fryer
Instructions
In a large bowl, whisk together the flour, sugar, cocoa, cinnamon and salt. Stir in the oil, vinegar, and enough wine to make a soft dough. Turn the dough out onto a lightly floured surface and knead until smooth and well blended, about 2 to 5 minutes. Shape dough into a ball. Cover with plastic and let rest in the refrigerator from 2 hours to overnight.

Cut the dough into two pieces. Keep the remaining dough covered while you work. Lightly flour a large work surface and roll the dough until the dough is about 1/16 to 1/8" thin. The dough must be thin to fry up light and crispy. You can use a pasta machine or pasta roller to roll out the dough so that it is thin enough. Cut out dough into 3 to 5-inch circles.

Roll a dough round each cannoli tube and dab a little egg white on the dough where the edges overlap.

Press well to seal.

In a deep, heavy cast iron pan, pour enough oil to reach a depth of 3 inches or

use an electric deep-fryer and follow the manufacturer's directions.

Carefully lower two cannoli tubes into the hot oil. Do not crowd pan.

Fry the shells until golden, about 2 minutes, turning so they brown evenly.

Lift cannoli tubes with a wire skimmer or large slotted spoon out of oil. Using tongs, grasp the cannoli tubes at one end. Very carefully remove cannoli tube with the open sides straight up and down so that the oil flows back into the pan. Place the tube on paper towels to drain. Repeat with remaining tubes.While they are still hot, grasp tubes with a pair of tongs to remove shells from cannoli tubes. Place shells on cooling rack until ready to fill.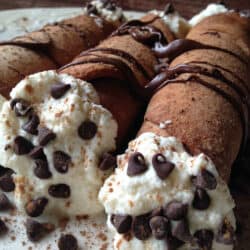 Ricotta Mascarpone Cannoli Filling
Ingredients
3/4

cup

whole milk ricotta, drained overnight

3/4

cup

mascarpone cheese

1/2

cup

confectioners' sugar

1

teaspoon

vanilla extract

1/2

teaspoon

ground cinnamon

pinch

of salt

3/4

cup

mini chocolate chips

1/4

cup

mini chocolate chips, garnish

1/4

cup

melted mini chocolate chips, garnish

2 to 4

tablespoons

cocoa powder, garnish
Instructions
Line a mesh strainer with double thickness of cheesecloth.

Place ricotta cheese in strainer, wrap cheesecloth around ricotta cheese, place strainer over medium bowl. Cover with saran wrap.

Place in the refrigerator overnight to drain out the excess liquid.

To make Ricotta Mascarpone Filling:

Beat ricotta, mascarpone, confectioners sugar, vanilla extract, ground cinnamon, and salt together until smooth.

Fold in mini chocolate chips. Cover and refrigerate at least one hour.

Using a pipping bag with a large size tip or use a long handled spoon to fill the cannoli shells.

Roll each end of the filled cannoli shells into the remaining mini chocolate chips.

Drizzle melted chocolate over the filled cannoli shells, sprinkle with cocoa powder.