Crock Pot Ring Bologna with Sauerkraut
We may earn money or products from the companies mentioned in this post.
Crock Pot Ring Bologna with Sauerkraut

This recipe comes from my childhood, where ring bologna was king and on the menu often. Sauerkraut was on the menu along with ring bologna at least once a week. Aggie never made ring bologna in a crock-pot the way I prefer to do. In fact, I don't think she even owned one but I prefer to make ring bologna in the crock-pot verses boiling it in water, the way Aggie did. Another plus, by making ring bologna in a crock-pot, you can add the sauerkraut also, making less dishes to wash later. Crock Pot Ring Bologna with Sauerkraut will become a favorite of your family too.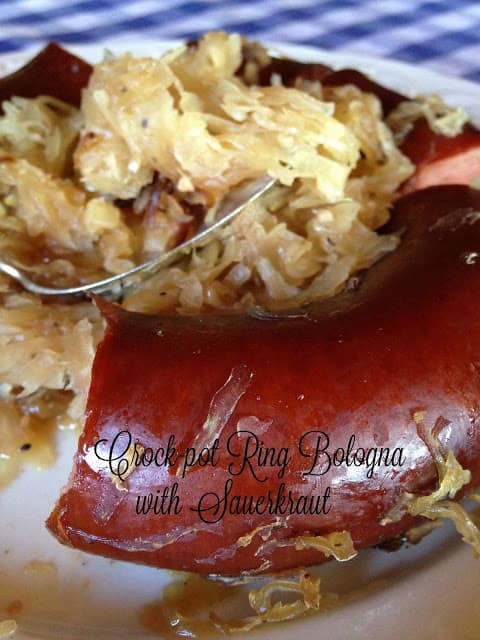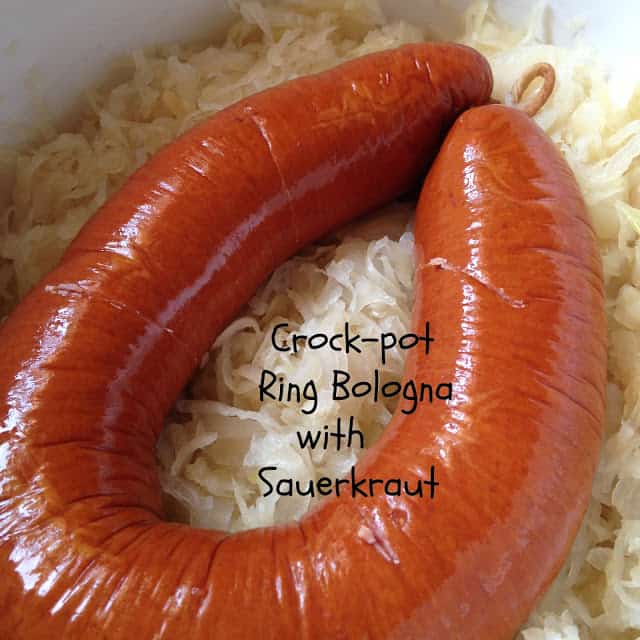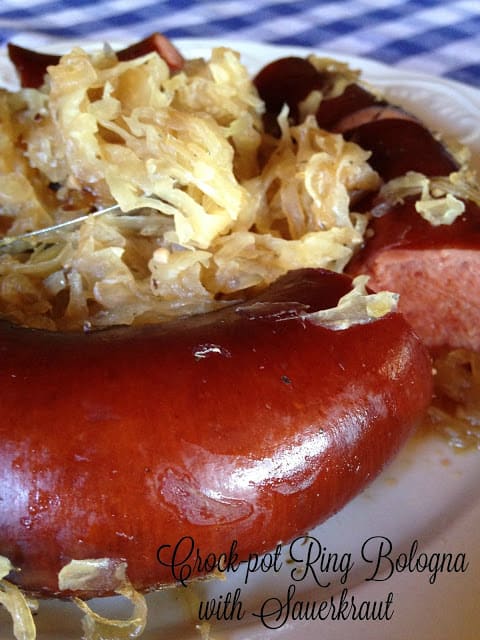 Cabbage Means Sauerkraut
Every fall, when cabbage was in abundance, my dad would clean the huge crocks we kept in the basement and that would signal "sauerkraut making time" was about to begin. Making sauerkraut is really very easy…cabbage, salt, and a crock is all that is needed. In this post, not only will you find a recipe for "crock-pot ring bologna with sauerkraut" you'll also find a recipe on "how to make sauerkraut!"  Let the sour begin.
Wagner's Market
Here in Wisconsin, there is a Farmer's Market located in Black Creek called: Wagner's Market. Wagner's Market is known for their "kraut" cabbage, which is grown specifically to make sauerkraut. People come from miles around to purchase Wagner's kraut cabbage. Wagner's Market is a 20+ year landmark in Black Creek, WI. Serving the area for years. Many customers come from out of the state to purchase vegetables and kraut cabbage grown on the Wagner family farm. The family farm has been producing kraut cabbage since 1969!
Stop In
Stop in for super sweet bi-color sweet corn, peppers, broccoli, cauliflower, canning pickles, watermelon, cantaloupe, squash, pumpkins, apples and much, much more. Wagner's also sell their own sauerkraut and offer jams, jelly, honey, maple syrup, candy, salsas, dressings, pickled food and snacks. To learn more go to:Wagner's Farm Market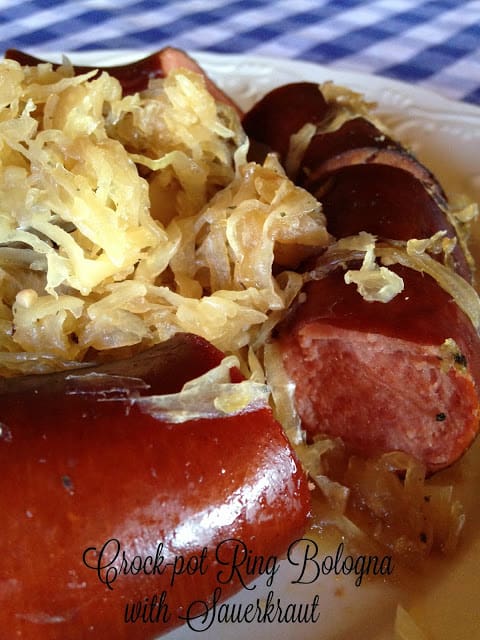 Bonus Recipe: Tips for Making Sauerkraut and How to Make Homemade Sauerkraut
6 Tips for Making Sauerkraut:
1. Sauerkraut is made entirely in a crock. You don't need to go out and scrounge thrift stores and antique shops looking for those huge and very expensive stoneware crocks unless of course you want to.
2. "Crocks" can be any unchipped, enamel or large glass jars. Gallon-size, wide-mouth jars used for pickles work great. You can buy these jars at stores such as Costco or Sam's Club. (We use large glass jars) (You'll have to eat the pickles first though:)
3. Keep hands and any metal object out of the crock. Use wooden spoons/utensils, only, when making sauerkraut.
4. Use only the best and freshest cabbage possible. Young, fresh, tender cabbage should be used. This will yield the best sauerkraut.
5. Use good, quality water. Buy bottled or water in gallon size jugs.
6. Use pickling or kosher salt.
Uses for Sauerkraut: 
Sauerkraut can be piled on everything…sandwiches, bratwurst, hot dogs or made in the crock pot with spare ribs or ring bologna. You'll have no trouble finding uses for your homemade sauerkraut. Homemade sauerkraut makes for a great gift idea too.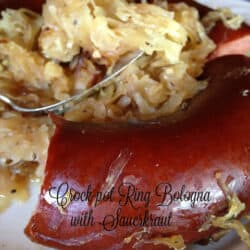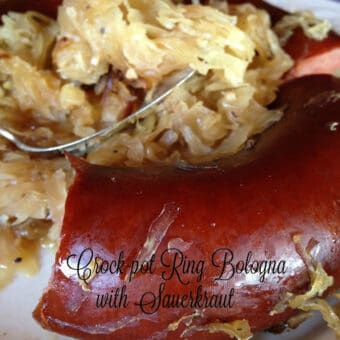 Crock pot Ring Bologna with Sauerkraut
Ingredients
2

large cans sauerkraut

,

(Franks or Homemade)

2- 16

ounce

ring bologna

1

tablespoon

garlic seasoning blend

2

tablespoons

brown sugar

1

tablespoon

white wine vinegar

2

medium potatoes

,

cubed

1

small onion

,

chopped

1

apple

,

diced
Instructions
Spoon sauerkraut into crock-pot.

Place ring bologna on top of sauerkraut.

Sprinkle top with garlic seasoning blend, brown sugar and vinegar.

Add any or all additional ingredients.

Cover and cook on low for 4 to 6 hours.
*Note: Substitute kielbasa, bratwurst, smoked sausage, andouille, Italian, chorizo or any sausage of your choice in place of  the ring bologna. You can also use a package of jumbo style hot dogs.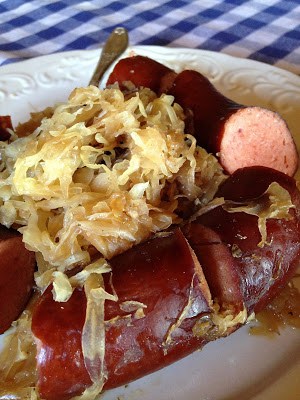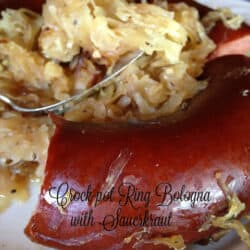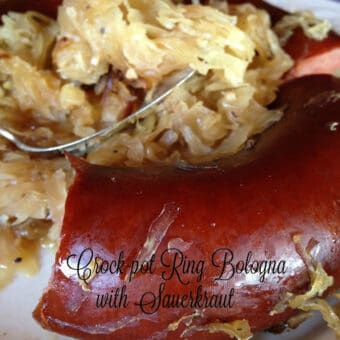 Homemade Sauerkraut
Nothing better than homemade sauerkraut.
Ingredients
5

pounds

cabbage, cored and shredded

3

tablespoons

pickling or kosher salt

1

gallon

container
Instructions
Alternate layers of cabbage with a sprinkling of salt, tapping or pushing down each layer with a wooden spoon or wooden potato masher. The top layer should be salt. This will not seem like enough salt, but it will give a 2 1/2 percent solution, the perfect solution for fermentation.

Boil an old dish towel in water for 5 minutes and cover the crock with it. Weight this down with a flat plate the size of the inside of the crock, weight this down with a canning jar full of water. If your using a glass as your crock, you won't need to weight it down.

Let it sit for a day. If you used fresh and tender cabbage, by the next day you should have enough brine to cover the cabbage. If you don't, make more brine by adding 1 1/2 teaspoons of salt to a cup of water and add enough to cover the cabbage.

In 2 or 3 days, white scum will form on the top. Skim this off, replace the cloth with a newly boiled one, wash the plate, and replace it all. Repeat this skimming (a 5-minute job) each day until the bubbles stop rising, or for about 2 weeks. Then your sauerkraut is done.

At this point, simply keep the cabbage below the brine with the plate, cover the crock tightly and store at 40° F to 50° F. If your basement or cellar isn't that cool, heat the sauerkraut just to simmering, pack in canning jars, seal and process in a water bath for 20 minutes for quarts, 15 minutes for pints.
Recent Recipe on Tap:Krispy Kreme Cake with Glaze and Roasted Strawberries
Oven Baked Barbecue Ribs are always make for a delicious meal. Serve with coleslaw and baked beans for a super meal.