Honey Barbecue Chicken Bites
We may earn money or products from the companies mentioned in this post.
Honey Barbecue Chicken Bites
Honey Barbecue Chicken Bites are so easy to make it's actually sad..why are they so easy to make? First off, these chicken bites are baked, which means no fooling around with oil, deep fryers, oil temperature and the removal of used, yucky oil because these babies are baked in the oven. Second of all, they are coated in seasoned flour, then dipped in a egg/milk mixture and coated in crushed barbecue potato chips. After baking, the chicken bites are tossed into your favorite honey barbecue sauce and served with blue cheese or ranch dressing.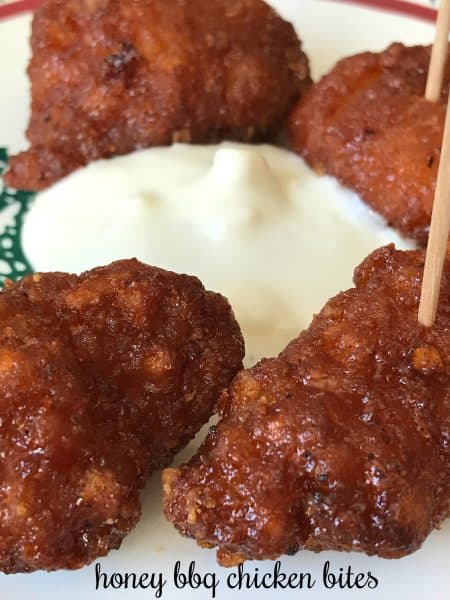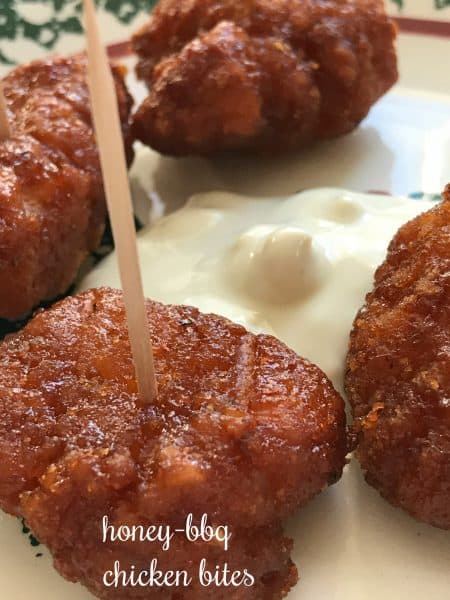 Easy and Delicious
Like I said earlier, this recipe is so easy it's sad, but the taste of these honey barbecue chicken bites isn't sad at all. They are out of this world. Your guests will think you were in the kitchen all day whipping up these fast, easy and affordable chicken bites. This recipe calls for tossing your baked chicken bites into 3/4 cup of your barbecue sauce. You can certainly use more or less barbecue sauce per taste.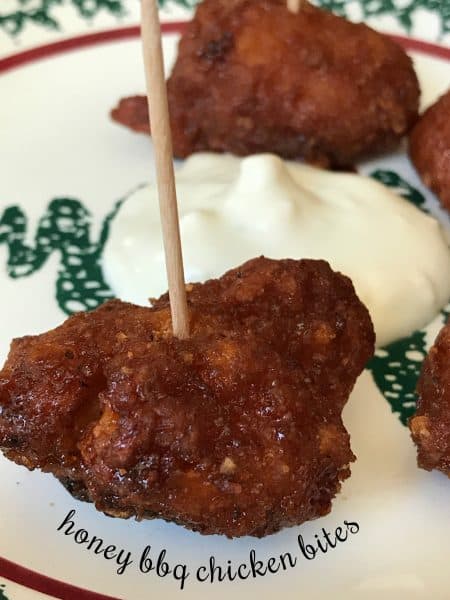 Optional: After tossing the chicken bites in bbq sauce, I like to bake them an additional 10 to 15 minutes to caramelize the bbq sauce a bit.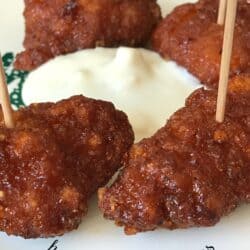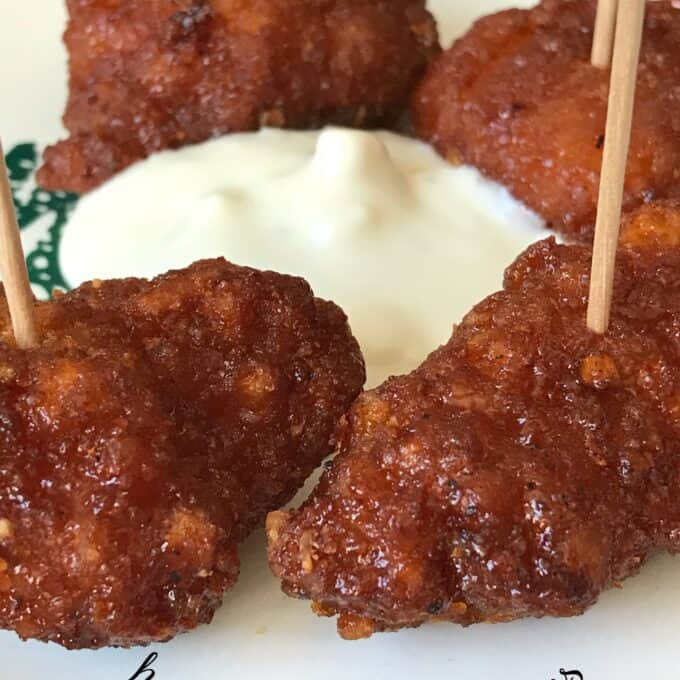 Baked Honey Barbecue Chicken Bites
Delicious as an appetizer!
Ingredients
2

pounds

boneless skinless chicken breasts, cut into bite-size pieces

½

cup

all-purpose flour

1/2

teaspoon

chili powder

1/8

teaspoon

pepper

5

cups

barbecue flavored potato chips, crushed

2

large eggs

¼

cup

milk

¾

cup

honey barbecue sauce

,

Sweet Baby Ray's
Instructions
Preheat oven to 400 degrees. Line a baking sheet with parchment paper and set aside.

Whisk together chili powder and pepper.

Add potato chips to a medium bowl. Set aside.

Whisk eggs and milk together in a small bowl.

Begin by dipping chicken in seasoned flour, then egg mixture, then the crushed potato chips. Repeat with all of the chicken bites.

Place the breaded chicken bites on the prepared baking sheet. Spray bites with non-stick cooking spray.

Bake for 15 to 20 minutes on each side flipping halfway through. Remove from oven. Toss to coat the chicken bites in the bbq sauce, place the coated chicken bites back onto parchment lined baking sheet.

Bake an additional 10 minutes. Serve immediately.
Notes
*Note: cooking time will vary per thickness of chicken pieces.* *Great served with your favorite blue cheese or ranch dressing.*
Recent Recipe:Baker's One Bowl Brownies
This recipe was made with Ray's Barbecue Sauce