Grilled Lemon Pound Cake
We may earn money or products from the companies mentioned in this post.
Grilled Lemon Pound Cake
Grilled Lemon Pound Cake is served with Cranberry Rhubarb Compote. If you have never grilled pound cake before then you are in for a delicious surprise! Any 'flavor' of pound cake can and should be grilled. Lemon, vanilla and butter flavored pound cake are our favorites. We like to served grilled pound cake topped with grilled fresh pineapple, whipped cream and a drizzle of chocolate sauce. Talk about delicious! Try grilled peaches or plums too.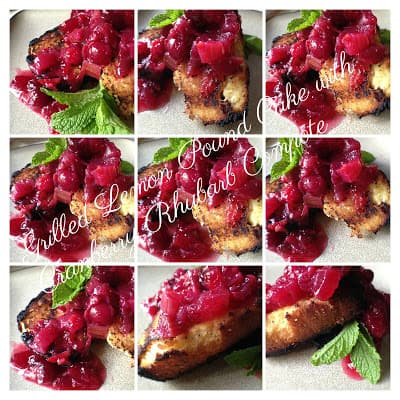 Angel Food Cake
Another great choice for grilling is Angel Food Cake. Topped with roasted, balsamic strawberries or fresh strawberries macerated with vanilla sugar. Delicious!! Who needs chocolate! Grilled pound, angel food cake and grilled fruits scream Summertime to me. Whipped cream or ice cream is optional but always greatly appreciated. If you do need chocolate, and who doesn't, top your pound cake with a drizzle of your favorite ice cream topping. Sort of like the 'cherry' on the top!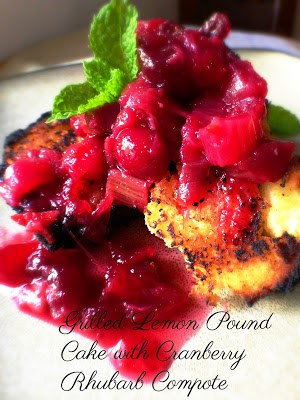 What is a Compote?
Compote [KAHM-poht] A chilled dish of fresh or dried fruit that has been slowly cooked in a sugar syrup, which may contain liquor or liqueur and sometimes spices.  Slow cooking is important for the fruit to retain its shape and for the flavors to penetrate the fruit. This recipe for compote is freezer friendly too. Make a batch of compote, allow to cool completely and divide into freezer friendly plastic containers.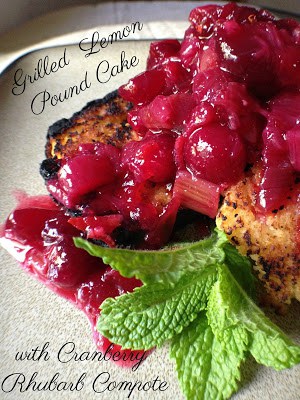 Cranberry and Rhubarb
Cranberry Rhubarb Compote is delicious. The two are meant for each other and compliment each other beautifully. If you like Strawberry and Rhubarb together, you will love the combination of Cranberry and Rhubarb. When cranberries are in season, usually in late October through December, pick up a few extra bags and throw them in the freezer. In the spring when rhubarb is in season make up a batch of compote.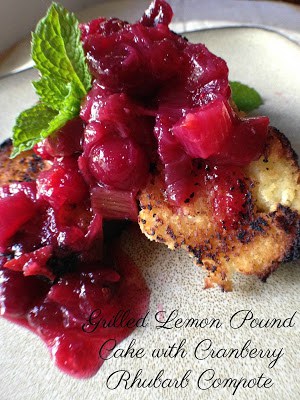 Recipe Note:
The secret to grilling pound cake is to lightly oil the grill grate with a wire grill brush, lightly brush both sides of cake with melted butter and watch cake very closely, grilling time is only a few minutes per side. It will burn, quickly, so keep an eye on it. Stand watch over the grill while the pound cake is grilling. Don't run in the house to use the bathroom, do dishes or start to vacuum, It will be burned to a crisp! What are you waiting for?? Go get grilling!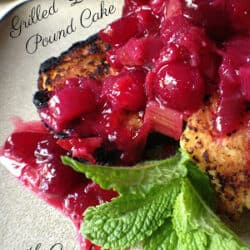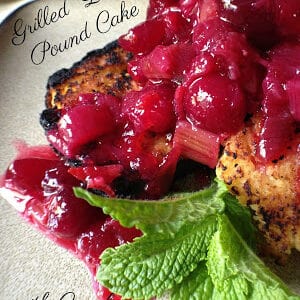 Grilled Lemon Pound Cake with Cranberry Rhubarb Compote
Grilled Lemon Pound Cake with Cranberry Rhubarb Compote is a true delight. If you aren't a fan of rhubarb or cranberries, serve grilled lemon pound cake with ice cream or macerated strawberries, raspberries or blackberries.
Ingredients
Lemon Pound Cake

1

16.5 oz box

Krusteaz Meyer Lemon Pound Cake Mix

3/4

cup

water

10

tablespoons

butter, melted

2

tablespoons

melted butter, for grilling

Cranberry Rhubarb Compote

1

12 oz package

fresh/frozen cranberries

2

cups

fresh rhubarb, chopped

1/3

cup

cranberry juice

1/2

cup

orange marmalade

1

cup

sugar

pinch

of salt

1/8

teaspoon

allspice

1

tablespoon

orange juice
Instructions
Make Compote

Combine all ingredients for compote in a medium sauce pan.

Place over medium heat, cook slowly for 1 hour, stirring occasionally or until berries start to pop but are still whole.

Transfer to a bowl to cool.

Meanwhile make Lemon Pound Cake

Heat oven to 350º

Using a spoon stir together water, melted butter, and cake mix until blended.

Spoon batter into 8-inch loaf pan, lightly sprayed with non-stick cooking spray.

Bake 44 to 46 minutes or until toothpick inserted into center comes out clean.

Cool in pan 5 minutes; gently loosen and remove from pan.

Cool cake completely.

Preheat a grill or grill pan to medium-low. Lightly oil the grill grate with a wire grill brush.

Slice pound cake into 1-inch slices. Brush the pound cake slices with melted butter.

Grill until the cake is toasted, about 2 to 5 minutes on each side.

Serve with cranberry rhubarb compote.
Try this recipe for Lemon Pound Cake with Lemon Glaze. This recipe was made using Krusteaz. Recent Recipe: Polish Reuben Casserole with Homemade Marble Rye Croutons