On the Menu Today~
Polish Reuben Casserole with
Homemade Marble Rye Croutons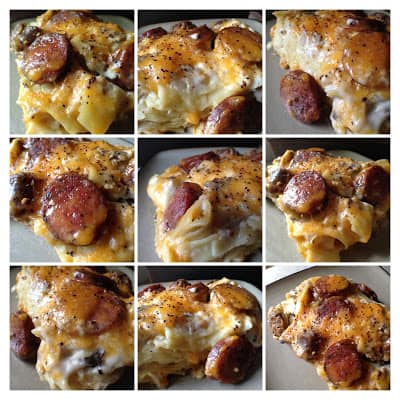 Polish Reuben Casserole
Polish Reuben Casserole is our version of the Classic Reuben Sandwich…..
only we it made into a casserole instead of a sandwich.
Smoked Polish sausage, sauerkraut and Swiss cheese are used.
Medium noodles replace the rye bread and
homemade marble rye croutons top the casserole.
Cream of mushroom soup is used in place of the thousand island dressing.
A different yet delicious casserole the whole family will enjoy.
Polish Reuben Casserole is topped with homemade marble rye croutons and
then the croutons are dotted with butter…….
You can probably see by the pictures,
that I forgot to top the casserole with the marble rye croutons.
Dang it all!
Have you ever done that? Forgot to add something?
I made the croutons but forgot to put them on top of the casserole….shoot!
The casserole was still great without the croutons but
adding the homemade marble rye croutons definitely adds that extra yum to the dish.
So make your marble rye croutons first then make the casserole.
This way you won't forget to cover the top of the casserole with the marble rye croutons,
which in my opinion really makes this casserole extra special.