Greek Lemon-Herb Cookies
We may earn money or products from the companies mentioned in this post.
Greek Lemon-Herb Cookies
Greek Lemon-Herb Cookies are light, buttery, crispy sugar cookies. Fresh grated lemon zest is added to the cookie dough, along with dried rosemary. The cookie dough is rolled into balls and then the balls are rolled in a mixture of granulated sugar and lemon zest. The combination gives the cookies a delicious lemony taste with just a hint of rosemary. If your looking for a light and refreshing cookie, you hit the jack-pot with these.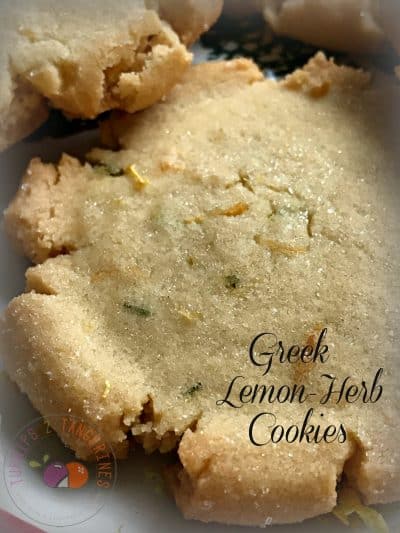 Cookie Making Guidelines
The best cookie sheets to use are those with no sides. Sheets that have one or two short sides sides will work also, but the best are the no side sheets. Why? These sheets allow the heat to circulate easily during baking and promote even browning. For even baking and browning, place only one cookie sheet at a time in the center of the oven. Rotate sheets at least once during baking time for even browning.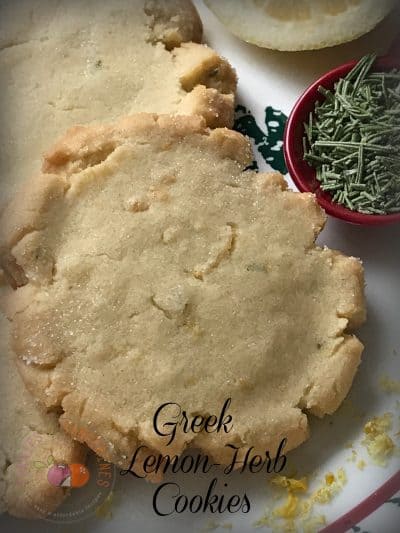 For Best Results
For best results, use shortening or a nonstick cooking spray to grease cookie sheets. Another alternative is to line the cookie sheets with parchment paper or silpat baking mat. This eliminates cleanup, bakes the cookies more evenly. Allow cookie sheets and silpat if using, to cool between batches, as the dough will spread too quickly if placed on a hot cookie sheet.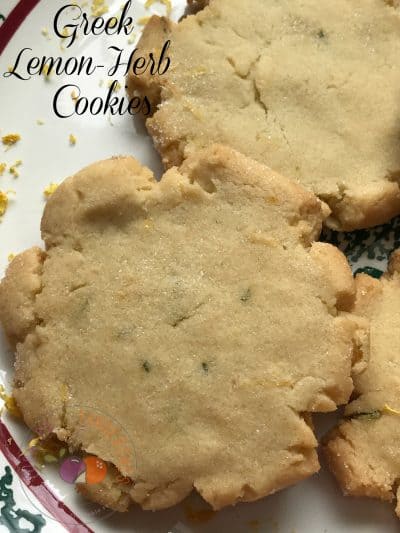 To Avoid Over Baking
To avoid over baking the cookies, check them at the minimum baking time. If more time is needed, watch carefully to make sure the cookies don't burn. It's usually better to slightly under bake cookies rather than over bake them. This is strictly a guideline and a personnel preference. I like a crisp cookies verses a soft cookies, so I tend to slightly over bake mine.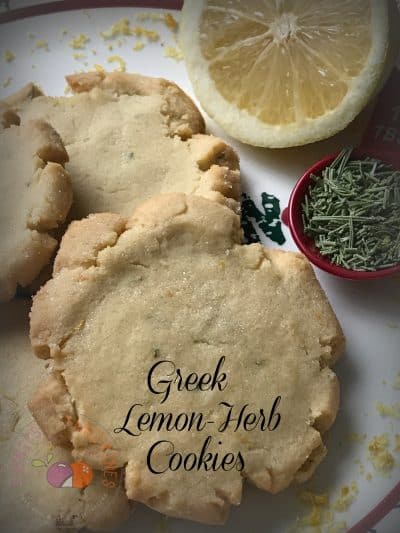 Meyer Lemons
Greek Lemon Herb Cookies are made with Meyer Lemons. Meyer Lemons are slightly smaller than regular grocery store lemons. They're also much sweeter and less tart than regular lemons. Some say you can eat a Meyer lemon as you would an orange but I'm not convinced on that statement. Meyer Lemons can be purchased at most grocery stores but you can purchase them online also. Here is a link to a great source for Meyer lemons; Lemon Ladies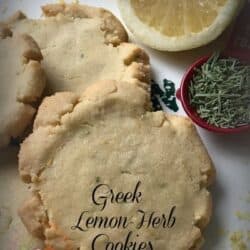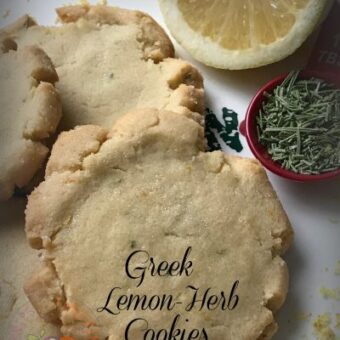 Greek Lemon-Herb Cookies
Light, crispy sugar cookie with a hint of lemon and rosemary.
Ingredients
2

lemons

2 1/2

cups

all-purpose flour

1

teaspoon

baking soda

1/4

teaspoon

salt

2

large

eggs

1

cup

butter, softened

1 1/4

cup

sugar, divided

1/2

teaspoon

dried rosemary, crushed
Instructions
Finely grate colored portion of lemon peel using bell grater or hand-held grater. Measure 4 teaspoons; set aside.

Preheat oven to 375 degrees. Place flour, baking soda and salt in large bowl; stir to combine.

To separate egg yolk from white, gently tap egg in center against hard surface, such as side of bowl. Holding a shell half in each hand, gently transfer yolk back and forth between the 2 halves. Allow white to drip down the 2 halves into bowl. When all white has dripped into bowl, place yolk in another bowl. Store unused egg whites in airtight container. Refrigerate for about one week.

Beat butter and 1 cup sugar in large bowl with electric mixer at medium speed until light and fluffy, scraping down side of bowl once. Beat in egg yolks, 3 teaspoons lemon peel and rosemary.

Gradually add flour mixture. Beat at low speed until well blended, scraping down side of bowl once.

Combine remaining 1/4 cup sugar and 1 teaspoon lemon peel in small bowl.

Roll tablespoons of dough into 1-inch balls; roll in sugar/lemon zest mixture to coat.

Place balls 2 inches apart on ungreased cookie sheets. Press balls to 1/4-inch thickness using flat bottom of a drinking glass.

Bake 10 to 12 minutes or until edges are golden brown. Remove cookies with spatula to wire racks; cool completely.

Store tightly covered at room temperature or freeze up to 3 months.
Recipes from Around the World
Looking for more holiday cookies from Around the World? Take a look at these special holiday cookies. Moravian Spice Cookies, Belgian Tuile Cookies and Swedish Sandwich Cookies. Greek Lemon-Herb Cookies are the perfect dessert after a delicious meal of; Greek Pastitsio and Greek Orzo Salad.