Belgian Tuile Cookies
We may earn money or products from the companies mentioned in this post.
Belgian Tuile Cookies
Belgian Tuile Cookies are light, crisp and delicious. Tuile pronounced [TWEEL] is French for "tile." This thin, crisp cookie is placed over a rounded object, such as a rolling pin while still hot from the oven. Once cooled and stiff, the cookie resembles a curved roof tile. The classic tuile is made with crushed almonds. The cookie batter can also be flavored with orange, lemon or vanilla extracts.
What do Belgian Tuile Cookies Taste Like?
You might be asking yourself, "What do Belgian Tuile Cookies taste like?" Well that is a very good question to ask ones self. To me, Belgian Tuile Cookies taste very similar to fortune cookies. Tuile cookies are super light and crisp. They crumble in the same way that fortune cookies do too. The taste is almost identical to fortune cookies, so if you like fortune cookies, you'll love tuile cookies.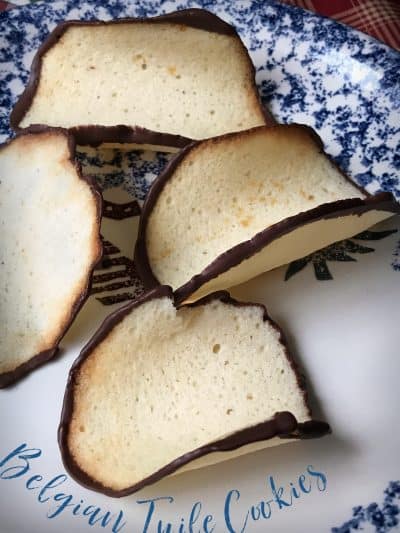 Dipped in Melted Chocolate
This recipe for Belgian Tuile Cookies are flavored with orange extract and orange zest. After cooling, the edges of the tuile cookies are dipped into melted Ambrosia chocolate. Ambrosia chocolate is a very popular dipping chocolate. The chocolate is found in most grocery stores here in Wisconsin. During the holiday season, Ambrosia chocolate is used to make peanut clusters, coconut haystacks, and cereal clusters.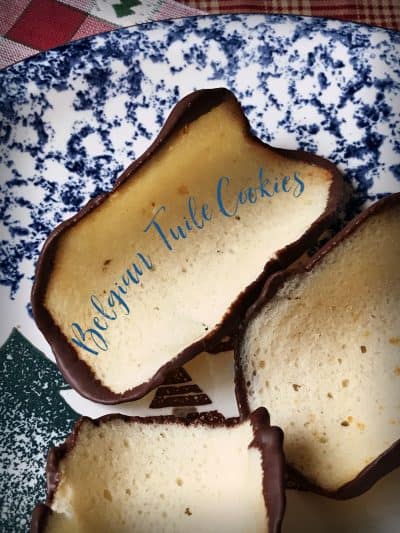 Ambrosia History
In 1894, Ambrosia chocolate was founded in Milwaukee WI by Otto Schoenleber. In 1964, Ambrosia was purchased by W.R. Grace and for years Ambrosia operated on a downtown site. It's likely that many long-time Milwaukee residents can remember a time when the smell of Ambrosia chocolate wafted through the downtown. In 1997, ADM purchased the company, moving chocolate production to Carmen Avenue.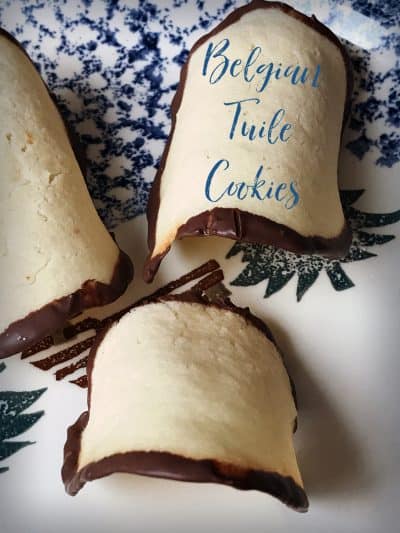 Acquired By Cargill Cocoa & Chocolate
The Milwaukee plant is a relatively new part of Cargill's chocolate business. It was established in 2015, when Cargill acquired the Archer Daniels Midland Co., which included the Ambrosia chocolate plant on Carmen Avenue. In addition to the Milwaukee plant, which is North America's operational headquarters, Cargill Cocoa & Chocolate maintains three plants in Pennsylvania and two in Ontario, Canada.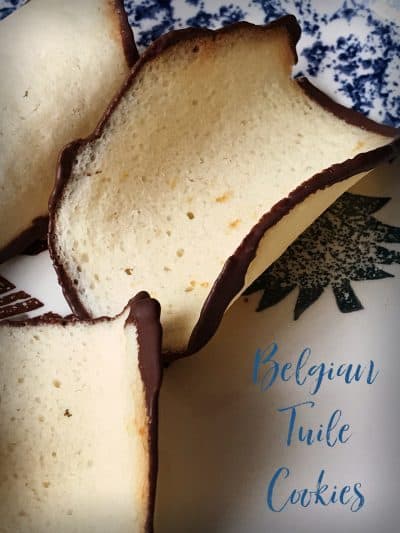 Chocolate and More
The plants produce products under brands including Ambrosia, Gerkens Cocoa Powder, Merckens, Peter's Chocolate and Wilbur. International plants include locations in Belgium, Canada, France, Germany, the Netherlands and the U.K. Cargill's Milwaukee location, produces millions of pounds of chocolate per month, from blocks of chocolate used for dipping to 10-ounce bags of chocolate chips.
Recipe Note:
Made with very few ingredients, Belgian Tuile Cookies can be made in a relatively short amount of time. Here are a few "tips" before you begin making Belgian Tuile Cookies. Allow baking sheets (plus mat if using) to cool completely before adding more cookie dough. This will allow the dough to spread more easily. Use an off-set spatula to spread the cookie dough as thinly as possible.
Most Important Tip:
Here is an important tip that will make your Belgian Tuile Cookie experience pleasurable. I made the mistake of making my tuile cookies too large for my "not wide enough" rolling pin. By doing this, my cookies didn't 'drape' as nicely as I had wanted them too. If you want more uniform cookies, lets say to 'fill' them with whipped cream, custard or ice cream, you'll want to proportion them more evenly.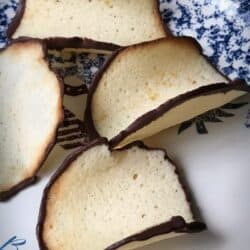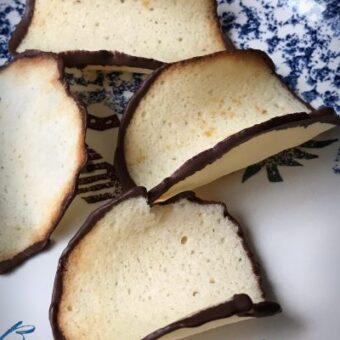 Belgian Tuile Cookies
A light and crisp cookie with edges dipped into melted chocolate.
Ingredients
1/2

cup

butter, softened

1/2

cup

sugar

1

large

egg white

1

teaspoon

orange extract

1/4

teaspoon

salt

1/2

cup

all-purpose flour

2

teaspoons

freshly grated orange zest

4

ounces

dipping chocolate OR semi-sweet chocolate chips
Instructions
Preheat oven to 375 degrees. Grease cookie sheets; set aside.

Beat butter and sugar in large bowl with electric mixer at medium speed until light and fluffy, scraping down side of bowl once. Beat in egg white, orange extract, and salt. Gradually add flour. Beat at low speed until well blended, scraping down side of bowl once. Stir in freshly grated orange zest.

Drop rounded teaspoonfuls of batter 4 inches apart onto prepared cookie sheets. Bake only 4 cookies per sheet. Flatten slightly with spatula.

Bake 6 to 8 minutes or until cookies are deep golden brown. Let cookies stand on cookie sheet 1 minute.

Working quickly, while cookies are still hot, drape cookies over a rolling pin, so both sides hang down and form a saddle shape; cool completely.

Melt chocolate in small, heavy saucepan over low heat, stirring constantly.

Tilt saucepan to pool chocolate at one end; dip edge of each cookie into melted chocolate, turning cookie slowly so the entire edge is tinged with chocolate.

Transfer cookies to waxed paper; let stand at room temperature 1 hour or until set.

Store tightly covered at room temperature. Do not freeze.