Peppermint Meringue Kisses
We may earn money or products from the companies mentioned in this post.
Peppermint Meringue Kisses
Peppermint Meringue Kisses are the perfect addition to your cookie tray this holiday season. Light and airy with just the right amount of cool peppermint flavoring. Meringue "kisses" are actually what is referred to as a "hard" meringue. Tiny, one or two-bite size confection. Kisses often contain chopped nuts, crushed candies, flavoring and/or cocoa. Dry and crisp on the outside and chewy on the inside.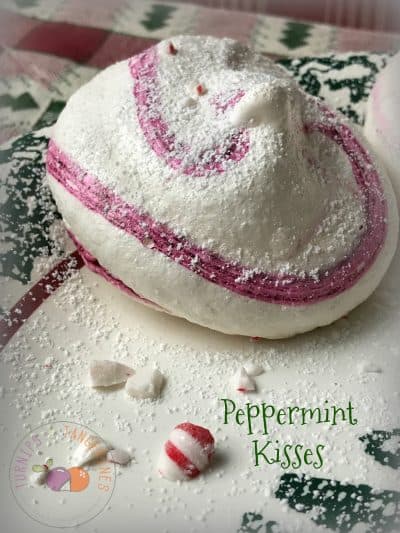 Meringue Information
Meringue [muh-RANG] is a mixture of stiffly beaten egg whites and granulated sugar. In order for the sugar to dissolve completely and therefore producing a smooth meringue, the sugar must be beaten into the whites a tablespoon at a time. Soft Meringue is used as a swirled topping for pies, puddings and other desserts such as Baked Alaska. The meringue is baked only until the peaks are nicely browned.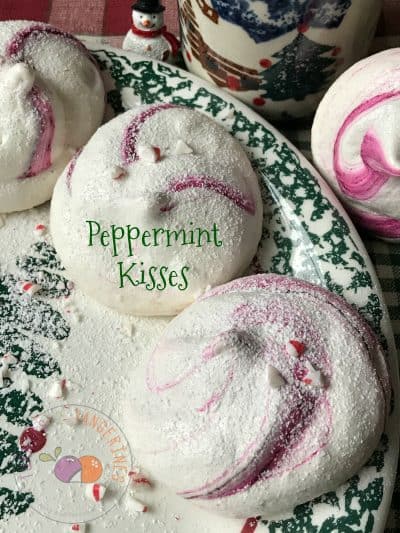 Hard Meringues
Hard Meringues begin by being piped onto a parchment-lined baking sheet. They're usually round and can be large or small. They're then baked t a very low temperature, about 200 degrees for as long as 2 1/2 hours and left in the turned-off oven until completely dry. Hard meringues often have a center depression that is filled with ice cream, whipped cream, custard and fruit.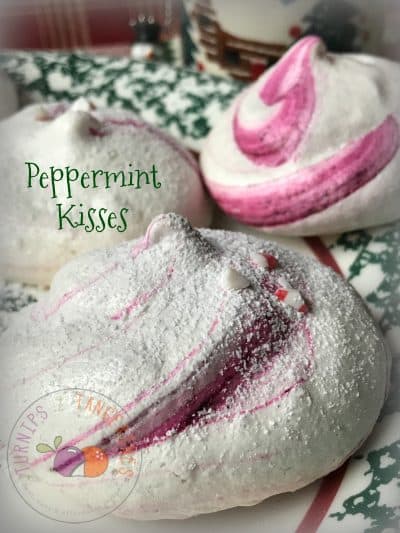 Italian Meringue
An Italian Meringue is made by gradually pouring hot sugar syrup over stiffly beaten egg whites, then beating constantly until the mixture is smooth and satiny. This versatile mixture may be used to create either soft or hard meringue. All meringues are made with egg whites. We like to use only large, fresh from the farm eggs. Bring your eggs to room temperature before separating or follow your recipe directions.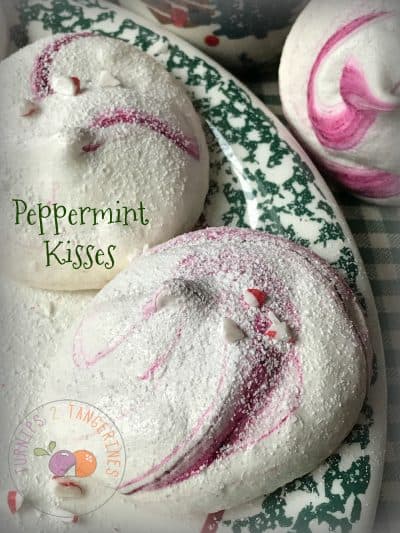 How to Separate Eggs
To separate egg yolks from white, gently tap egg in center against hard surface, such as side of bowl. Holding a shell half in each hand, gently transfer yolk back and forth between the 2 halves. Allow white to drip down the 2 halves into bowl. When all white has dripped into bowl, place yolk in another bowl. Store unused egg whites in airtight container. Refrigerate for about one week.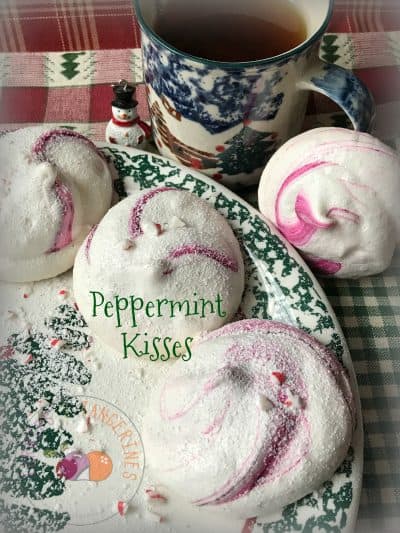 Recipes Using Egg Whites
Looking for recipes that use egg whites besides making a meringue? Egg White and Pesto Omelette or Classic Coconut Macaroons are a great way to use egg whites, especially left-over egg whites. You can also make meringue cookies and use them to garnish the top of pies and/or tarts. Lemon Tart with Meringue Cookies. If your making a recipe that uses only the egg yolks, don't fret. There are so many recipes you can make with the egg whites.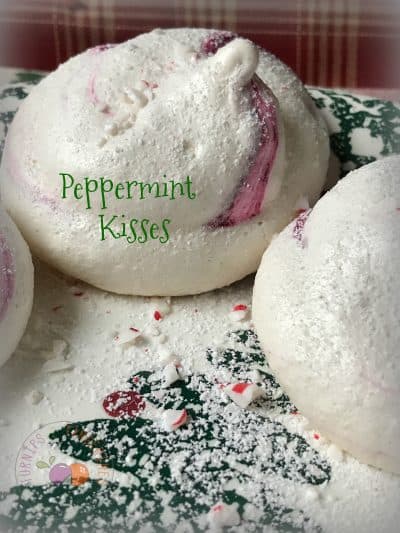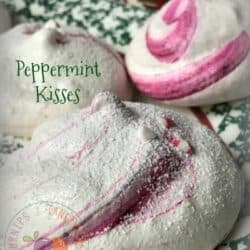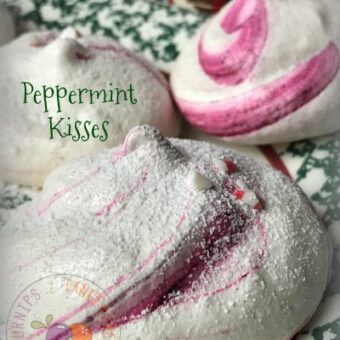 Peppermint Meringue Cookies
Light. Airy. Minty. Delicious.
Ingredients
3

large egg whites, room temperature

1/8

teaspoon

kosher salt

1/3

cup

sugar

1/2

cup

powdered sugar

1/8

teaspoon

peppermint extract

1/4

cup

finely crushed peppermint candies

12

drops red food coloring
Instructions
Preheat oven to 200°. Line a baking sheet with parchment paper. Using an electric mixer, beat egg whites and salt on medium-high speed until white and foamy, about 1 minute. With mixer running, gradually add sugar in 3 additions beating for 2 minutes between each addition. Beat until firm peaks form, about 2 minutes longer. Add powdered sugar and peppermint extract; beat to blend, about 1 minute. Gently fold in finely crushed peppermint candies.

Dot coloring over surface of meringue; do not stir in the coloring, it will form swirls when piped. Spoon meringue into a pastry bag fitted with a 1/2" tip. Twist top; pipe 1" rounds onto prepared sheet, spacing 1" apart.

Bake meringues until dry, about 2 1/2 hours. Let cool completely, about 1 hour, meringues will crisp as they cool. Store airtight at room temperature between sheets of parchment or waxed paper.
To find more recipes for cookies and cookie tips, check out Danish Jam Ribbon Cookies. Pink Strawberry Meringue Cookies are a great cookie to serve your sweetie on Valentine's Day.