Finnish Spice Cookies
We may earn money or products from the companies mentioned in this post.
Finnish Spice Cookies
Finnish Spice Cookies or Nissu Nassu or "Piparkakuts are a traditional holiday cookie in Finland. They are usually cut into round scallop shapes, but little boys and pigs are the traditional shapes during the holidays. I didn't have either type of cookie cutters, so I went with a snow flake. Also, the cookies are traditionally lined with royal icing along the edge of the pig shaped cookies.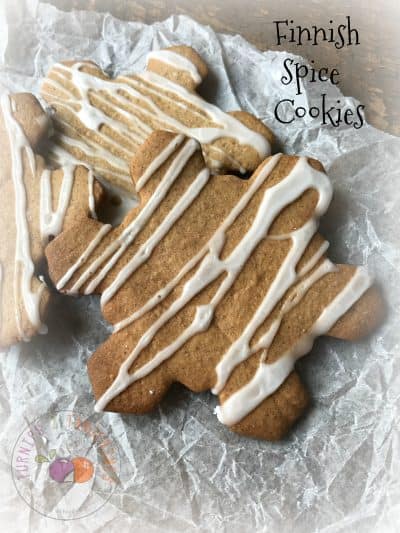 Ways to Cut Out Cookies
There are several different ways to cut-out cookie dough. The most used and recognizable are cookie cutters. Cookie Cutters are a metal or plastic device used to cut decorative shapes out of dough that has been rolled flat. Cookie cutters are available singly or in sets. Dipping a cookie cutter into flour or sugar first will prevent it from sticking to the soft dough.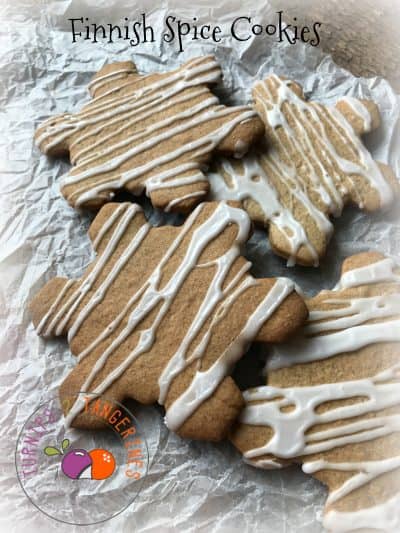 Rolling Pin Cookie Cutter
A rolling cookie cutter has wooden handles at both ends and a metal, plastic or wooden cylinder is marked with raised designs. A wooden, rolling pin with raised designs imprinted into it, is a prime example. Often used years ago, this style of rolling pin cookie cutter is making a comeback. When the cutter is rolled across the dough, it cuts a jigsaw-puzzle pattern of differently shaped cookies, without any waste.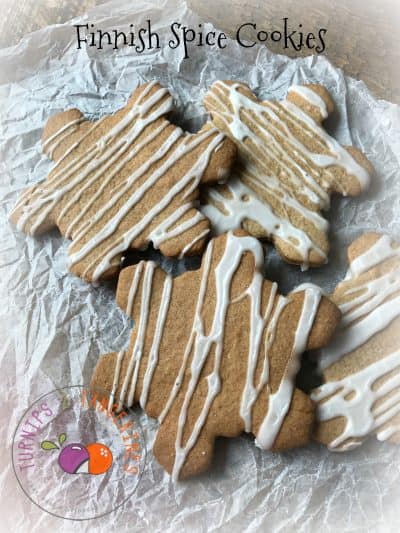 Cookie Gun or Cookie Press
A cookie press also called a cookie gun, is a tool that consists of a hollow tube fitted at one end with a decorative template or nozzle, and at the other end with a plunger. The tube is filled with a soft cookie dough. The plunger forces the dough out through the decorative tip to form pressed cookies. Cookie presses come with a selection of interchangeable templates. Spritz are one of the best-known cookies formed on a press.
(Wooden) Cookie Molds
Cookie molds are most often made of wood. These decorative molds are used to create designs in some European cookies. The cookie dough is pressed into a floured mold, leveled off with a knife and then inverted onto a baking sheet. Cookie molds come in all shapes and sizes and are available at specialty kitchenware shops.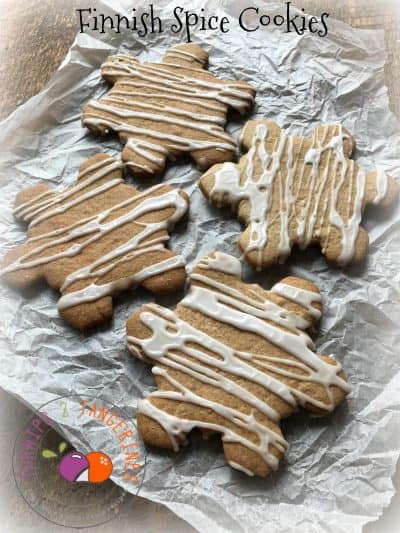 Cookie Stamp
A cookie stamp is a small, decorative round or square cookie imprinter. Cookie stamps or imprinters are usually made of glass, ceramic or wood. When the stamp is pressed into a ball of cookie dough, it not only flattens it but imprints a design on the surface. Cookie stamps come in many designs and are available at specialty kitchenware shops. Many times cookie stamps, molds or cookie presses are handed down within families.
H.O. Foose Tinsmithing Co.
To make Finnish Spice Cookies or Nissu Nassu in the traditional pig shape, you will need a pig shaped cookie cutter. H.O. Foose has been a integral part of the cookie cutter world since the 1970's. Horman developed a love for tinsmithing as a hobby, He enjoyed making household items such as pierced tin lampshades and chandeliers. Horman and his wife Maria took their craft on the road.
Making Memories with Cookie Cutters
They attended county fairs and craft shows all over the country. Eventually his tinsmith skill led him to making cookie cutters. Horman's goal for cookie cutters was to make them simply enough that you would know what the cookie was without decorating it. Making simple cookie cutters for people to bake and make memories with. No decorating degree needed!
Cookie Cutter.com
Cookie Cutter feels honored that the Foose family chose them to carry on the handcrafted trade of making cookie cutters. They intend on making what the Foose family started back in the 1970s even  make more amazing. You will be able to fine any cookie cutter that you are looking for at Cookie Cutter.com. Not only will you find all shapes of cookie cutters on their website you will find fun ways to decorate them too. Finnish Spice Cookies are simply delicious!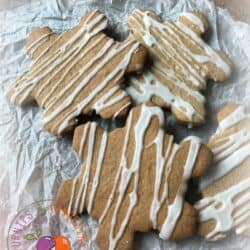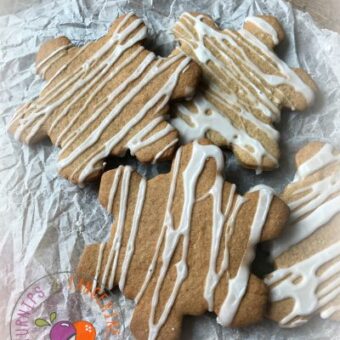 Finnish Spice Cookies or Nissu Nassu
A tradition spice cookie made in Finland during the holidays. Usually made in the shape of a pig.
Ingredients
2

cups

all-purpose flour

1 1/2

teaspoons

ground cinnamon

1 1/2

teaspoons

ground ginger

1/2

teaspoon

ground cardamom

1/2

teaspoon

ground cloves

2/3

cup

packed light brown sugar

1/2

cup

butter, softened

3 to 5

tablespoons

hot water

1/2

teaspoon

baking soda

Royal Icing

1

egg white, at room temperature

2 to 2 1/2

cups

sifted powdered sugar

1/2

teaspoon

almond extract
Instructions
Place flour, cinnamon, ginger, cardamom, and cloves in medium bowl; stir to combine.

Beat brown sugar and butter in large bowl with electric mixer at medium speed until light and fluffy, scraping down side of bowl once. Place water and baking soda in cup; stir until baking soda dissolves. Beat into butter mixture. Gradually add flour mixture. Beat at low speed until dough forms, scraping down side of bowl once. (If dough is too crumbly, add more water, 1 tablespoon at a time until dough holds together)

Form dough into 2 discs; wrap in plastic wrap and refrigerate until firm, 30 minutes or overnight.

Preheat oven to 375 degrees. Grease cookie sheets or line cookie sheets with parchment paper, set aside.

Working with one disc at a time, unwrap dough and place on lightly floured surface. Roll out dough with lightly floured rolling pin to 1/8-inch thickness.

Cut dough with floured 3-inch pig shaped cookie cutter. Place cutouts 1-inch apart on prepared cookie sheets.

Gently press dough trimmings together; reroll and cut out more cookies. (Rerolled dough will produce slightly tougher cookies than the first rolling)

Bake 8 to 10 minutes or until firm and lightly browned. Remove cookies with spatula to wire racks; cool completely.

Prepare Royal Icing: Beat egg white in small bowl with electric mixer at high speed until foamy. Gradually add 2 cups powdered sugar and almond extract. Beat at low speed until moistened. Increase mixer speed to high and beat until icing is stiff.

Spoon icing into pastry bag fitted with writing tip. Decorate cooled cookies with icing. Let stand at room temperature 1 hour or until set.

Store tightly covered at room temperature or freeze up to 3 months.
Notes
Recipe Note:  We prefer to use a 'clear' flavored extract for flavoring icing or in a glaze. Dark or light amber colored extracts such as vanilla extract tends make the icing an off white. Using clear extract keeps your icing or glaze a nice bright white.
Looking for more 'Cookies from Around the World?' We have many recipes to choose from, here are a few of our favorites: Chocolate Crinkle Cookies, Greek Lemon-Herb Cookies, Danish Jam Ribbon Cookies and Swedish Sandwich Cookies.